An Italian Dream by Marianna Jones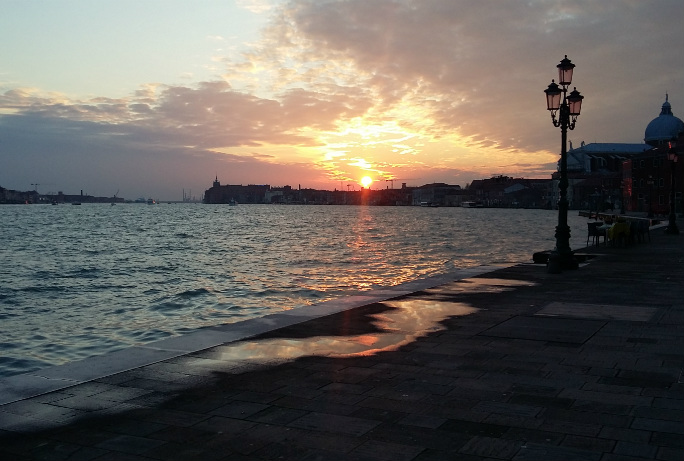 Perhaps I was still sleeping as we departed from Liverpool Lime Street at 4.30am. Huddled in a water taxi and swaying to the motion of the Venetian waves, I thought I must have been dreaming. Venice possesses an exquisite sense of the surreal, a vibrancy, an incomparable eruptivity of culture.
Dragging a suitcase to its shores was like seizing a settlement in our very own story. The ice-blue sea as compelling book cover; the winding cobbled streets as pages waiting to be turned; alleys with sudden ends and vicious shifts as plot twists. Students and lecturers embodying eager protagonists, each day began a new chapter.
Settled with bags successfully dumped and stomachs sufficiently stocked, we scattered through puddle-ridden paths to Ca' Foscari University of Venice to see our very own David Hering interview the American novelist Jennifer Egan. Enveloped by ceilings draped in gold and talking through the eloquence of her Manhattan Beach, we sat in awe.
I had never felt so small as I traipsed through the enormity of St Mark's Square. With an eye on our Ruskin extracts and a keener eye on the various selections of ice cream, we weaved through endless marble pillars, and Ruskin's complaints of Venice's tumultuousness were silenced by roaring crowds. The remnants of snow lay limp beneath our feet. A dispersion of puddles reflected the grandeur of the scene, and I was shocked each time I raised my eyes. The water-coloured distortions of the Doge's Palace, San Marco Campanile, and Saint Mark's Basilica quivered below, yet loomed in allurement above.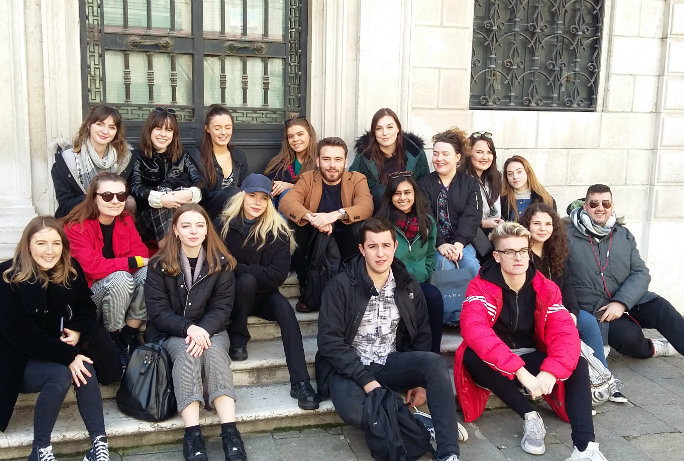 A turquoise tide colliding with powder-blue sky stood as the backdrop of our poetry readings. W.H. Auden's As I Walked Out One Evening swept across the sea and echoed in a splash. Whirled away with the wind, perhaps Thomas Mann snatched these words as inspiration for Death in Venice.
Our visit to San Michele Cemetery - a space representative of human mortality - saw Sandeep Parmar's reading of Ezra Pound's poetry reaffirming the immortality of his words. In Peggy Guggenheim's gallery, the passion she impelled similarly brought her back to life. Venice is a city of revitalisation and inspiration; it is aesthetically archaic yet aflush with youth, embracive of the new yet celebratory of the old. As we combined our modern ideas with antiquated texts we felt a part of this paradox… and a little bit chilly.
Sleepy, thoroughly cultured, and replete with Margaritas (in liquid and solid form), we trudged back to reality. After unearthing some hidden talent during a wine-fuelled theatre session and enduring a severe lack of it in a farewell karaoke show, it was time for our story to end. As I awoke in Manchester, my eyes met dreary skies. With no boastful bridge or pompous palace in sight, I simply must have been dreaming…
By Marianna Jones