Partygate: a lockdown of justice?
Posted on: 10 February 2022 by Dr Gemma Ahearne in Blog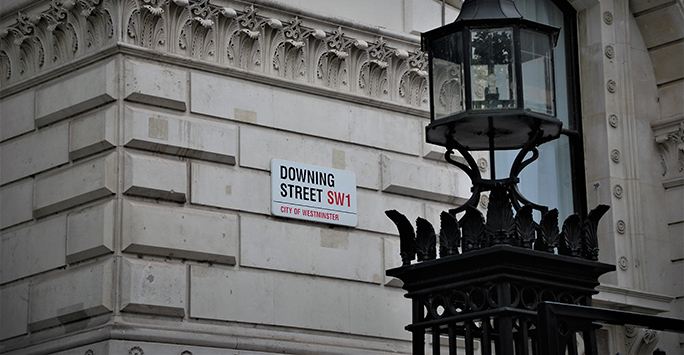 Dr Gemma Ahearne considers the reaction to the news of government behaviour through national lockdowns and compares this to the policing of citizens through this time.
"When a state transforms social and health crises into criminal justice problems, they provide a legal green light for officers to do what they are trained to do: identify and control a threat, forcing cops to construct the public into the criminals they need to justify the very police behavior citizens protest against while exacerbating the very issues they are employed to resolve" (Dewey, 2021 p. 68, cited in IRR, 2021, p. 31).
On the 27th January 22 I gave an invited paper to the University of Essex as part of the Spring Seminar Series for the department of Criminology. The panel was called 'Emergency planning, emergency powers and tactics against repression in a state of exception' and included Professor Lucy Easthope, Dr Rhiannon Firth and Dr Rob Freudenthal. Thank you to Professor John Preston and Dr Anna Di Ronco for hosting.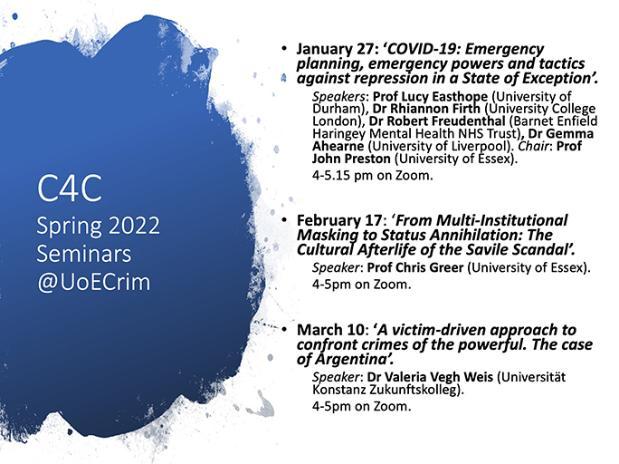 Professor Lucy Easthope is the country's leading expert on recovering from disaster and has advised the cabinet on the pandemic response. In Professor Easthope's paper she talks about the Coronavirus Act as 'bad law' and I couldn't agree more strongly.
Citizens are rightly furious that whilst they were prevented from visiting the sick and dying, being unable to partake in the rituals of death, and being kept from elders in care homes (amongst many other sacrifices) many members of the government were having frequent parties. Whilst I share that anger, I reinforce the point that I have made since March 2020, that we should not have made a public health disaster a criminal justice issue. We cannot punish our way out of a pandemic.
I earlier wrote Long Read: The War on Dissent During the State of Exception.
I co-authored a journal article with my colleague in NHS psychiatry, Dr Rob Freudenthal, The health/power/criminality-nexus in the state of exception. During the pandemic the healthcare system has increasingly been used as a justification for advancing a state apparatus of biopower, and has experienced little resistance from the organised left.
In our co-authored seminar paper, Dr Freudenthal, an NHS psychiatrist argues that the NHS has two roles in tension. Firstly, that of providing care to those who need it, but secondly, as part of the carceral state and as a vector of power in closed institutions.
Dr Rhiannon Firth gave a wonderful paper during the seminar event about anarchy and mutual aid, drawing from work on disaster capitalism. She stated that if mutual aid is discursively recast as 'social capital' then only sections of 'civil society' that are palatable to the state and which it can capitalize on and control are seen as acceptable. Dr Firth continues to state that other social forces are a threat to be controlled and criminalized.
In the shadows of 'Partygate' many commentators are suggesting that "most people followed the rules". Whilst the majority of us did not throw parties, it is crucial that we think about the subjective labyrinth of regulations, and how we needed experts to inform the public about what the constantly-changing laws meant. Between March 2020 and January 2021, there were 64 changes to the law, meaning that they changed on average every 4 and a half days.
Cunlliffe reports that to date (Feb 2022) there have been 92 legislative updates, meaning the rules have changed on average almost once a week since the pandemic started (Cunliffe, 2022). Throughout, barristers such as Adam Wagner have called for clarity on the restrictions and enforcement.
People in London have been fined over £1.5 million for breaking covid rules. A Crown Prosecution Service review of prosecutions brought under the Covid-19 regulations and the Coronavirus Act 2020 has so far found 803 cases which were wrongly charged (Cunliffe, 2022). Indeed, In May 2021 all 270 prosecutions under the Coronavirus Act were withdrawn or overturned in court after innocent people were convicted.
This is extremely worrying for anyone concerned with social justice. Yet there has been a notable silence in terms of resistance and critique.
The use of Fixed Penalty Notices and Single Justice Procedure should have concerned every critical social scientist. If it were not for court reporters such as Tristan Kirk and Lizzie Deardan, and human rights barristers such as Adam Wagner and Pippa Woodrow, the public would be largely unaware of these actions. Indeed, as I wrote in 2021, few people are aware that alleged breaches of the regulations are being dealt with via dedicated Covid courts which represent a huge threat to our system of law (Ahearne, 2021). Covid offences are being dealt with via Single Justice Procedure. Court reporter Tristan Kirk argues that in the Westminster lockdown breach cases lists of results have not been issued to the press despite repeated requests, while two weeks worth of prosecutions were hidden entirely after court staff forgot to send out the details. An open justice safeguard that journalists can inspect court papers on request has also been ignored.
Kirk argues that the way in which covid breaches have been prosecuted should concern us all. Indeed Kirk writes that: "The vast majority of Covid-19 court prosecutions - running into the tens of thousands - have been brought under the Single Justice Procedure in behind-closed-doors hearings, and are not covered by the CPS review".
People are angry that those in power who have allegedly breached covid regulations are not being named, yet that is the nature of Fixed Penalty Notices. There are deliberately no appeals mechanisms for covid Fixed Penalty Notices. Unless someone attends court to contest their fine, they will not be named. Covid breaches also involve police officers prosecuting up until the point where (rarely) a defendant pleads not guilty and goes to trial. Some of us have expressed concern for two years regarding this process.
We also need to think about what people were being fined for, and think about whether blanket FPNs are useful here. Reporter Conor Gogarty writes that a victim-survivor of domestic violence was fined 2000 pounds for fleeing to a friend's house (Gogarty, 2022). A man in Wigan was fined for visiting a friend for a cup of tea (Walker, 2020). Who can forget when an 82 year old grandmother was given a warning for having a cup of tea in her communal garden?
As every critical Criminologist predicted, the policing of the pandemic has been disproportionately against Black, Asian and ethic minority peoples. In the Institute of Race Relations report 'A threat to public safety: policing, racism and the Covid-19 pandemic', scholars Harris, Salisbury-Joseph, Williams and White critique the racist policing of the pandemic.
The authors state that whilst emergency measures were necessary, there needs to be a critique of why policing was deemed to be so central to the pandemic response. "The report argues that lockdown conditions, new police powers, and histories of institutionally racist policing have combined to pose a threat to already over-policed communities and the most marginalized and vulnerable sections of society"
"[W]e must evaluate the state's overreliance on police systems to handle its non-criminal problems because what the pandemic has shown us is that using the police to address health concerns transforms citizens in need into criminals to be confronted" (Dewey, 2021: 68-69 cited in IRR 2021, p.5).
Lockdown restrictions, and the policing on such, have exacerbated existing social inequalities and have expanded the reach of state power. As I stated in my earlier blog, a state never exerts its power equally across its citizens, those who are already marginalized and susceptible to various forms of discrimination will be policed disproportionately.
Citizens were keen to police one another and put their neighbours under surveillance, Nick Adderley, from Northamptonshire Police, told BBC news, ""We are getting calls from people who say 'I think my neighbour is going out on a second run - I want you to come and arrest them'. We have had dozens and dozens of these calls".
So whilst the majority of us are furious that many in power have attended social events during lockdown, we also have to question the legitimacy of the laws. Particularly when disaster planners such as Professor Lucy Easthope state what a deviation lockdowns were from the agreed plans.
We can compare the multiple parties held at Downing Street with the way in which citizens were policed during this period. In Jan 2021, the Health secretary at the time Matt Hancock said he "absolutely backed" the police for fining two friends who traveled separately to meet for a walk and coffee. Hancock claimed "The challenge here is that every flexibility can be fatal. You might look at the rules and think to yourself, well it doesn't matter too much if I just do this or I just do that. These rules are not there as boundaries to be pushed, they are the limit of what people should be doing"
Punishing people for meeting outdoors displaces people into riskier indoor settings. Pandemics remain at the top of the National Risk Register and we must ensure that we listen to the expert planners during future disasters in addition to engaging with multi-disciplinary perspectives to adequately acknowledge the complex and conflicting harms.
Dr Gemma Ahearne is a Lecturer in Criminology in the Department of Sociology, Social Policy and Criminology at the School of Law and Social Justice. Gemma runs 5 modules including SOCI349 Crime Justice and the Sex Industry, and SOCI347 Creative Consultant: Dissertation by Portfolio.
Gemma is particularly interested in moralizing discourses and processes of stigma. She is interested in women's writing as a mode of resistance.
You can contact Gemma via email gemma.ahearne@liverpool.ac.uk
Twitter @ princessjack
Blog: www.plasticdollheads.wordpress.com
---