Crime, Justice and the Sex Industry
Posted on: 8 July 2020 by Dr Gemma Ahearne in Blog
Dr Gemma Ahearne is University Teacher in the Department of Sociology, Social Policy and Criminology. In this blog, Gemma discusses her new module SOCI349 'Crime, Justice and the Sex Industry' which launches in October 2020.
I started at the University of Liverpool in September 2019. Before that, I held a Lectureship in Sociology at Liverpool John Moores University, and have also been employed as a part-time Lecturer in both Criminology and Psychology at Leeds Beckett University. I have taught on almost 40 modules over the previous 8 years.
I have been involved with the sex industry since 2002, and completed my PhD in 2017 'A Thematic Analysis of the Experiences of Sex Workers in Prison'. My teaching and research interests centre around the regulation of women's sexuality and bodies, and cover the different regulatory modes of sex work globally and the (often invisible) influence of purity culture. From August 2019-Aug 2020 I was a Visiting Fellow at the University of Leeds at the Centre for Religion and Public Life. I am currently writing a book which joins these dots.
I am extremely active in sex work activism and advocacy; indeed, it is the driving force for my role in academia. I sit on the board of Trustees at Basis Yorkshire, I am a consultant researcher at Umbrella Lane Scotland, and I sit on the newly formed National Student Sex Worker Advisory Group. I am also a member of the Sex Work Research Hub and frequently provide advice and support to sex worker peer-led organizations. I was involved in campaign work for dancers in 2019, and during 2020 have been involved with providing expert witness statements in sex work cases. I never quite switch off from the world of sex work!
During the summer of 2019 I was commissioned by Fact Liverpool to deliver guided walks of Sexual Entertainment Venues (SEVs) in the city as part of the 'Real Work' exhibition. I started these walks 7 years ago and delivered them throughout my time at Liverpool John Moores University.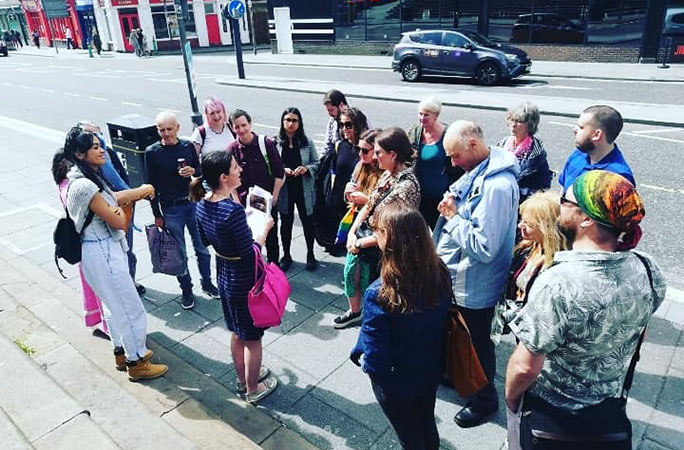 Dr Gemma Ahearne delivering 'Sex Work City Walk', commisioned by FACT, in 2019.
It is important to address the stigma of the sex industry, and one way of doing this is to bring people into closer proximity with it. During my guided walks we delve into the sexual history of the city and discuss broader themes of sexualization of public space. We also discuss sex work within a labour framework, which reclaims sex worker from their 'other' status, and lets the audience explore issues of their own bias and experiences. I always learn a lot from these discussions and am grateful for the opportunity.
Not the usual lecture theatre! Dr Gemma Ahearne delivering a guided walk of Sexual Entertainment Venues in 2019, commisioned by FACT.
My guided walks for students consist of mapping the sexed spaces of the city, a sensory exploration of the club, and a lecture inside the venue. It is very different learning about Sexual Entertainment Venue policy and the policing of sex workers whilst sat around a pole. The lecture theatre does not quite have that effect! It is important for students to visit different spaces and think about why we fear them or judge them. How do we feel within them? Are they what we expected? What do they say about other spaces? How do they speak to us? We think of the strip club alongside the 'square' night time economy and the pornification of culture.
During August 2019 I was also commissioned by Bloc Projects Sheffield to deliver a 'performative talk' as Sociology Showgirl for the 'Into the Spotlight' exhibition. I (hopefully!) interrogated respectability politics and questioned why society is so keen to construct sex workers as deviant.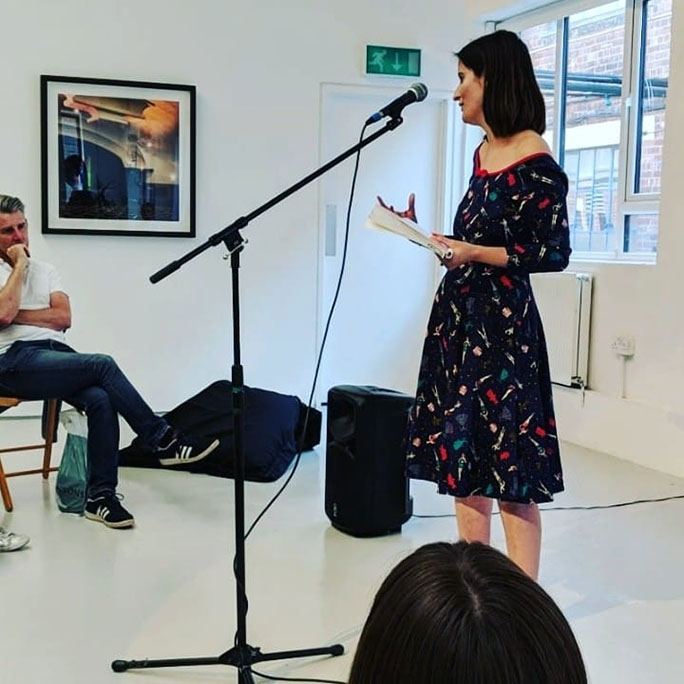 Dr Gemma Ahearne delivering a performative talk for the 'Into the Spotlight' exhibition by Bloc Projects Sheffield, August 2019.
My module covers the key areas of studying the sex industry, although each could be an entire module by itself. The main point is that sex work is a shifting concept, what was defined as sex work even 5 years ago has rapidly evolved with the digital economies and as responses to policing and policy interventions. As such stigma is also a shifting concept, and the processes of stigma and marginalization has developed with the increased use of social media. Sex workers now face additional risks of threats and violence such as doxxing (being 'outed' by the releasing of data online), harassed, malicious communications, in addition to more traditional risks such as physical violence, stalking and state violence.
The schedule covers:
The history of sex work
Prostitution policy and law
Stripping industry
Stigma and Violence
Trafficking and migrant workers
Contested spaces of sex work
Digital economies of sex work
Media portrayals
Global sex worker rights movement
Policing of sex work

The aims of the module include the ability to critically examine the sex industry, both at policy level and the socio-historical significance of our cultural understandings. This is particularly important when we look at migrant sex workers and the conflation with trafficking. We also assess the need for sex work reform both at a UK level and globally, and reflect on the lived experience of sex workers, many of whom are activists, students or are 'dual working' in other industries.
This is the culmination of almost 20 years in and around the sex industry and I cannot wait to deliver it to the 100 plus students who are registered. I will also be delivering open access sessions across the year for partner organizations and student societies. Students can follow these on Twitter @princessjack where I use the hashtag #SOCI349.
I stand in solidarity in sex workers always.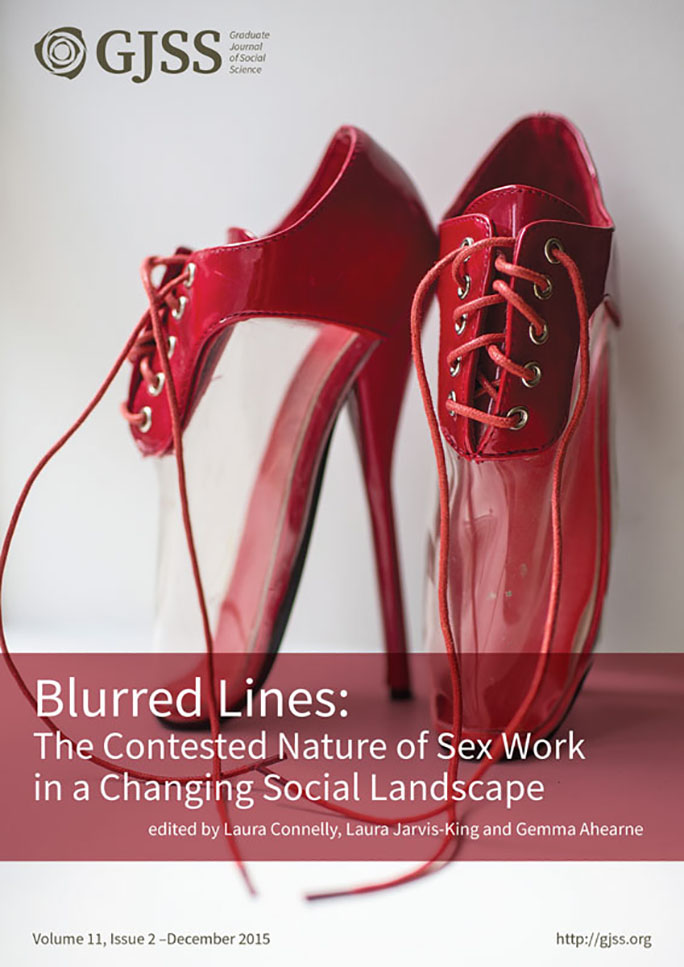 Dr Gemma Ahearne is University Teacher at the Department of Sociology, Social Policy and Criminology.
She is also on Twitter @princessjack
And has a blog: www.plasticdollheads.wordpress.com
If you are interested in studying within the Department of Sociology, Social Policy and Criminology visit our study pages: https://www.liverpool.ac.uk/sociology-social-policy-and-criminology/study/
---