Funding Success From Across The Faculty: April 2020
Posted on: 21 April 2020 by Nick Jones in 2018 Posts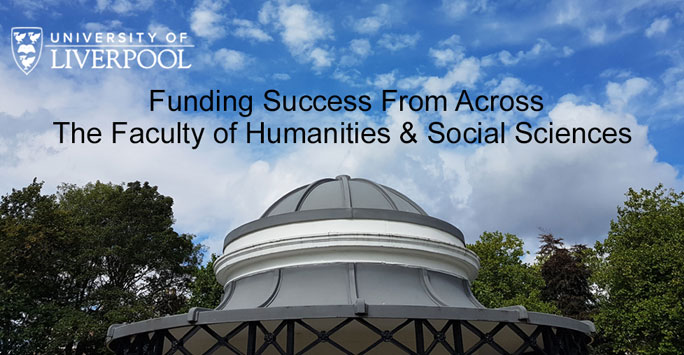 Colleagues across the Faculty of Humanities & Social Sciences have seen some great successes in funding applications lately. Read on to find out about the exciting projects that are taking place across the Schools.
Dr Michelle Farrell, Reader in Law has received a Leverhulme Trust Research Fellowship worth £43,048. The project this is supporting is called 'The Political Theology of Torture'.
Obtaining information remains the Achilles heel of the absolute prohibition on torture. In law, scholarship, media and popular culture, torture is understood to have this purpose. This understanding conceals deep theological dimensions of torture. The intersections, historical and contemporary, between torture and Christian theology – evident in practice, ideology, language, iconography – are recurrent, yet, under-investigated.
This project employs political theology to interrogate the theological dimension of the practice and prohibition of torture. The concept 'political theology' was coined by controversial German jurist, Carl Schmitt, to designate liberal, political concepts as secular versions of theological concepts. Beyond Schmitt, the ideas of political theology have a long, rich history, rooted in thought from Augustine to the present. Drawing on this rich theory, this project will conceptualise political theology to critique the law, re-examine histories, identify historical ruptures/continuities and recognise/deconstruct ideologies.
The research will move beyond the theological parallel to show how theology infuses the practice, the prohibition and their interaction. The project will examine Christian teachings/writings on torture; investigate the historical relationship between religious belief/religious teaching and the practice of torture; [re]consider why judicial torture was abolished across Europe in the 18th century; and explore 'the civilising mission' and its relationship to torture in imperial Britain and France. Crucially, this project investigates the theological underpinning of the law on torture, the extent of theological thinking in the interpretation of torture and the complicity of the 'secular' ban in practices of torture.
---
Dr Hugo Lam, Senior Lecturer in Operations Management at the Management School, has also been awarded a Leverhulme Research Fellowship, allowing him to focus on his research for 12 months.
Dr Lam's research will explore the interplay among public policy, supply chain management, and financial market. In particular, it will look at how the introduction of a new regulation will change investors' perception of and thus their reaction to some relevant events occurring in firms' supply chains. Empirically, it will take advantage of a recent regulation introduced in the UK, The Modern Slavery Act 2015, and investigate how this Act will affect stock market reaction to slavery issues occurring in UK firms' international supply chains.
---
Professor Tolga Bektas, also from the Management School, has been awarded a grant from Innovate UK to fund his research: Project SCALE (Soft Computing to Accelerate fulfilment & Logistics Efficiency).
The project is designed to address the challenges introduced by e-commerce, particularly for SME retailers who are under pressure due to increasing demand for fast and free delivery, low margins associated with e-commerce and complex/fragmented logistics systems. The project aims to significantly improve last-mile logistics efficiency and productivity that will include novel forms of delivery, in order to increase delivery speed, whilst reducing cost and emissions.
Led by Darwin Evolution Technologies (trading under the brand name "Bezos"), and with the University of Liverpool's Management School providing academic input on logistics network optimisation, the total value of the project is just under £950K, with the University of Liverpool receiving £189K.
---
Dr Raul Gomez, Senior Lecturer in Politics, who has been awarded a Leverhulme Research Fellowship worth £53,554 for his project 'Explaining the electoral decline of the mainstream right in Western Europe'.
This project will explore why electoral support for Conservative and Christian democratic parties undergone a gradual decline in recent decades across Western Europe. Using a combination of quantitative data from West European democracies, this innovative project aims to shed light on this under-researched topic by focusing on generational changes, changes in voting patterns and changes in election results.
In doing so, the project will fill an existing gap in the study of the mainstream right and provide much-needed further insight into how recent changes in European societies are shaping contemporary politics by altering the electoral space of mainstream parties.
---
Dr Bruce Routledge of the Department of Archaeology, Classics and Egyptology has been awarded a Leverhume International Fellowship of £38,061 for his project "Reusing and Rethinking Archaeological Data".
The Leverhulme Fellowship will allow Dr. Routledge to spend the second semester of 2020-2021 in the Philosophy Department at the University of British Columbia, working with Prof. Alison Wylie on a joint project analysing epistemological issues around the definition, distribution and reuse of archaeological data.
---