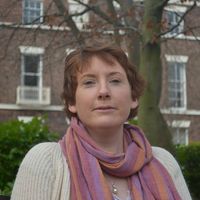 Dr
Michelle
Farrell
BA, LLM, PhD
Senior Lecturer
Law
Biography
Personal Statement
Michelle is a senior lecturer in law in the School of Law and Social Justice. Michelle specializes in international law and in international human rights law and is Director of the International Law and Human Rights Unit.

Michelle's research is interdisciplinary. She is particularly interested in political, ethical and critical perspectives on international law and human rights and also has a keen interest in conflict, counter-terrorism and states of emergency from historical, theoretical and human rights perspectives. Michelle's first monograph 'The Prohibition on Torture in Exceptional Circumstances' was published with Cambridge University Press in 2013. Her monograph deconstructs the discourse on the use of torture in exceptional circumstances. She is currently involved in a number of projects including a particularly timely examination of the representation of Human Rights in the UK Media in the context of the Human Rights Act repeal debates. She is now co-editing a collection on this topic entitled Human Rights in the Media: Fear and Fetish which will be published with Routledge later this year.

In Autumn 2016, Michelle was an expert on the EU-Vietnam Strategic Dialogue on the United Nations Convention Against Torture implementation process. From January-June 2016, she held the O' Brien Fellowship in Residence in the Centre for Human Rights and Legal Pluralism at McGill University. In April 2015 she was a Visiting Scholar at the University of Iowa Center for Human Rights State-Wide Outreach Initiative. Before joining the School of Law and Social Justice in September 2012, Michelle held the National University of Ireland EJ Phelan Postgraduate Fellowship in International Law and was based at the Irish Centre for Human Rights, National University of Ireland, Galway. Michelle has also previously held a position at the European Inter-University Centre for Human Rights and Democratisation. Michelle was awarded her PhD from the National University of Ireland, Galway in 2011. Michelle also holds an LLM in International Human Rights Law from the same institution and a BA in European Studies from Trinity College Dublin. In the past, Michelle has also worked for Amnesty International, Irish Section and Physicians for Human Rights, Israel.

Michelle welcomes proposals from doctoral candidates who are interested in researching in international law and international human rights law.
Personal Distinctions
O' Brien Fellow in Residence (Competitive Fellowship, Centre for Human Rights and Legal Pluralism, McGill University 2016)
Visiting Scholar (Invitation to Speak, University of Iowa Center for Human Rights 2015)
NUI EJ Phelan Postgraduate Fellow in International Law (Competitive Fellowship, National University of Ireland 2011)
Administrative Roles
Director of Undergraduate Recruitment in Law
Co-Director, Human Rights and International Law Unit
---