Film Buddy partnership takes student to the set of hit TV show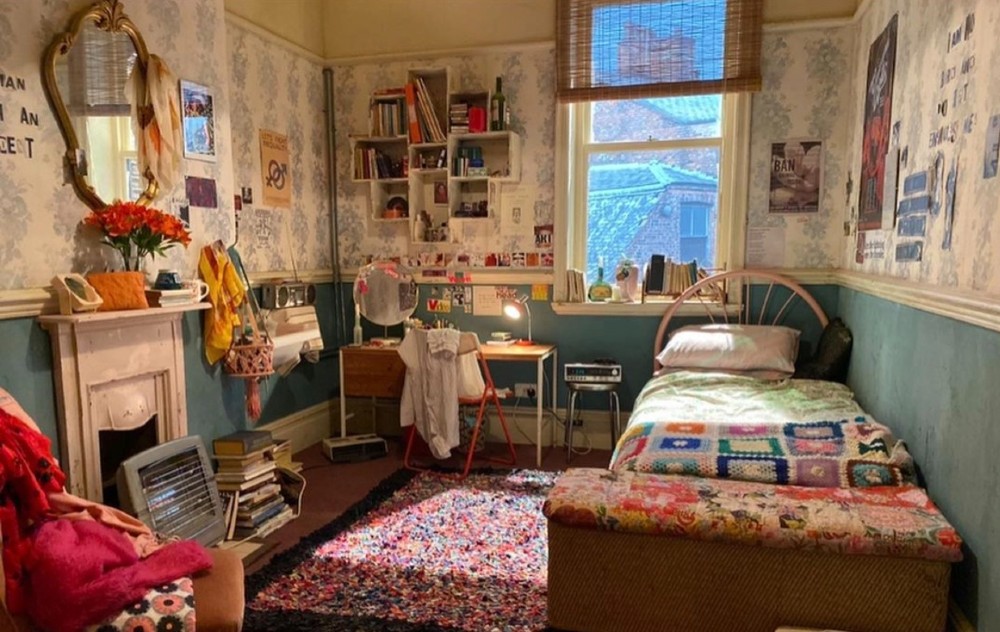 It's a Sin is one of the most talked-about TV shows of the moment, and one undergraduate student got a unique chance to work on set thanks to a partnership between the School of the Arts and Film Buddy.
Heidi Powers, a BA English Literature and Film Studies student, secured a work placement with Red Production Company in late 2019 after registering with the service.
The School partnered with Film Buddy during the last academic year, providing film and TV industry links, insight, guidance and opportunities to students. Now, the partnership has been extended, making the service available to all School of the Arts students, free of charge.
Heidi says of the experience: "Thanks to the help of Film Buddy, I worked in the art department at Red Production Company in Manchester, helping to make Channel 4's It's a Sin, just shortly after registering with the service. I was a huge fan of Russell T. Davies' work already, so hearing the opportunity to work on one of his new projects was really exciting, especially as a budding film student trying to learn about the industry.
"As a series with an important queer storyline and a cast of LGBTQ actors, among the likes of Olly Alexander, Neil Patrick Harris and Stephen Fry, my first experience in the TV industry was particularly unforgettable, and has greatly influenced my knowledge and abilities. This was especially exciting after seeing the great success and impact of the show recently, with my small contribution being an exciting step for future work opportunities.
"The staff at Red Production Co were exceptional, and kindly welcomed me as a learning student, offering me an array of first-hand experience in varying roles within the art department side of TV production, and offered me extensive insight. I was given an amazing opportunity to work in a professional and creative environment, alongside a seasoned crew of production staff and producers, working long days in different areas. In the course of the week, my main roles were creating collages for the varying sets using vintage magazines, working on-set to choose and organise props and furniture for the 'pink palace', helping construct the main set, ordering extra props, and doing research for the team, along with some general TV runner tasks.
"Seeing some of my work (like the collages in the main characters' rooms) and ideas on such a successful show has been greatly inspiring, built my confidence and encouraged me to continue in the field, being that before the experience I had been unsure of what I wanted to do in the future. Having had access to the early stages of the show, seeing the initial script and helping to decorate and build the set from an old abandoned school, now seeing the huge scale of the programme has been extremely exciting."
Sam Bird, Placements and Employability Officer in the School of the Arts, adds: "Our partnership with Film Buddy has been really fruitful so far – in the first year we had a number of students like Heidi who completed work experience on sets of shows such as It's a Sin and Tin Star.
"This year, we've expanded our partnership with Film Buddy, allowing all School of the Arts students to sign up free of charge and access the online resources, including live workshops and Q&As with industry insiders who have worked on everything from Star Wars and James Bond to Game of Thrones and The Crown".
Film Buddy provides a range of high quality off and on-line services including bespoke 1-on-1 mentoring, Q&A masterclasses and online pro-film and creative media services with leading industry experts to encourage, inspire and assist students directly into work experience placements and employment within the film, television and creative media industries.
School of the Arts students can sign up with their University e-mail address for free here.