Irish Studies blog
Welcome to our blog!

If you want to know more about what makes studying with us unique, then this is the blog for you.
We'll give you an alternative look at our Irish Studies degree courses, share the stories behind our research and bring you interviews from behind the scenes.
Follow us
Read our disclaimer statement
---
Posted on: 10 December 2018 | Category: 2018 posts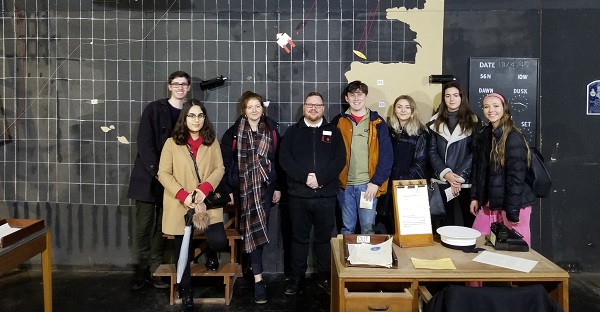 On 5 December, students in Dr. Arrington's War Writing class (IRIS326 ENGL488) visited Western Approaches, Liverpool's Second World War Museum, housed in the top-secret bunker under Derby House from which Admiral Max Horton, Commander-in-Chief of the British Navy, won the Battle of the Atlantic. One student, a native of Liverpool, commented, "I had no idea it was even here!"
---
Blog

Posted on: 10 December 2018 | Category: 2018 posts

On 5 December, students in Dr. Arrington's War Writing class (IRIS326 ENGL488) visited Western Approaches, Liverpool's Second World War Museum, housed in the top-secret bunker under Derby House from which Admiral Max Horton, Commander-in-Chief of the British Navy, won the Battle of the Atlantic. One student, a native of Liverpool, commented, "I had no idea it was even here!"

---