Irish Studies blog
Welcome to our blog!

If you want to know more about what makes studying with us unique, then this is the blog for you.
We'll give you an alternative look at our Irish Studies degree courses, share the stories behind our research and bring you interviews from behind the scenes.
Follow us
Read our disclaimer statement
---
Posted on: 14 February 2019 | Category: 2019 posts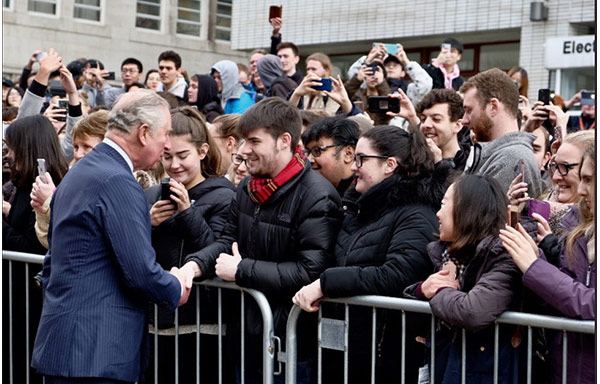 We were excited to welcome the Prince of Wales and President of Ireland Michael D. Higgins to the Victoria Gallery and Museum on campus this week, to sign a joint patronage agreement for the Insititute. Before the signing, they were happy to meet the crowds waiting outside, as well as chatting to staff, students, alumni and many more guests inside the gallery.
---
Blog

Posted on: 14 February 2019 | Category: 2019 posts

We were excited to welcome the Prince of Wales and President of Ireland Michael D. Higgins to the Victoria Gallery and Museum on campus this week, to sign a joint patronage agreement for the Insititute. Before the signing, they were happy to meet the crowds waiting outside, as well as chatting to staff, students, alumni and many more guests inside the gallery.

---