Watch 'The Trouble with Tombs' heritage public lecture
Posted on: 17 January 2022 by Nick Jones in 2022 Posts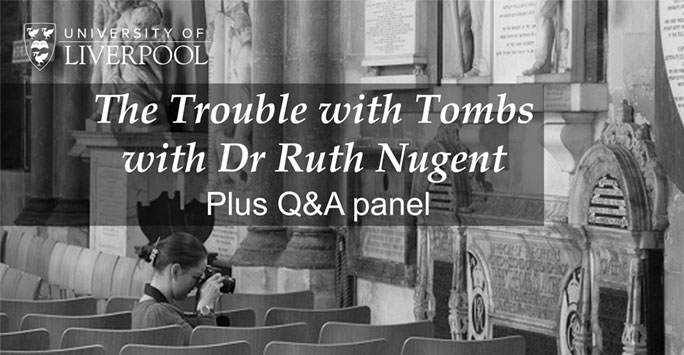 In January 2022, Dr Ruth Nugent delivered our Heritage-theme public lecture, 'The Trouble with Tombs', exploring the ways people have encountered and understood the ancient dead in Britain since the 7th century. Watch a recording of this online lecture here.
Tomb opening today is very rare and respectful, and burial inside British churches largely ended in the 1850s. Yet, remains of saints, clergy, royalty, and cultural icons have been exhumed to both verify and venerate them since at least the 7th century in Britain's churches, and this continued on a regular basis until the late 19th/early 20th century.
Throughout this period, charnel collections of human bones created from pragmatic exhumations had cycles of being presented in churches, and tomb 'treasures' and historic human remains continued to be displayed in churches centuries even after the end of saints' cults in the 1530s and 1540s.
Today, there is extensive public and media interest in Britain's church charnel displays as well as saints' bones in cathedrals; royal exhumations; and demands to exhume or investigate the graves of iconic individuals from history, such as the Princes in the Tower, King Harold, and William Shakespeare. HS2 construction involves unprecedented exhumation of thousands of skeletons from church contexts.
Led by Dr Ruth Nugent, an archaeologist specialising in Britain's mortuary cultures from the 5th century AD onwards, this public lecture explored the ways people have encountered and understood the 'ancient' dead in Britain since the 7th century and how we can use that knowledge to serve modern heritage and reburial of the long-dead today. Ruth's lecture is also informed by the work she and her team are carrying out for their Human Remains project.
Watch 'The Trouble with Tombs' lecture and Q&A session below.
Panel members
The event was hosted by Professor Lin Foxhall, The Rathbone Chair of Ancient History and Classical Archaeology, and Ruth was joined by a panel of experts consisting of Harold Mytum, Professor of Archaeology at University of Liverpool; David Monteith, Dean of Leicester Cathedral; Andrea Bradley, MCIfA, Route-wide Burial Grounds Coordination HS2; and Ian Dungavell, Chief Executive Friends of Highgate Cemetery:
David Monteith, Dean of Leicester Cathedral
David Monteith was installed as Dean of Leicester in May 2013 and currently is overseeing the multi-million-pound Leicester Cathedral Revealed project which will restore the Cathedral to its Victorian and Arts and Craft heritage whilst also creating a striking new building, the Chapter House.
David had the lead role in the Diocese for re-burying the remains of Richard III at Leicester Cathedral. He previously held the position of Canon Chancellor of Leicester Cathedral, heading up the Cathedral's pastoral and educational work.
David hails originally from Enniskillen in Northern Ireland. His first degree was in zoology, which was followed by postgraduate study in theology at St John's, Nottingham.
David's ministry has been largely city-based, having served in the dioceses of Birmingham (where he was ordained), London and Southwark. As Associate Vicar of St Martin-in-the-Fields, he was heavily involved in the multi-million pound refurbishment of the church and the support of the congregation as they went through a time of enormous change.
In the Diocese of Southwark, David was a Team Rector of a large team ministry in Wimbledon where the church grew in number and impact, and as Area Dean of Merton, he served the church in one of London's most diverse areas.
In addition to his duties as Dean of Leicester, David is Chair of Trustees for the St Philip's Centre, an ecumenical Christian centre fostering study and engagement in a multi-faith context. He is also a keen gardener and lover of contemporary poetry and the visual arts.
Professor Harold Mytum, Professor of Archaeology at University of Liverpool
Harold Mytum began excavating whilst at school, and continues to enjoy fieldwork and the excitement of discovery, training students in methods and interpretation through projects in England, Wales, Ireland, and the Isle of Man. He prefers working on initiatives that have an outcome beyond the academic - for local communities or to assist authorities in managing and interpreting the heritage. This approach was first developed in an ongoing connection with the Pembrokeshire Coast National Park at the Iron Age fort of Castell Henllys which is open to the public and has a number of reconstructed buildings based on the excavated evidence we recovered.
Harold is also working with English, Irish and Manx communities on the recording, management and interpretation of their graveyards, and serve on the York Diocesan Advisory Committee. He is President of the Society for Post-Medieval Archaeology which are promotes the importance of the archaeology of recent times in terms of research, heritage protection and public interpretation.
Andrea Bradley, MCIfA, Route-wide Burial Grounds Coordination HS2
Andrea Bradley (MCIfA) is an independent consultant with a background in commercial consultancy and major infrastructure planning. She advises archaeological and heritage organisations at project, business and sector levels to improve standards, skills and outcomes for heritage and archaeological work.
One of her key clients is HS2 Ltd, where she works across the project in an assurance, project communications and stakeholder management role to deliver the project requirements for burial grounds.
Ian Dungavell, Chief Executive Friends of Highgate Cemetery Trust.
A Bill is currently before Parliament to confer powers upon the Friends of Highgate Cemetery Trust to extinguish rights of burial and disturb human remains in Highgate Cemetery for the purpose of increasing the space for interments and to operate, maintain and improve the cemetery. There are protections for owners and relatives, and the powers being sought are already available to other private and local authority cemeteries in London.
---