Being Human Festival 2022: University of Liverpool Events
Posted on: 12 October 2022 by Nick Jones in 2022 Posts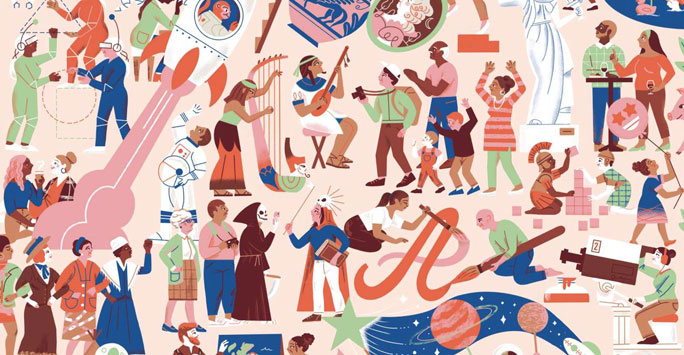 We're excited to be organising several events this November in Liverpool as part of this year's Being Human Festival. Being Human is the UK's national festival of the humanities, led by the School of Advanced Study, University of London in partnership with the Arts and Humanities Research Council and the British Academy.
The University of Liverpool is hosting a range of events to engage audiences with the fascinating research activity with the Faculty of Humanities and Social Science on 12 – 13 November.
We are working with several of the university's cultural and community partners to run events across the city. The theme of the national Being Human Festival is 'Breakthroughs' and here in Liverpool we are inviting different audiences to explore how we can shatter stereotypes and rethink the role of social media, music and history in forming our identity as individuals.
Being Human Events
Selfie Esteem – Practical workshop 1 – 3pm, Saturday 12th November, Open Eye Gallery.
The use of beauty filters in social media and selfie editing apps is becoming increasingly common, but editing portraits is nothing new. Should we be worried then about the use of new technologies to alter images?
Join artist and philosopher Claire Anscomb for an art workshop to explore the history of portraiture, selfies, and image alteration for beautification. Try drawing on photographic negatives, use of photo-editing apps, and explore the impact of photo-editing on judgements of beauty and vice versa.
Break-fest - Family drop-in event 11am – 13.30pm Saturday 12th November, World Museum
Smash some stereotypes, unearth some mysteries, break some boundaries and rebuild what we think of ourselves and where we live.
Take a tour of extraordinary bodies in the Ancient Greek world and make your own gifts for the Greek and Roman Gods, or find out how our archaeologists explore the past buried underneath our feet with a LEGO excavation. Get inspired by historians and artists to create some personal artwork inspired by the Singh Twins and help to construct a new city using recycling materials to create happy homes and spaces.
Act your Age – A family workshop, 10.30 am- 1pm, Saturday 12th November, Everyman Theatre
'Act Your Age!' is a drop-in, interactive, family workshop for primary school-age children and their adults.
Have you ever been told to 'act your age'? And what exactly does that mean? How do you act like a five-year-old, a thirty-year-old or an eighty-year-old? What happens if we swap, and the children start acting like the grown-ups and the grown-ups like children?
These activities are inspired by Katie Knowles's (English) research project into early modern and Victorian child actors and her 2014 book 'Shakespeare's Boys: A Cultural History', and Esme Miskimmin's (English) work on representations of performance in children's literature.
Being Yemeni in Liverpool – workshop, 2-4pm, Saturday 12th November, Liverpool Arabic Centre.
This workshop invites members of Merseyside's Yemeni community to listen to and talk about songs or pieces of music that have been important in their lives.
Borrowing from BBC Radio Four's Inheritance Tracks model, participants will be asked to choose in advance a song or piece of music that they have 'inherited' from someone and that has been meaningful to them. Participants will also be asked to choose a song or piece of music that they would like to pass on to someone in a younger generation.
Cryptic Crypts – Public Talk and Tour – Saturday 12th November, St Patrick's Roman Catholic Church, Toxteth
Harold Mytum(ACE) will lead an afternoon of talks on the Afternoon session of talks on the results of surveys at St Patrick's Toxteth set in wider national research into historic burial traditions. There will also be tours of the church crypt and the churchyard.
Breaking the code – Cemetery tour and activities, Sunday 13th November, St James' Cemetery
An interactive activity tour of St James' Cemetery (situated alongside Liverpool Cathedral) and an introduction to gravestone symbolism and recording, based on wider ongoing research into commemorative practices in nineteenth-century Liverpool investigating how cemeteries were used and their connections with the local area.
Follow Being Human on Twitter.
---