On 31 May, 2019, Kevin O'Riordan (pictured below, with his wife Maria) celebrated his 40th birthday at the Shard in London surrounded by his family, followed by drinks in Clapham with his closest friends. The next day, he witnessed his beloved Liverpool FC lift the Champions League Trophy in his newly adopted home city of Madrid. Less than six weeks later, and with no warning or sign of any illness, Kevin was cooking dinner when he started having seizures.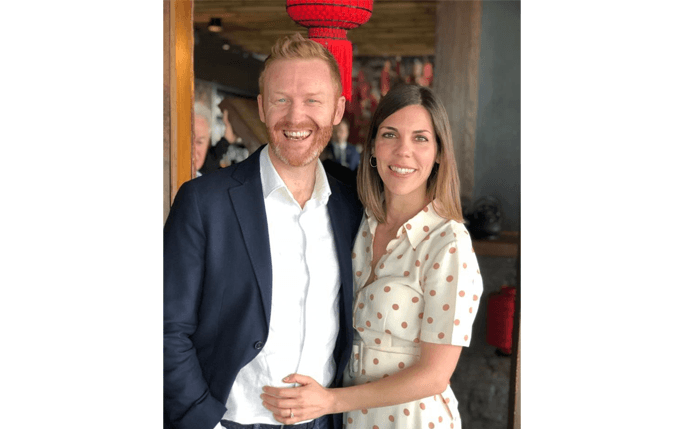 He ended up in intensive care that night undergoing a series of tests, including CAT and MRI scans. "We were totally in the dark as to what had caused the seizures. The doctors didn't know what side of his brain had been affected…we didn't know if he was going to wake up or if he did what his condition would be. Fortunately, he regained consciousness with his memory intact, albeit suffering from upsetting and unsettling short-term sensory disturbances, almost hallucinogenic."
While the MRI was initially unclear, a second MRI a month later confirmed it to be a brain tumour. At the time it was thought to be benign, however, the results of a biopsy finally confirmed the news everyone had feared – Kevin had brain cancer, a grade 4 glioblastoma.
"During the process Kev didn't want to know much about it. He didn't go on the internet. He wasn't interested in statistics and believed each person to be different. The rest of us knew however - the outlook wasn't hugely positive."
Maria found it difficult to hide her feelings from her husband. "The life I had always dreamt of was right in front of us, and I felt like it was all going to be taken away. But I'm also very determined and I knew we would fight like crazy." Kevin constantly said that "the train would never stop."
Originally from Cork in Ireland, Kevin trained as an engineer before deciding on a change of career. After completing a FIFA Masters in Sport, he became Head of Partnerships at Liverpool Football Club. Kev described working for his favourite club as "the best five years of his life". Maria and Kevin met on a blind date in Liverpool. "As a wife I couldn't have found a better partner. Kev was very positive and always smiling; just one of those people that are always helping others and not thinking of himself. He was a loyal friend, so much fun and incredibly patient. He made everyone feel special."
Throughout his treatment, Kevin continued to remain positive. "He just had this amazing attitude. He underwent two surgeries and took every available treatment - chemotherapy and radiotherapy – never once complaining. We spent Christmas of 2019 in the UK with our family and friends." After the treatment Kevin returned to work and enjoyed a normal life. He swam and went running – even signing up for the Madrid marathon and convincing less enthusiastic friends and family to join him! "Kev was good at everything – he just did everything well."
A further MRI scan in early 2020 revealed the tumour had spread to other parts of his brain. By March 2020, as the world started to go into Covid 19 lockdown, Kevin started to experience problems with his speech and facial coordination. A doctor later confirmed this was caused by a new lesion on his brain stem. Maria and Kevin worked with his doctors, leaving no stone unturned, to explore further treatment options, some of which seemed to alleviate Kevin's symptoms for a while, but ultimately, there were no curative treatment options available.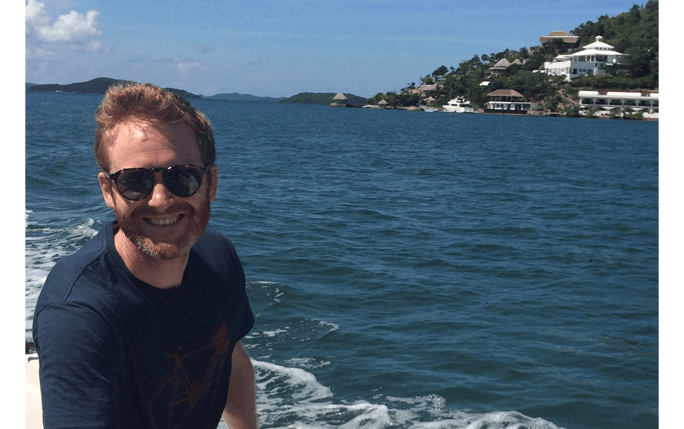 "We rented a nice apartment by the sea in Valencia. I didn't know how long we had, but I just wanted to enjoy whatever time he had left. The sea was a very special place for Kev and he swam a lot during that last trip". By the summer of 2020, the seizures had returned and Kevin's symptoms were getting worse. Whilst his oncologist said there was nothing more they could do, Kevin still refused to give in.
The speed with which the cancer devastated Kevin took everyone by surprise. Within ten months of his initial and totally unexpected seizures, his speech was slurred, he was beset by hiccups, the left side of his face was beginning to palsy and his balance was unstable, leading to multiple falls. The sudden deterioration from February to May 2020 made life very difficult for both Kevin and Maria, but still they persevered with hope and positivity. Unfortunately, the curative cupboard was bare, leading Kevin, a man with great trust in science, to begin thinking about the need for trials and further research.
He and Maria created what they called a 'healing plan' and explored a number of alternative therapies and clinical trials in different countries. Sadly, while the available medical options were not going to work for Kevin, his drive came from his belief that if it would prevent "this horror" from happening to other people then it was "more than enough reason for me to do it."
Kevin's mobility and independence were quite limited given problems with his eyesight. Maria was six months pregnant by this time and starting to feel the strain of dealing with Kevin's illness on her own. Maria, together with Kevin's family, decided it was time to take him home to his family in Cork. A week later, on 2 October, 2020, 15 months after his original diagnosis, Kevin died in hospital, surrounded by Maria, his parents and his sister. His best friends were waiting outside the hospital – unable to see him due to Covid restrictions. Kevin was just 41.
While he was undergoing radiotherapy, Kevin wrote down a list of all the people who had helped him throughout his illness. "He had a list of names of all the staff, the nurses, the doctors, his friends and family and he would often read it just to be grateful. He had another page with all our dreams, a vision board for what our future was going to look like. That's how he dealt with it".
The impact Kevin had had in his four decades only became evident upon his death, as tributes and stories from all over the world came flooding in, testifying to his loyalty, conscientious character, sense of fun and all-round decency. These testaments provided great comfort to Maria and his family.
As part of the fundraising campaign, the University is creating a PhD in Kevin's name, something Maria believes would have made him very proud. "He was very passionate about science and deeply believed in the importance of research. The work the University is doing into brain cancer is something very important for us. By raising awareness, we hope to contribute to more treatment options for brain cancer patients." This beautifully captures Kevin's lifelong commitment to helping others.
Together with Kevin's family and close friends, Maria is planning to organise an annual event to celebrate Kevin's life and keep a connection with the people he loved the most. "You want your loved one to be remembered and to build a legacy in their name. Keeping them in your thoughts keeps them alive and turns a very sad and difficult time into something more beautiful."
How you can help
Your support of this pioneering research will help our researchers investigate the effectiveness of immunotherapy as a treatment for brain cancer. Further research into this disease will help to identify the immune system factors that contribute to longer survival rates in patients and may identify new ways to treat glioblastoma in the future. Brain cancer is the biggest cancer killer of children and adults under 40 in the UK, yet treatment has not changed for decades.
Funds raised by the Glioblastoma (Brain Cancer) Fund will also support the creation of the PhD post to be named in memory of Kevin, that will undertake crucial research into glioblastoma and cancer immunology.
Your support could change lives. Please support our Glioblastoma (Brain Cancer) Fund today.
I feel really privileged to have spent time with Kev. It was way too short, don't get me wrong, we were only together for six years, but I know there are a lot of people who don't experience this love in their entire life. I'm proud of what we achieved together and I'm so grateful that I will always have a part of him through our wonderful son Liam. Our son will always be proud of his dad.

Maria Gisbert Sorolla
Back to: Giving