The Paris Exposition of 1900 proved to be a particularly defining moment, with innovators and entrepreneurs from around the globe coming together to showcase their cutting-edge moving image and immersive experiences, ranging from a cinematographe which staged gigantic projections in the Salle de Fêtes of the Gallerie des Machines, to immersive spaces filled with moving panoramas, such as the Maréorama and Cinéorama. Today, Liverpool is at the forefront of 21st century innovation in the field, leading the development of engaging place-based architectural heritage visitor experiences.
Professor Richard Koeck, Director of the Centre of Architecture and the Visual Arts (CAVA), situated within the School of Architecture says: "I deeply admire inventors and entrepreneurs such as the Lumière brothers, Hugo d'Alesi or Raoul Grimoin-Sanson, who not only pioneered a number of technological innovations, but also understood how to translate these into storytelling spatial experiences, such as the 2D and 360-degree cinematic settings, which went on to define 20th century visual culture".
Inspired by history
For Professor Koeck and his team of award-winning filmmakers, architects, artists and researchers, including Monika Koeck, Jemma Street, Nemeh Alrihani, Alastair Eilbeck and Hamid Khalili, such historical precedence provides the inspiration to innovate, develop and build digitally-enhanced spatial experiences to transform urban spaces and buildings into immersive narrative vehicles capable of attracting new and large audiences.
Increasingly, this approach is gaining attention in cities rich in historic architecture, such as Liverpool. Whilst the city boasts some of the UK's finest historical buildings – many of which are central to the City Council's heritage and cultural offer – new methods of public engagement are urgently needed if the true value of these unique assets is to be unlocked. Hybrid digital/physical approaches to interpretation and engagement offer exciting possibilities for the communication of stories and context within the sensitive surroundings of heritage buildings.
If these walls could talk...
Professor Koeck was asked to collaborate with Liverpool City Council to devise original concepts for a new, digitally enhanced visitor experience in one of Liverpool's most important landmarks – the Grade I listed St Georges's Hall (1841-54) designed by Harvey Lonsdale Elmes.
This led him to identify a series of research problems, recognising that any kind of concept needed to be both ground-breaking and match the quality of the building, without adversely affecting the authenticity of the place. As if this was not enough of a task, any intervention had to be minimally invasive, reversable, affordable and to speak to a wide range of audiences.
In 2019, CAVA researchers, together with a team of world-class screen, immersive and performing arts professionals, produced a pioneering hybrid spatial experience called "If these walls could talk". The resulting demonstration of prototypes, incorporating Microsoft's HoloLens system, received global recognition as being the world's first volumetrically filmed (3D holograms) UNESCO World Heritage Site mixed reality heritage experience.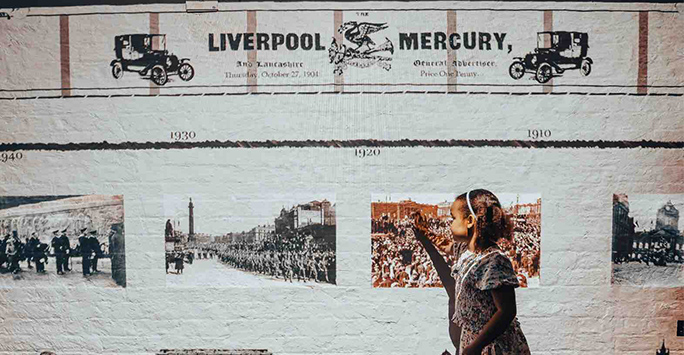 Alan Smith, Managing Director of St George's Hall says: 'The digital installation has now led to a new tranche of work that will lead to digital immersive experiences providing the future vision for heritage interpretation of the Hall. The use of such technology will provide an innovative platform for a heritage venue like St George's Hall to develop fresh and dynamic avenues for creating new experiences and generating new income streams'.
The St George's Hall Experience: The History Whisperer™
Following on from this research and development project, St George's Hall won funding from the Department of Culture, Media & Sport to translate some of CAVA's findings into a full visitor experience. The History Whisperer™, produced by a consortium led by Gazooky Studios, opened its doors to the public in October 2021. Professor Koeck and the CAVA team provided vital input into the research, content and implementation of this exciting new attraction for the city of Liverpool, once again achieving a delicate fusion of moving image content with the architectural fabric of this Grade I listed building.
Rather than utilising mixed reality headsets, the ambition was solely to rely upon sound and light hitting the walls to create a digitally-enhanced hybrid architectural experience. This necessitated the development and linking together of innovative technical, spatial and storytelling techniques, with the aim of transforming St George's Hall's emotive and history-laden spatial settings into what the cultural theorist and aesthetic philosopher Paul Virilio would have called architectonically mutated 'wall-screens'.
In short, the building's prison cells and corridors were transformed into immersive, interactive rooms, where the surfaces of the walls themselves became actively responsive to the physical touch of the individual visitor, whilst the Victorian courtroom's ornate stucco ceilings effectively morphed into a narrative canvas for a ground-breaking audio-visual installation.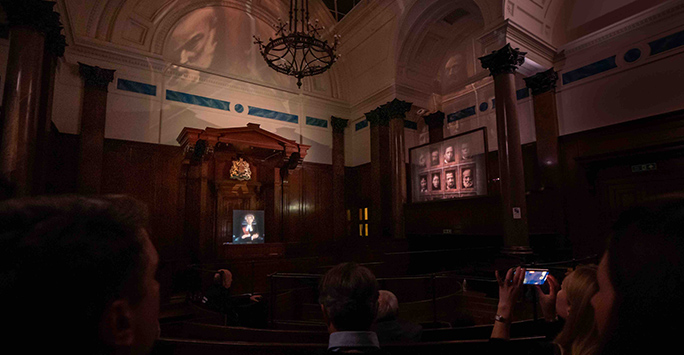 Prof Koeck notes:
Located within one of our most important heritage landmarks, the Grade I listed St Georges's Hall, The History Whisperer™ is a fusion of architecture, moving image projections and storytelling. Most importantly, it is scalable and I will not be surprised to see similar types of installations coming up in other cities in the UK and abroad. As is so often the case, it started in Liverpool.
Nearly 2000 tickets were sold within the first 24 hours of the attraction's launch, strongly suggesting that there is an appetite for such hybrid architectural, cinematic experiences. And that location-based immersive technologies can be transformative in our understanding of historical buildings and places, whilst actively demonstrating considerable socio-economic impact.
Beyond the city of Liverpool, the CAVA team's digital heritage expertise continues to be applied to associated projects in countries such as China, Jordan and Morocco; their St George's Hall project is shown at architectural and urban summits worldwide (e.g. the World Cities Heritage & Innovation Forum 2021 in Shanghai); and their moving image creations have won multiple globally recognised film awards.
Image Credits: Staged Kaos and Ant Clausen
Back to: Research