Wellbeing Week 2020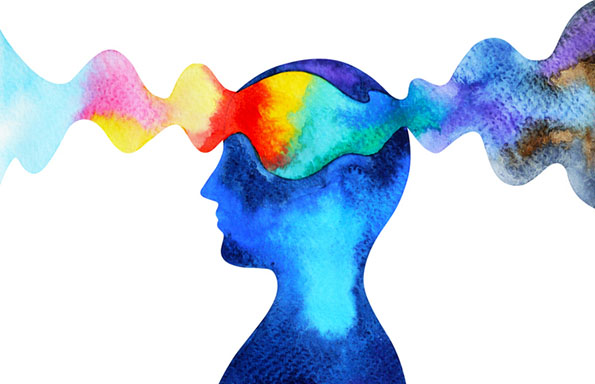 This week is the University's Wellbeing Week, in normal circumstances Wellbeing Week is filled with lots of activities around campus focusing on staff and student's physical and mental wellbeing.
With the ongoing COVID-19 situation, Wellbeing Week is a lot different to previous years. The usual face-to-face activities have been replaced with online activities that staff and students can engage with remotely from their homes.
However, despite the different format of this year's Wellbeing Week, the message remains the same: it is important that staff and students take some time to find ways to socialise, relax and improve their overall physical and mental health. With the current national lockdown that we find ourselves in, and the stress and worries that many of us are currently feeling, finding ways to look after our wellbeing is more important than ever.
The NHS promotes 5 steps to Mental Wellbeing: connect, be physically active, learn new skills, give to others, and mindfulness.
With these in mind, we wanted to share some of the ways that staff and students within the School of Law and Social Justice have been taking time out for themselves and managing their wellbeing at this time.
1. Connect with other people
During lockdown, people across the globe have been finding new and creative ways to connect with their family, friends and colleagues virtually. Here are a few examples of how we've been staying connected.
Virtual Family Parties
Jayne Bryson, Professional Services Staff in the Research and Impact Team
"My brother and sister-in-law are hosting some form of online entertaining via their new Facebook group every Saturday evening. So far we've had a 70s fancy dress disco and picture quiz (complete with glitter ball!); a phone-in with Alan Partridge (AKA my brother) and a general knowledge quiz with a guest appearance from Count Arthur Strong (yup, that was my brother again!). It's a great way to connect with family and friends (and to meet some new friends, too!) and it makes Saturday evening feel that little bit different to all the other lockdown days!"
Eurovision Song Contest in your own living room
Mike Homfray, Lecturer in the Department of Sociology, Social Policy and Criminology:
"I am a member of a discussion board to be found on escnation.com, where serious Eurovision fans from across the world meet to discuss the contest.
For us, it isn't just a one-off yearly event - there are all the national finals to select each country's entry, which we follow and watch online, with a chatroom open to discuss them, and the board for ongoing daily chat. This year, the EBU has cancelled the contest, and so each evening, since the 'lockdown' measures began, the discussion board has hosted a collective viewing of a past Eurovision Song Contest, or perhaps a semi-final, or a national final. We watch the contest via YouTube or similar, and comment on all the songs via the discussion board - then vote on them Eurovision-style, afterwards.
This may appear bizarre to people who aren't enthusiasts, but it has kept many of us going and has proved very enjoyable. We will be watching the replacement special programmes broadcast across Europe and on BBC iPlayer too, though nothing will ever replace the contest and we look forward to its return next year in Rotterdam"
Virtual Film Club
Phil Olsen, Professional Services Staff in the Research and Impact Team
"The Double Negative (an online Liverpool culture guide) is running a virtual film club called #endoftheworldfilmclub where a poll of three films is put out via Twitter each fortnight. Once the winning film has been chosen, people get a week to watch it and then there's a Twitter discussion at 7pm on the Friday.
The first one was A Matter of Life and Death (1946) and this week's film is Assault on Precinct 13 (1976) which is available to watch via All4.
Another one for film fans who are missing going to the cinema, Curzon is doing a series of half hour Q&As around recent films. The Q&As are free and can be tuned into via Twitter, Facebook and YouTube and then they remain on YouTube to watch after the livestream too:
Finally, 'Reel Tours' who would normally be giving tours of Liverpool film locations are doing a fortnightly 'Play Along Virtual Film Quiz' every other Wednesday (next one is Weds 6th May at 8pm). Participants can join in the livestream on either Facebook Live or Instagram."

Quizzes
Another way colleagues within the Professional Services have been staying connected is with the fortnightly School of Law and Social Justice Quiz! Held at lunchtime, it's a really great way for people within the teams to see each other, catch up and engage in some friendly competition!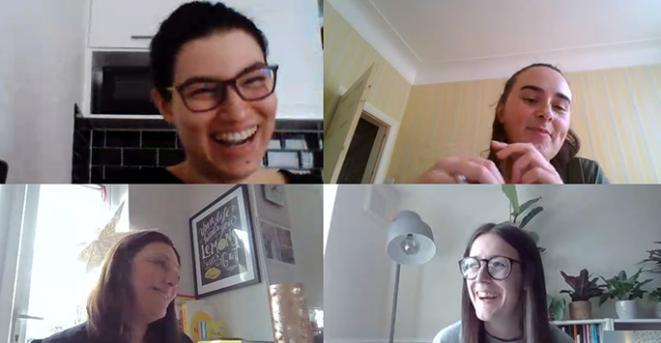 Quizzes are such an easy but effective way of getting a group of people together, and you're almost always guaranteed to learn something new.
2. Be physically active
Home workout videos have become increasingly popular during the lockdown as usual exercise facilities have shut down. Being physically active is not just good for your physical health and fitness, but can also improve your mental wellbeing.
Setting fitness challenges or goals and working towards achieving them is a great way to boost your fitness as well as mood.
Jane Critchley, Professional Services Staff in the Student Support Team
"After having a few days of feeling very frustrated and constrained by the restrictions, I made a quick decision to revisit Couch to 5K after completing it two years ago. I am midway through week three and I am glad to have this goal to work towards."

Elaine Brand, Professional Services Staff in the Liverpool Law Clinic
"I have started the Couch to 5K and am on my second week. I have kept exercising throughout the lockdown, and have done a few YouTube yoga and online gym classes. I am also trying to get to do the plank for three minutes but not there yet!"

Another way to keep physically active is to use your daily outdoor exercise to go for a walk.
Ronnie Hughes, a PhD Student in the Department of Sociology, Social Policy and Criminology, has long been walking around Liverpool and writing about it in his blog 'A Sense of Place'. Ronnie finds that getting out for walks helps with his writing:

"When the pandemic first happened I thought that if I gathered up the books and articles I was going to need I'd be fine. More than fine in fact. So long as I avoided the virus I imagined I'd be able to settle down, free from distractions, and maybe get even more work done than usual. This was a piece of nonsense it took me at least the first three weeks of the lockdown to recognise. Because I was reckoning without the fact that there would be a killer disease stalking the streets outside my window and that this would frighten and distract me. But it duly did and I've ended up throwing all of those early weeks of work away because they read back like the disjointed scraps they were, of someone coming slowly to terms with the fact that all my old and largely self-imposed production targets were history.
So now I do what I can. Beginning with the fact that I've been writing a blog about life in Liverpool for the past nine years, I started a new regular series of posts called 'Home Life During a Pandemic' which has now branched off into 'Sociology During a Pandemic' too. Both of which have helped me get my academic writing going again, using various methods, such as acting like a stoic, asking for help, walking around, reading novels and learning about something else altogether, horticulture in my case. All there, along with pandemic ups and downs probably not dissimilar to your own on my blog 'A Sense of Place.'
3. Learn new skills
Many of us are finding that with the lockdown we have more time on our hands than we usually do. A lot of people have put this time to good use and decided to learn a new skill or start a hobby. Learning new skills can help improve your mental wellbeing as it helps to boost self-confidence, build a sense of purpose and potentially connect with people who share similar interests.
Gardening has been linked to better health and wellbeing, and many people have found tending to their garden been a beneficial activity during lockdown.
Ruari McAlister, PhD Student in the Liverpool Law School:

"We don't have much of a garden currently as the grass hasn't been laid yet so we wanted something we could grow things in that didn't take up too much space.
Taking two old wooden pallets and using one to fix up the other..."
Before: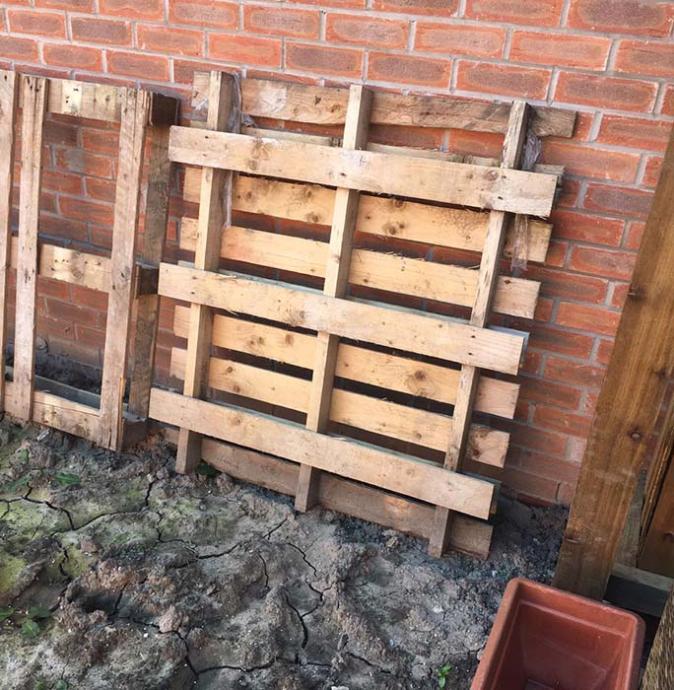 After: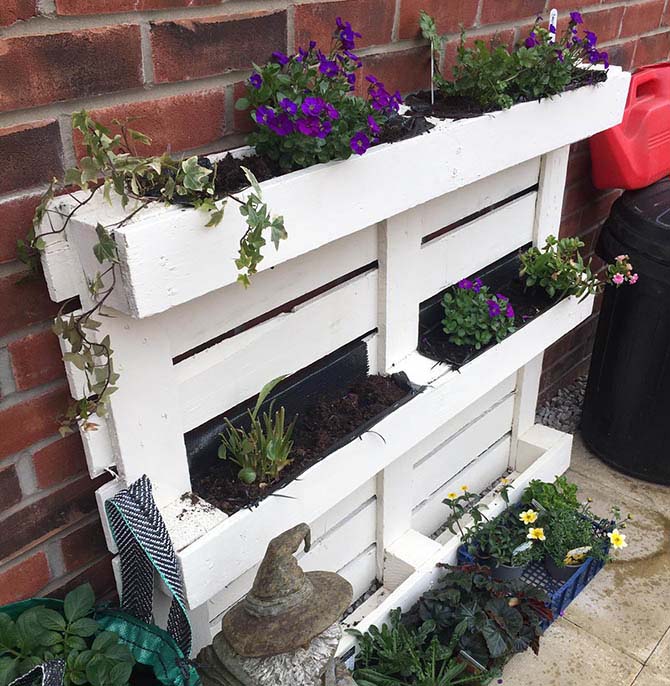 "I built a flower bed! I am also growing a range of herbs, parsley, basil, rosemary and also some veg- in the last photo the green bags are potatoes and I am also doing carrots, lettuces etc in pots. I have found it really relaxing and watching everything grow has been really enjoyable. Within the lockdown we went from nothing to now looking at a good harvest over the next few weeks."
Jane Critchley, Professional Services Staff in the Student Support Team
"I enjoy gardening, which I find to be very meditative and I am growing spinach for the first time! The new skill I am taking up is learning to crochet, using YouTube videos by Bella Coco Crochet. Progress is slow, but that's okay."


Online learning also offers many different opportunities for people to learn something new from the comfort of your own home.
Phil Olsen, Professional Services Staff in the Research and Impact Team
"I've also been tuning into some virtual literature events... Comma Press is doing a fortnightly Facebook Live webinar on short story writing (last Tuesday they had David Constantine talking about DH Lawrence and next Tuesday at 7pm they've got Jane Rogers discussing Dostoyevsky)."

Home-baking has also seen an increase in popularity due to lockdown measures.
Baking can help improve your wellbeing as it requires a lot of focus and attention, and has been proved to reduce stress. A lot of people have been using baking to take them back to their school days, baking School Dinner classics such as 'School Cake':
Rachel Barrett, Professional Services Staff in the Marketing, Recruitment and Events Team
"After seeing several images on social media of 'school cake' (good old fashioned tray bake with thick icing and sprinkles), I decided to take my hand to baking and have a go!"
Before: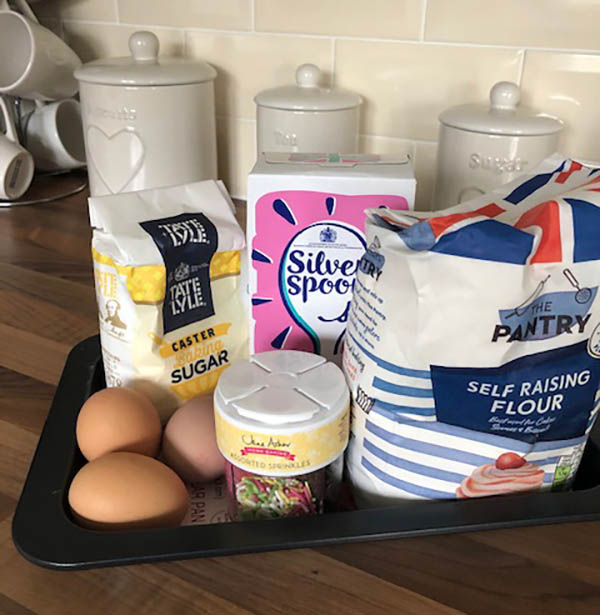 After: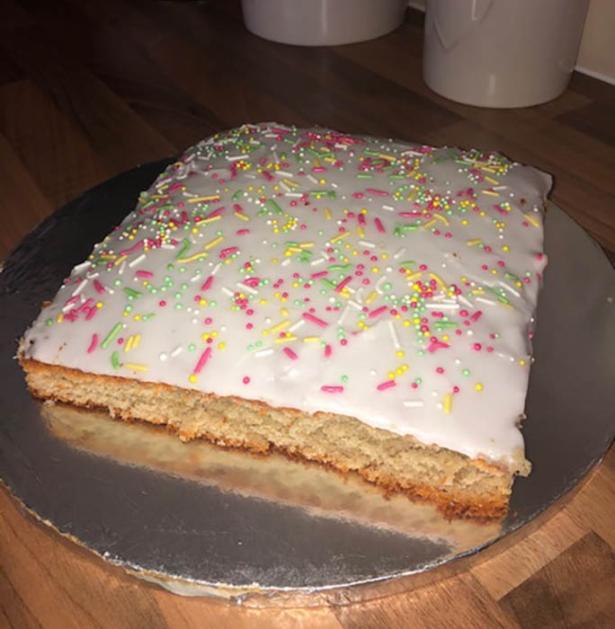 "I won't be entering Great British bake-off anytime soon, but I did enjoy making the cake and it filled me with lots of nostalgia from my school days!"
As well as learning new skills, we are rediscovering old hobbies and pastimes, such as board games.
Carl Griffiths, Professional Services Staff in the Marketing, Recruitment and Events Team
"Board gaming has come a long way since Monopoly and Ludo, with a myriad of games and types to play: co-operative, single player, competitive, quick 10-minute games, to campaigns that last weeks, months, even years – there's lots to choose from, and therefore plenty of variety to suit most tastes.
There's also a wide rang of websites that allow you to play your favourites and try new games, either with your friends, or even against players you've never met. The beauty of it during lockdown is that with just a laptop and access to video calls, you can easily have a game night with your mates. Boardgaming provides the perfect opportunity to exercise your mind to whatever level you like, all from the comfort of your home.
There are lots of great sites to try games out including Roll20 for Dungeons and Dragons, Tabletopia, Tabletop Simulator, and Board Game Arena. And if you like what you see, there are always plenty of sites to purchase the real games ready for meeting friends after lockdown and carrying on the fun."
4. Give to others
Simple acts of kindness go a long way. During the COVID-19 pandemic, there have been plenty of heart-warming stories about people going out of their way to help and support others within their community and beyond. Research suggests that acts of kindness can help your mental wellbeing through creating positive feelings, a sense of reward as well as connecting with others.

Along with gardening, Ruari also told us about his mum's new hobby and how she has used this to help others:
"For anyone who doesn't garden my mum suggested knitting- she's taken to knitting clothing for premature babies as part of the Warm baby project. After seeing a story on the BBC about it she decided to give it a go.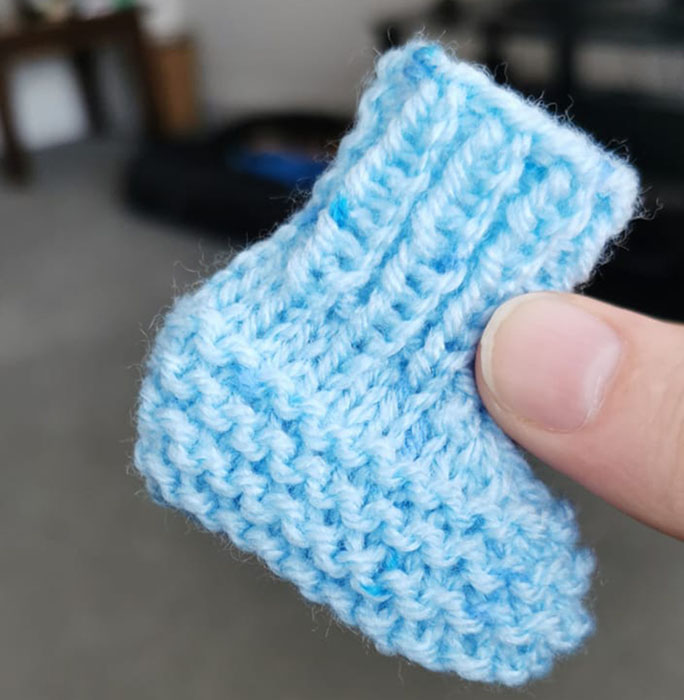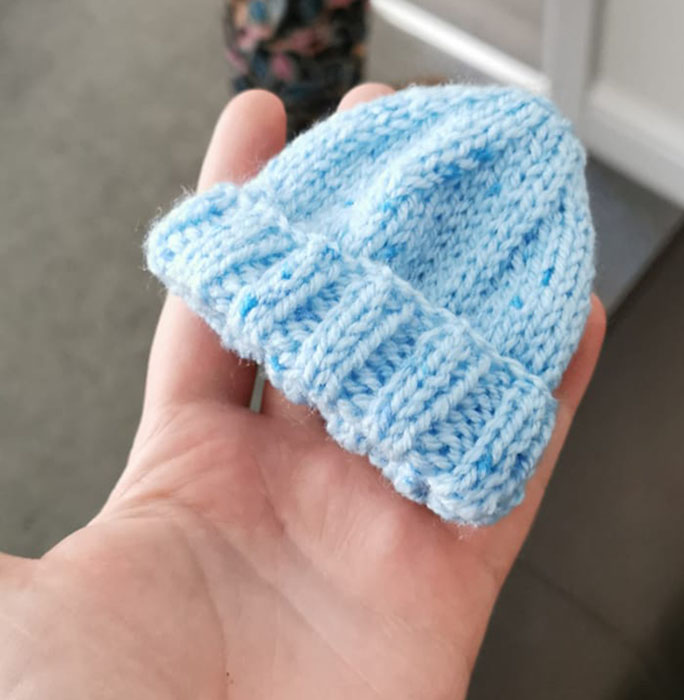 That hat for example is for a 2-3 pound baby if memory serves. My mum swears that the designs are really easy and she considers herself a novice."
Reaching out to people through a phone call, email or as Susan has been doing, through writing a letter, is another way you can help others at this time.
Susan McLoughlin, Professional Services Staff in the Student Support Team

'Whilst I send letters throughout the year, during the lockdown sending and receiving 'happy mail' has been a lovely way to stay in touch with friends and family in the UK, Canada, China, United States, Italy, France and Austria. With stationary shops being closed it has been fun/relaxing to make and decorate my own envelopes out of whatever I can find in the house. No form of paper has been left untouched - Christmas wrapping paper, baking parchment, tracing paper, brown paper, newspapers all made into envelopes.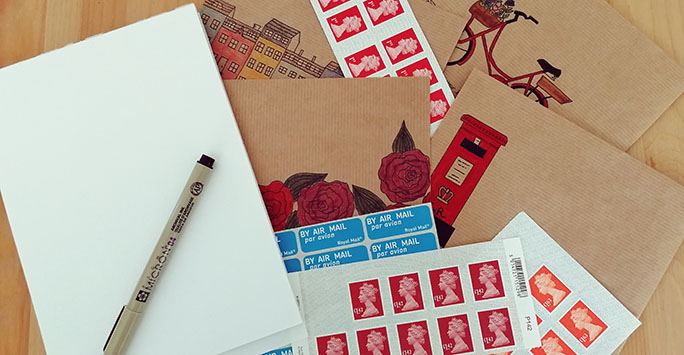 "On social media I asked friends if they knew any elderly person who is currently in isolation but who may appreciate a letter. As a result, I gained pen pals who are in their 80s and 90s who due to isolation have been alone for many weeks. On receipt of my letter one lady informed me that it has not only made their week, but also their month and year."
Giving to others can be as simple as asking a friend, family member or colleague how they are and really listening to their answer, or saying thank you to someone for something they have done for you.
If you are interested in using this time to help people within the wider community, the University has a helpful article on how you can support your neighbours and local community.

5. Mindfulness
Mindfulness is paying more attention to the present moment, to your own thoughts and feelings, and to the world around you. Mindfulness can help us to understand ourselves better and help us enjoy life more.
As many of us are understandably feeling overwhelmed and disorientated at times due to the pandemic, practicing mindfulness may be beneficial to you - as both Dominique and Abbie found:

Dominique Mansley, Professional Services Staff in the Liverpool Law Clinic

"Since making the transition to working remotely, I have tried to focus attention on the practice of mindfulness. Usually, we are all in a rush to accomplish necessary tasks, and so we feel that we don't have time to commit to connect with the present moment. During the lockdown, I have taken advantage of the 3 months free access to Fitbit premium, they offer a range of guided meditation programmes, that help beginners concentrate on being aware and fully engaged with the here and now. I have tried to stick to a morning meditation routine, mainly focusing on breathing exercises and gratitude. Whilst I cannot wait to get back to the office (and throw a few hugs around – once there is a vaccine, don't worry), I have found that dedicating a short period of time each day to meditation, has really improved my mood and well-being whilst working from home, helping me to focus on the positives rather than the negatives in the current climate."
Abbie Goodwin, Professional Services Staff in the Marketing, Recruitment and Events Team
"I have found being more mindful to be really beneficial during the lockdown, mainly in acknowledging different thoughts and feelings that I have and understanding what causes them. For example, I've found that because my commute has changed drastically (from a bus journey and 20-minute walk to a much shorter 30 second walk down the stairs to my dining room) I can often feel groggy and unmotivated when I start work. To combat this, I get up early and either do a home workout, go for a run/walk, stretch or even just go to a different room with a cup of tea and look out the window – just any type of activity (physical or mental) that allows me to focus on the present moment. Whenever I feel cooped up or agitated, I know that it is because I haven't had that time for myself. I would recommend this to anyone as it has really helped me with learning to adapt to the new normal."
The NHS has some really useful tips on practising mindfulness.

These are just some examples and ideas of wellbeing activities that people within the School have found beneficial to them during this time. Remember, that there is no pressure to do any of these things and the best coping strategy is whatever works for you.
Take care and keep safe.
Useful Links: