Don't Miss This Trio of Tate Exchange Events from the University of Liverpool
Posted on: 12 October 2018 by Nick Jones in 2018 Posts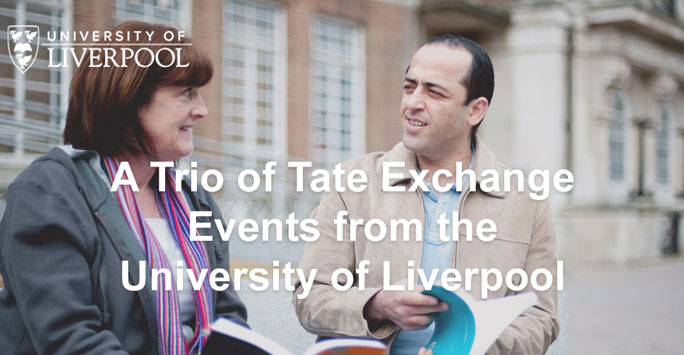 Coming up over the next couple of months is a trio of fascinating week-long activities from University of Liverpool researchers at Tate Liverpool, all part of the highly successful Tate Exchange programme of workshops and activities.

Covering topics as diverse as refugee migrations, the impact of higher education on older learners and the wellbeing benefits of graphic novels, Read on to find out more about what's happening and how you can get involved here.
The University of Liverpool has a long and successful track record of staging Tate Exchange residencies. Past collaborations have included works on ancient Egypt, early 20th century Germany, futurology and the collections of Tate Liverpool itself. Now, covering topics as diverse as refugee migrations, the impact of higher education on older learners and the wellbeing benefits of graphic novels, this latest series will continue in that strong tradition.
Illustrating Futures 2018
16-20 October 2018
The brainchild of Dr David Hering, Lecturer in American Literature in the Department of English, Illustrating Futures 2018 will use the narrative potential of comic book and zine art to explore the links between comics and mental wellbeing.
Participants will be able to join in collaborative workshops to explore themes around mental health in new and exciting ways, and the work they create will be displayed at Tate Liverpool.
Transits and Transformation
29 October – 4 November 2018
Transits and Transformations asks the question, 'How does accessing higher education later in life change students' lives and identities?'
Reflecting on this, Transits and Transformations will uncover shared experiences and seek answers to the question who has access to higher education, how is this changing and why?
Visitors will be able to help create a collage capturing the learner experience; view artworks made by other mature students and a piece created live by an artist; create a vlog on the impact higher education has had on them, take part in debates and join an 'Art & Protest' seminar to experience being a student once again.
The week of activities is part of the celebrations surrounding the 20-year anniversary of the Go Higher Diploma, the University of Liverpool's part-time access foundation programme for mature learners seeking access to degrees in the arts, humanities and social sciences.
Refugee Journeys
12-18 November 2018
The Refugee Journeys installation will bring together key findings from the #IR_Aesthetics fieldwork projects of 2017 and 2018 in Serbia and Greece, raising questions about the lived experiences of refugees on the Balkan Migration Route and engaging participants with a range of activities to help them think more deeply about what it means to be a refugee fleeing persecution.
Visitors will have the be able to speak with the University of Liverpool academics responsible for the project; join panel discussions featuring academics and activists; view and respond to a photographic display shot over the two year fieldwork period; watch short films from the project and get involved in a quilting project intended to commemorate the week.
Keep up to date with the latest Tate Exchange projects and read up on past programmes here.
---