Researcher in Focus: Dr Nick Webb
Posted on: 30 November 2018 by Nick Jones in 2018 Posts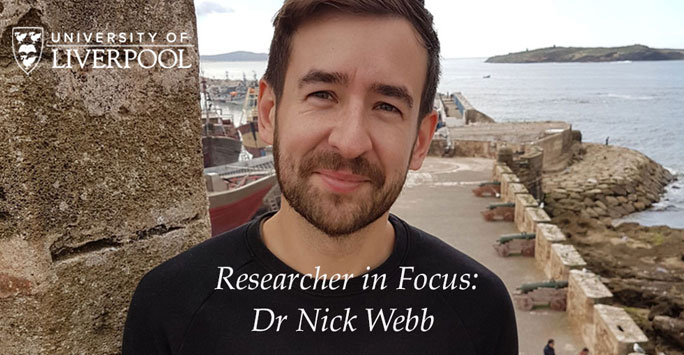 Meet this month's Researcher in Focus, Dr Nick Webb and find out more about how he's using the latest digital scanning technologies to unlock the secrets of medieval architects and stone masons.
Nick Webb is a lecturer in the Liverpool School of Architecture. He joined the department full time in October 2013 after working in practice and gaining professional accreditation as an architect. As a researcher, he is interested in ways that three-dimensional modelling can be used to critique and enhance understanding of historic works of architecture; whether they be existing buildings, were built and then damaged or destroyed, or were not built at all. He is currently focussed on the AHRC funded 'Tracing the Past' research project initiated alongside Dr Alex Buchanan from the Department of History.
Nick first became fascinated by modelling as an analysis tool when he contributed to the Liverpool 2008 'World In One School' exhibition and catalogue, where a 3D model of Sir James Stirling's thesis project whilst studying at Liverpool was created. The modelling process presented many questions due to missing information in the drawings and literature, which therefore required careful analysis to fill in the gaps in the design. The project grew into a PhD thesis, resulting in several outputs such as an investigation into Auguste Perret's unbuilt museum projects in Paris, funded by the FBUA, as well as a study of Sir Edwin Lutyens' partially built cathedral here at Liverpool.
Since joining the school as a lecturer, Nick has continued to explore the work of Lutyens' Liverpool cathedral, as well as his designs for the Imperial War Graves Commission in France and Belgium. He has also collaborated with Dr Zoe Alker from the Department of Sociology, Social Policy and Criminology to investigate Bentham's Panopticon Prison design using digital modelling and immersive virtual reality techniques.
'Tracing the Past', Nick's current research focus with Dr Alex Buchanan, is exploring how digital surveying and modelling tools are used to enhance understanding of medieval vault design across England and beyond. The use of laser scanning to document church and cathedral ceilings and subsequent outputs from this, notably orthographic point cloud images and three-dimensional mesh models, enable them to interrogate key geometry relating to vaulted arches. With the acquired digital data as well as historical sources, they hypothesise how medieval vaults were designed using a process of reverse engineering starting in plan, followed by full three-dimensional projections. Two of their first articles have been published focussing on Wells cathedral, the first focussing on their digital methodology and the second discussing their findings in the choir aisle vaults.
You can follow the 'Tracing the Past' project on Twitter too.
---