Researcher in Focus: Professor Mike Gordon
Posted on: 22 July 2019 by Nick Jones in 2018 Posts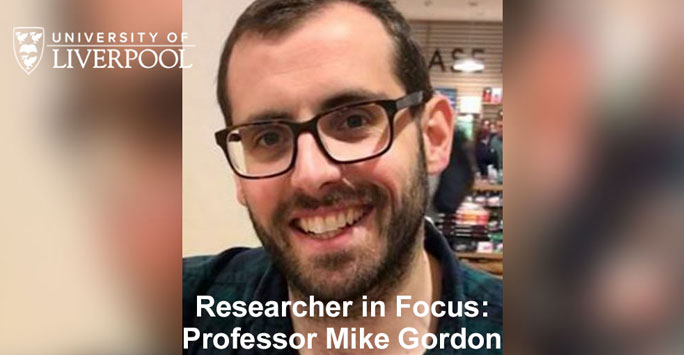 Meet this month's researcher in focus, Professor Mike Gordon, Professor of Constitutional Law in the Liverpool Law School. His main research area is UK constitutional law, theory, and reform, with a particular focus on the role of Parliament in the constitution.
Mike joined the Liverpool Law School in 2010, and was appointed Professor of Constitutional Law in 2017.
Mike's book Parliamentary Sovereignty in the UK Constitution was published in 2015. It developed a democratic defence of that concept, which was (at the time) increasingly subject to challenge, while also demonstrating its potential use for reform of the UK's political constitution.
Since then, a lot of Mike's work has focused on Brexit, and the 'constitutional overload' it has generated in the UK. He has written widely on the constitutional challenge of Brexit, the implications for Parliament, and our understanding of sovereignty following the 2016 referendum. He was invited to give oral evidence to the Commons Procedure Committee on key legislation, the EU Withdrawal Act 2018, and has written blogs on a number of aspects of the process, assessing key developments as they happen. Mike has featured on Sky News, BBC Radio 5 Live, ABC News Australia, and other media outlets to try to explain and analyse the constitutional developments surrounding Brexit for the wider public.
Beyond Brexit, Mike works on UK constitutional reform at a time when the constitution has changed dramatically in a short space of time. He contributed the chapter exploring the democratic challenges for UK constitutional law to the 2017 and 2018 Democratic Audits, and with his Liverpool colleague Adam Tucker, is currently editing a collection of essays on The New Labour Constitution: Twenty Years On. This project was funded by a BA/Leverhulme grant, and assesses the impact of the programme of constitutional reform delivered by the Blair and Brown governments from 1997 onwards.
Mike is currently working on the theory of the political constitution, the position of referendums in the UK, and a critical account of the current judicial approach to constitutional principles, which he argues has seen the construction of a synthetic constitution in the UK courts. He is a contributor to an AHRC funded network developing links between UK and Japanese constitutional lawyers, and will be a keynote presenter at the Society of Legal Scholars Public Law stream at UCLAN in September 2019.
Find out more about Mike and his work on his staff page.
---