Professor Louis E. Wolcher's Recent Visit to the School of Law and Social Justice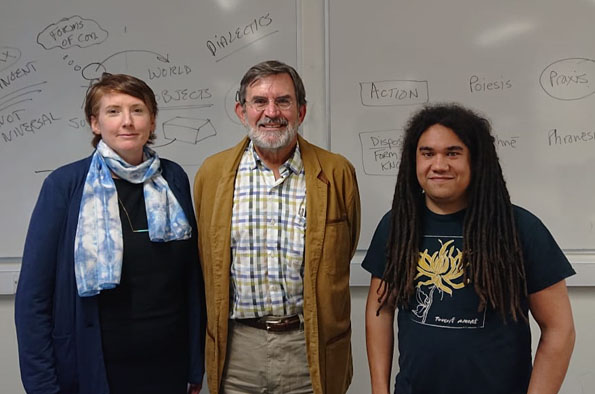 From 29 April to 14 May, we were honoured to welcome Professor Louis E. Wolcher as an International Visiting Fellow to the School of Law and Social Justice. Wolcher is Professor Emeritus at the University of Washington. He is the author of numerous books and articles with a particular focus on legal philosophy. His books include: The Ethics of Justice without Illusions (Routledge 2016) and Law's Task: The Tragic Circle of Law, Justice and Human Suffering (Ashgate 2008).
The aim of Wolcher's visit was both to provide him with an opportunity to share, and receive feedback on, his new research and to engage with us on our research. In regard to the latter, Wolcher generously participated in a number of events that were organised in conjunction with the Critical Approaches to International Law Unit.
During his visit to the School, Professor Wolcher delivered a stunning lecture 'on the Ethics of Law and Justice' to a completely engrossed audience. Wolcher shared some of the central ideas of his forthcoming book on justice and took the audience on an extraordinary theoretical journey from Ancient Greece to the Enlightenment to the Frankfurter school to the present.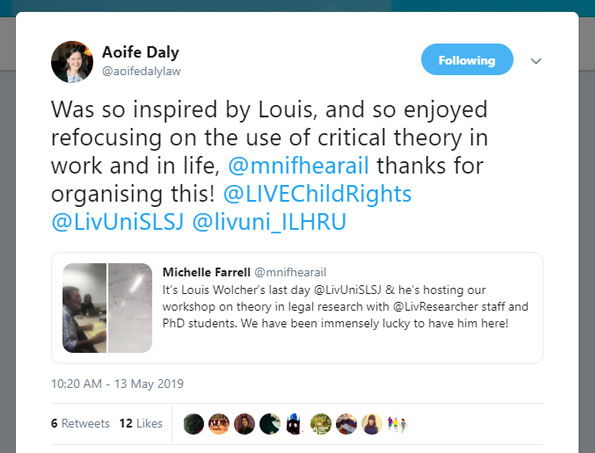 The following day, he hosted a day-long seminar entitled 'the Gritty Reality of Suffering'. There were a number of participants at the seminar: Angus McDonald, independent researcher, based in Manchester, John Reynolds, National University of Ireland Maynooth and Kathleen Cavanaugh, National University of Ireland, Galway. Along with Michelle Farrell, Rob Knox, Anne Neylon, John Picton and Katy Sowery, all participants delivered presentations connecting their own ongoing research projects to Wolcher's ideas on ethics, law and justice. Wolcher provided extensive feedback on each paper.
On 13 May, Wolcher delivered a workshop to staff and PhD students on Theoretical Approaches to Legal Research. He explored the theory of theory, discussed fear of theory, busted some myths about use of theory in research and fielded questions about individuals' use of theory in their own research.
During his visit, Wolcher also took time to meet many staff and students at an individual level. He shared his invaluable experience, encouraged us in our research and listened intently to our ideas, plans and woes. Apart from the exciting schedule of events, Wolcher, throughout his visit, inspired staff and students and reminded us to appreciate our passion for research and for social justice.