Dr Lisa Doyle 'Building Walls not Bridges: State Responses to Refugees'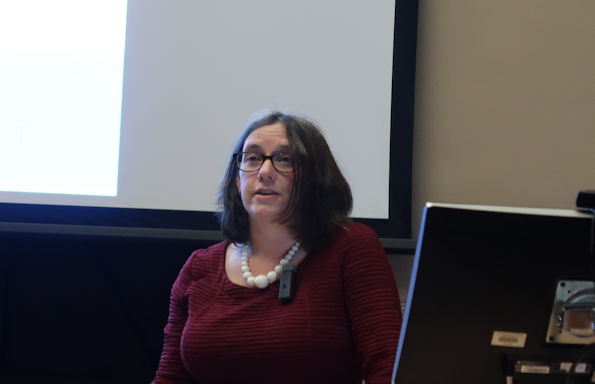 Speaking to a busy audience at the Leggate Theatre at the Victoria Gallery & Museum on Wednesday February 13, Dr Lisa Doyle, Executive Director of Advocacy and Engagement at the Refugee Council, delivered the first lecture in the 2018-19 series of Eleanor Rathbone Social Justice Public Lecture Series. Dr Doyle's lecture was entitled 'Building Walls not Bridges: State Responses to Refugees'.
Introducing the lecture Professor Barry Goldson said 'Eleanor Rathbone was deeply concerned with the plight of refugees throughout the 1930s and beyond. Many things have changed in the 80 years since, but some core continuities are also evident; not least the struggles of refugees and asylum seekers at the present time. It is especially fitting, therefore, that Dr Lisa Doyle is opening our current series'.
Indeed, Dr Doyle commenced her lecture by acknowledging that Eleanor Rathbone had been a 'staunch advocate for refugees'. She provided a historical overview of state responses to refugees and highlighted the hostilities that are still prevalent today.
Dr Doyle mapped the refugee crisis that the world is currently facing: 'At the end of 2017, 68.5 million people around the world were forcibly displaced as a result of persecution, conflict or generalised violence with 25.4 million becoming refugees.'
She pointed out that the vast majority of displaced people remain close to their home country, with four out of every five refugees being in a neighbouring country to the one from which they fled. 'Given the fact that the world is facing the biggest refugee crisis since the Second World War, comparatively few people make it to Britain in their search for safety… with Britain hosting less than 1% of the world's refugees.'
Dr Doyle discussed the problematic responses from many European countries to the refugee crisis, including policies that serve both to obstruct entry and to place those who do manage to arrive at a profound disadvantage when trying to rebuild their lives.
The public lecture was scheduled to coincide with the Victoria Gallery & Museum exhibition 'Eleanor Rathbone - An Independent Woman' that celebrates her remarkable achievements. The exhibition is open to the public and will run until April 6, 2019.
A full recording of Dr Lisa Doyle's is available below.