Dr Samantha Caslin, Lead Researcher for the Sisters of Mersey
The Sisters of Mersey project developed out of my interest in women's relationship to public space in Liverpool during the course of the twentieth century. I was particularly interested in the ways that some women's engagement with the streets had been subject to moral anxieties and interventions while other women's engagement with the streets was regarded as pioneering.

My research into the street patrol work of local female philanthropists demonstrates that the trope of the woman in public as either a moral saviour or a "fallen" social outcast remained prevalent in Liverpool for much of the twentieth century.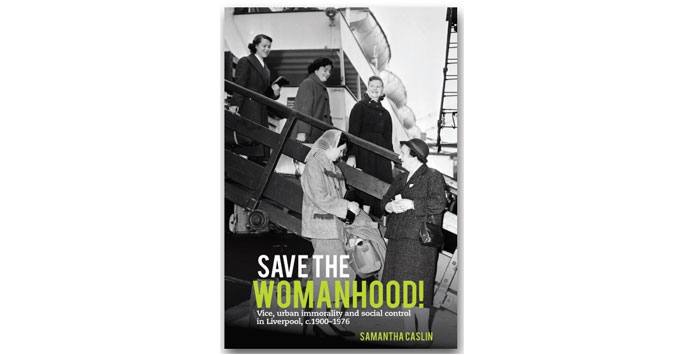 In my book, Save the Womanhood: Vice, urban immorality and social control in Liverpool, c. 1900-1976 (Liverpool: Liverpool University Press, 2018) , I argue that the persistence of this trope resulted in networks of moral surveillance being used by female social purity philanthropists to unofficially police the social and working lives of working-class and Irish women.
Moreover, at a national level, the idea that women from marginalised communities, particularly working-class and immigrant communities, were morally "vulnerable" had real policy implications. These concerns about the supposed moral vulnerability of some women were used to justify the postwar strengthening of the laws used to police sex workers. Policy makers shared the concerns of social purity patrol workers in cities like Liverpool; they believed that the streets needed to be cleansed of any signs of prostitution in order to maintain female respectability.
This approach effectively enshrined in law the notion that prostitution was a form of immoral contagion; as a result, sex workers were pushed into more covert forms of working which made them less safe. As such, my research seeks to draw out the ways in which women's experiences of the city were shaped by moral ideas about appropriate femininity and respectability well into the twentieth century.

Sisters of Mersey catalogues some of my research under the themes of 'Charity and Philanthropy' and 'Crime and Policing'. To find out more, please download the Sisters of Mersey app for free.

Locate some of Dr Caslin's Save the Womanhood research on the Sisters of Mersey app:

"Mary Mac's Shanty"
Site: Mill Street, Toxteth.

The House of Help
Sites: 162 Grove Street; 44 Falkner Street.

The Liverpool Vigilance Association
Sites: 34 Strand Street; 16 Daulby Street; 24 Mathew Street; Lime Street Train Station; Liverpool Landing Stage.

National Vigilance Association Charity Dinner, 5th November 1908
Site: Adelphi Hotel.

The Liverpool Women Police Patrols
Sites: 5 Cases Street; Clubmoor Recreation Ground; Scotland Road.

The Liverpool Women Police Patrols' Hostel for Girls
Site: 33 Upper Duke Street.
Using Special Collections & Archives for Local History Research
If you are interested in researching local history for yourself, Jenny Higham, Head of Special Collections & Archives at the Univerity of Liverpool Library, demystifies the process here.
Children's Worksheets
We've put together some worksheets to help our younger visitors find out more about the women who helped shape the cultural and political landscape of both Liverpool and the country. Access the worksheets here