Charity and Philanthropy
During the nineteenth century and even during the first half of twentieth century, women were "idealised" as having skills particular to the domestic sphere. Women were considered to be homemakers, child-rearers and carers. These "feminine" skills were thought to be at odds with the masculine sensibilities needed to succeed in the worlds of work and civic society.
Yet the history of charity and philanthropy in Merseyside during this period demonstrates the degree to which women's lives often differed from the "ideal" that supposedly confined them to the home. Charities existed to help working-class women as they sought and travelled for work outside the home in order to sustain their families.
At the same time, charity and philanthropy offered more well-off women opportunities to participate in public life through fundraising and offering advice to women they considered to be less fortunate. However, the moral tones that often underpinned this advice meant that the aims of female philanthropists and the needs of working-class women were not always well aligned.
Dr Samantha Caslin, University of Liverpool
Download our Sisters of Mersey app (on the App Store and Google Play) to discover more about the local women who have campaigned and dedicated themselves to achieving equality
Meet one of the philanthropic organisations catalogued on our Sisters of Mersey app:
The House of Help: 162 Grove Street and 44 Falkner Street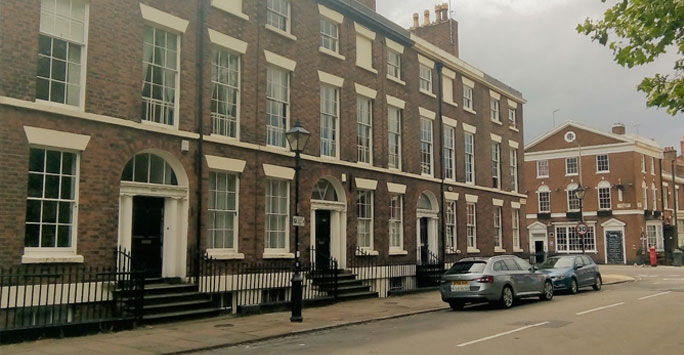 Former site of the House of Help. Photo S Caslin, 2019.
The House of Help was set up in 1890. It offered short-stay accommodation to women who were lost or stranded in the city. The House was based at 162 Grove Street. It remained there until 1963, when the House moved to 44 Falkner Street after Grove Street was marked for demolition under the Town Planning Scheme.
The women who stayed at the House of Help were often working-class women who had been made redundant from domestic service posts, women who had come to Liverpool in search of work and those who had missed connecting trains or boats to other destinations. The House of Help worked with other organisations like the Liverpool Vigilance Association and considered itself vital to the moral upkeep of the city.
Those who ran the House were anxious that, without their help and guidance, unemployed women might turn to prostitution. The women who stayed at the House were not charged, though they were asked to make donations and to help with the domestic upkeep of the refuge. The House of Help remained open until the late 1960s.
Dr Samantha Caslin
University of Liverpool
Further reading
S Caslin, Save the Womanhood: Vice, urban immorality and social control in Liverpool, c. 1900-1976 (Liverpool: Liverpool University Press, 2018).
---