Researcher in Focus: Dr Sarah Arens
Posted on: 7 March 2023 by Sarah Arens in 2023 Posts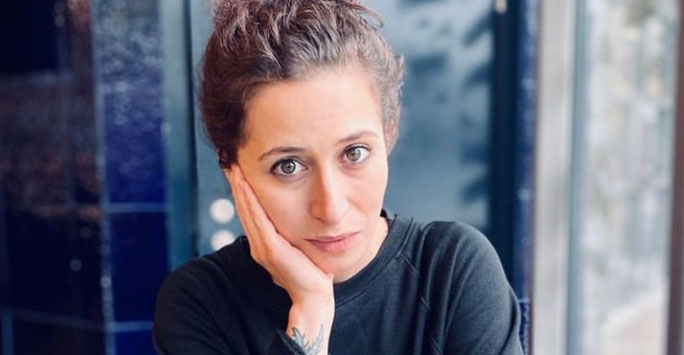 This month's researcher in focus is Dr Sarah Arens, Lecturer in French at the Department of Languages, Cultures and Film. Read all about her wide research interests, including the histories, texts, and visual cultures produced during and in the aftermath of Belgian and French colonialism.
Listen to a podcast version of this blog here to learn more about Sarah's fascinating work.


Sarah writes:
I am newly minted Lecturer in French in the Department of Languages, Cultures and Film. My research lies at the intersections of history, cultural and literary studies. It considers archival material, scientific and other non-fictional forms of writing, literature, as well as visual culture (especially museums), produced during and in the aftermath of the Belgian (and sometimes also French) colonial projects in order to get a better understanding of the ideologies that fuelled colonialism and the resistance against it.
For my British Academy Postdoctoral Fellowship project, 'Constructing a Geopolitics of Nationhood: Belgium's Scientific and Cultural Colonial Project (1830–1858)', which I had started at the University of St Andrews in 2019 and brought with me to Liverpool in August 2021, I began working on my second book, provisionally entitled Experimental Empire: Science, Technology, and Belgian Colonialism (1897–1958).
My book investigates the instrumentalisation and weaponisation of science and technology and their exhibition through museums and world fairs to understand the Belgian colonial project as a concerted effort to be perceived as a 'modern' nation and a 'modern' coloniser among the other European imperial powers. I'm currently continuing this work as a Visiting Fellow at the Institute of Languages, Cultures and Societies at the University of London (March–June 2023).
Focusing on questions of memory, mobility, and space, my first monograph, Imagining Brussels: Memory and Diaspora in Francophone Fiction (under contract with Liverpool University Press), offers a critical investigation of the Belgian capital's representation in Francophone postcolonial literature. It challenges conventional models of Postcolonial Studies that do not sufficiently engage with the existence of Belgium as an imperial power in Africa alongside France and it takes seriously the long-term effects this has had on literature produced in the wake of colonialism and post-war labour migration.
My research and my biography overlap at certain points: I am a first-generation university graduate and grew up in Germany and in Algeria, my Dad's native country (sadly, I failed to pick up much Arabic). I settled in the UK in 2013 to complete a PhD in French at the University of Edinburgh (2017), including a stint at the École Normale Supérieure in Paris, after having previously worked in non-academic jobs in Paris and Berlin.
I speak French, German and English, and recently started learning Russian and Yiddish. My broader research interests include:
Critical animal studies, especially theories of animal labour and animal liberation, and Environmental Humanities more broadly
The politics of meat and its cultural intersections with race and racism, gender, and sexuality
Nationalism, statehood, and citizenship
Jewish history, literary and cultural production in colonial spaces
Other fields of critical theory, especially Queer Studies, including Queer of Color critique
Starting a new job during a global pandemic has been a rather peculiar experience and I'd love to hear from colleagues interested in any of the above from across the Faculty.
Read more on Sarah's staff page here.
Follow Dr Sarah Arens on Twitter here.
---