Researcher in Focus: Dr William Ashworth
Posted on: 19 August 2022 by Nick Jones in 2022 Posts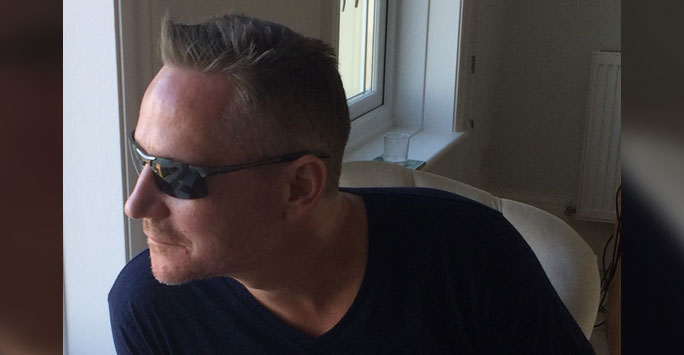 This month's researcher in focus is Dr William Ashworth, Reader in the Department of History. William is textiles lead for a major project called Congruence Engine, funded by the Arts and Humanities Research Council under the "Towards a National Collection" funding stream, linking the nation's collections held by a multiplicity of organisations.
Dr. William J. Ashworth is Reader in the Department of History. He began his career at the University of Liverpool in the former Economic and Social History Department and was the advisor on the creation of a new tax museum in the Museum and Galleries in Merseyside complex at the Albert Dock (now called "Seized! The Border and Customs Uncovered").
Since November 2021 William has been textiles lead for a major project entitled Congruence Engine - one of five "Discovery Projects" funded by the Arts and Humanities Research Council under the "Towards a National Collection" funding stream. The aim is to link the nation's collections held by a multiplicity of organisations. Until recently, people have been restricted in their research by single online archives. Congruence Engine addresses this problem, harnessing Artificial Intelligence (AI) techniques - including machine learning and natural language processing - to link many different collections relevant to industrial history into a single digital site.
One major objective of Congruence Engine is to sharpen its digital tools as it pursues its historical research producing stories of industrial change relating to the textiles, energy and communications sectors. Until now, historians and curators have become used to a world where it has only been possible to work with a small selection of the sources – museum objects, archive documents, pictures, films, maps, or publications, for example – potentially relevant to the history they want to explore. Congruence is trying to overcome this major constraint on the histories that can be created and shared with the wider public in museums, publications and online.
The project has begun to grow and diversify its audiences by creating public outputs for museum visitors and online, but especially through participatory co-investigation with diverse community groups. For example, in textiles I am leading the attempt to combine material artifacts such as textile machines with written sources from various collections. Other activities include documenting the lived experience of textile mills and the work process with the type of textiles manufactured, their design, purpose, and market, along with the backgrounds of workers and the source of raw materials (such as slave-based cotton plantations in the Americas, dyes, and South American wool). To date we have concentrated on woollen textiles in the Bradford area but commencing in September will be focussing on mixed cotton and cotton textiles in Lancashire. All this will requires linking, for example, to other sites such as the records held at the National Museums Northern Ireland – crucial for the history of linen yarn used in Lancashire.
The project unites a unique combination of skills and interests. For example, digital researchers are working alongside professional and community historians and curators. The project partners include National Museum Wales, National Museums Northern Ireland, Birmingham Museums Trust, The National Archives, National Trust, the V&A, BBC History, BT Heritage & Archives, Grace's Guide to Industrial History, Isis Bibliography of the History of Science, Society for the History of Technology, Saltaire World Heritage Education Association, Whipple Museum of the History of Science (Tools of Knowledge Project), Wikimedia UK and Manchester Digital Laboratory (MadLab).
William's role is as one of the co-investigators (textiles lead) – the other two leads are Professor Graeme Gooday at the University of Leeds (energy) and Professor Jon Agar at University College London (communications)). The project lead is Dr Tim Boon from the London Science Museum and Head of Research in the Science Museum Group. There are also advisors from The British Film Institute, Historic England, National Museums Scotland, Tyne and Wear Museums and Bradford Museums.
Read more about the University of Liverpool and William's involvement in the Congruence Engine here.
William's next project is to chart the impact of the chemical industry since the Industrial Revolution on NW England; in particular the areas around Runcorn, Widnes, St Helens and Elsemere Port. He is currently in the process of writing the proposal and confirming his institutional team.
William is also the author of Customs and Excise: Trade, Production and the English Customs and Excise, 1640-1845 (Oxford University Press, 2003), The Industrial Revolution: The State, Knowledge and Global Trade (Bloomsbury, 2017), The Trinity Circle: Anxiety, Intelligence, and Knowledge Creation in Nineteenth-Century England (Pittsburgh: University of Pittsburgh Press, 2021) and numerous journal and chapter essays. He has made appearances on many television documentaries and radio shows including: "A House Through Time", "Walking through History", "The Real Mill", "In Our Time", and "New Thinking: It all Begins Here?" William's interest in economic history and the history of science and technology has led to a year as a senior fellow at the Dibner Institute (then at MIT, Massachusetts, USA), Faculty Guest at the Centre de Recherches Historiques (EHESS) in Paris, France, and short-term fellow at Trinity College, Cambridge.
Read more about William and his research on his staff page.
---