Researcher in Focus: Dr Rosa Urbano Gutiérrez
Posted on: 11 February 2022 by Nick Jones in 2022 Posts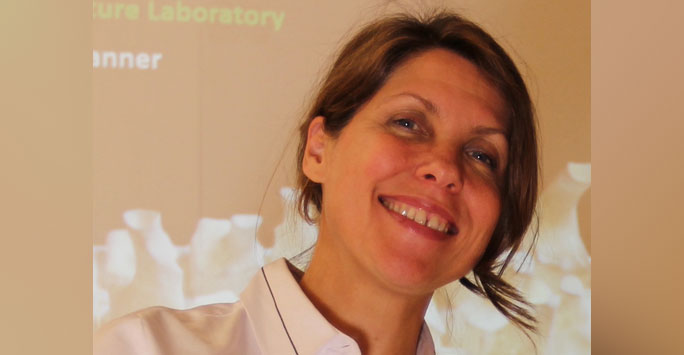 Our featured researcher of the month is Dr Rosa Urbano Gutiérrez, a Reader in the Department of Architecture whose work focuses on how the efficient collaboration between advanced technology and traditional techniques can provide innovative sustainable and human-centred architectural design.
Dr Rosa Urbano Gutiérrez is a Reader in the Department of Architecture. She joined Liverpool in 2010, after conducting research in the Polytechnic University of Madrid, Harvard University and the Massachusetts Institute of Technology. Rosa's research lies at the interface between sustainable architectural design and material technology with an emphasis on the impact of innovative environments on building occupants (comfort, perception and wellbeing).
Rosa's research production follows two routes. As a historian and theorist, she is interested in documenting and analysing the invention and implementation of historic pioneering materials and technologies for architecture. Her previous work on Le Corbusier's Mur Neutralisant, and Sustainable Retrofits follow this direction. She is currently continuing research on glass facades, energy and heritage to develop two new books. [In]Genious Glass, which aims to discuss original examples of the use of glass in architecture by prominent architects; and Glass and Light, focused on the evolution of the glass façade in its relationship with daylight control technology, from mid 19th century to present-day. The idea is to present a new reading of how glass as an architectural material played a key role in the definition and advancement of design, but also evidence how modernist architects, normally accused of not being interested in the environmental performance of their buildings, developed progressive thinking in this direction through design, prototypes and built examples, that have influenced our contemporary practice.
As the founding director of the Environmental Ceramics for Architecture Laboratory (ECAlab, 2011) and HouseLab (2020), Rosa's research developed a new methodology to optimise the integration of ecological performance in the design process by bridging various fields, from advanced digital prototyping, environmental simulation and building tectonics to craft, psychophysics and inclusive design. Within ECAlab she investigated energy efficient, low resource intensive architectural surfaces producing 85 innovative designs and 46 building prototypes. ECAlab has collaborated with the Spanish cluster of ceramic manufacturers for 10 years, as well as with local industrial partners, such as Granby Workshop and a network of international professional practices of architects and ceramicists. This work has been showcased in three major events in collaboration with three British world-class institutions: Royal Institute of British Architects (RIBA, 2017-18), TATE (2018) and The Building Centre (2019-20). The film Moulding Futures illustrates the works, methodologies and concepts of ECAlab and was nominated for best film in the category "Reshaping the Economy" of the 2018 tve Global Sustainability Film Awards at BAFTA, London. With the creation of HouseLab, Rosa is expanding her research scope to engage in the production of buildings and policy by developing neglected areas of inclusive, human-centred design. Her current project on the design of a facility for autistic children in collaboration with Elm Tree School (Lancashire), works in this direction.
Through ECAlab and HouseLab, Rosa was interested in the creation of platforms to enable opportunities for innovation by connecting professionals, industry and research, but also to improve communication between areas by developing tools that support architectural education. Her book Elements of Sustainable Architecture and the online database D-LITE (Database of Light-Interacting Technologies for Envelopes) were developed as tools to better integrate sustainable thinking in buildings from an architect standpoint.
Rosa's work believes in finding more balanced directions that combine old and new techniques, so that we benefit from the heritage of human culture and reconcile this with our contemporary capabilities to create more sustainable ways forward.
Find out more about Dr Urbano Gutiérrez and her work on her staff page.
---