Researcher in Focus: Dr Peter Hommel
Posted on: 1 December 2022 by Nick Jones in 2022 Posts
Our featured researcher of the month is Dr Peter Hommel from the Department of Archaeology, Classics and Egyptology. Peter is an archaeological scientist specialising in the study of ancient technologies and materials with extensive research expertise in the archaeology of northern Eurasia and a passion for public engagement.
Dr Hommel joined the University of Liverpool as a Lecturer in February 2020 after nine years of postdoctoral research at the University of Oxford, where he contributed to the success of a series of collaborative research projects, including the ERC-Funded Flow of Ancient Metals across Eurasia (FLAME) project and two Leverhulme Trust funded projects: China and Inner Asia: Interactions that Changed China and European Celtic Art in Context (ECAIC).
Through his research, Peter aims to improve our understanding of mobile societies, who are treated as peripheral in most of our narratives about the past. His research has revealed the central role of hunter-gathers in the emergence and spread of the ceramic technology— challenging long-held assumptions about the pattern of technological development in human society—and his current research on pastoralist settlement landscapes is changing our view of steppe societies in the centuries before the formation of the first nomadic empires in East Asia.
Peter has funded is research through a string of independent grants from the British Academy, the Society of Antiquaries of London and the Gerda Henkel Foundation, supplemented with in-kind support from colleagues across the world through the research networks he has actively built and maintained throughout his career. Since completing his doctoral studies he has published more than 35 journal articles and book chapter and a collective monograph on methodological approaches to the study of ancient metals in archaeology.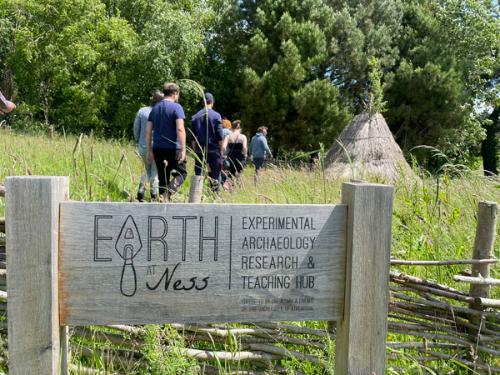 Students attending the EAStS Conference in 2022 visit the EARTH site at Ness Gardens
Dr Hommel spends much of his time in the Elizabeth Slater laboratories—which are currently being expanded thanks to generous capital support for cutting edge analytical instruments (LA-ICP-MS)—but he is also leading developments at the new Experimental Archaeology Research and Teaching Hub (EARTH) at Ness Botanic Gardens, where the Alumni and Friends of the University have supported the creation of a teaching and research space in which to carry out more adventurous pyrotechnological research.
Find out more about the work taking place at the Elizabeth Slater laboratories in this short film:
Peter also conducts active fieldwork in Japan (Rebun Island) and Mongolia (Khovsgol Province), where he has a growing research presence. In 2022, he built a new collaboration with the University of Michigan and Nomad Science to extend his existing Gerda Henkel Funded project "Hearth and Home" into a new research area. His work in Mongolia will be further enhanced in 2023, thanks to a substantial Partnership and Innovation Fund programme, laying the foundations for major research bids in the coming years.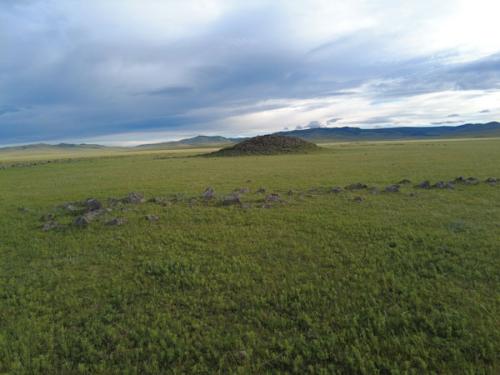 Bronze Age Khirigsuur Mound near Khishig-Under (Bulgan Province, Mongolia)
Community engagement is at the heart of this programme, which aims to establish a baseline understanding of how heritage and environmental resources are valued by local herding communities and to work with state authorities to design programmes that build value by incorporating distributed 'citizen science' as a key part of local management plans. Dr Hommel matches this international engagement with a strong local presence at University events for schools, young people and adults, using archaeology to build wider interest in science and research.
Find out more about Peter and his work on his staff page.
---