Researcher in Focus: Professor Diana Cullell
Posted on: 7 April 2022 by Nick Jones in 2022 Posts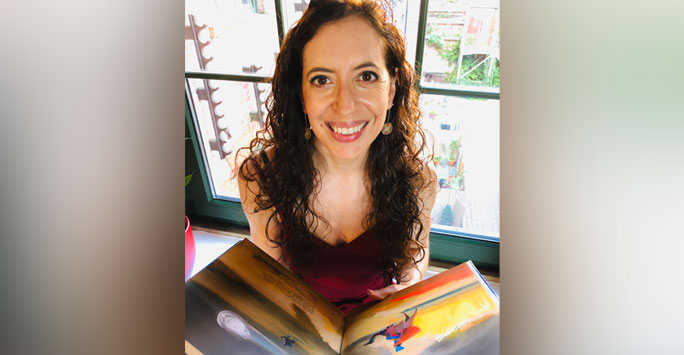 Our featured researcher of the month is Diana Cullell, Professor of Hispanic Studies in the Department of Languages, Cultures and Film. Diana works on contemporary Spanish and Catalan literature, with a specific emphasis on performance poetry. Find out more about her research here.
Diana joined the University of Liverpool in 2008, after finishing her PhD at the University of Manchester. She completed her undergraduate studies (Spanish and Romance Philologies), at the Universitat de Girona, her native town. Diana's research has always focused on contemporary poetry, and performance poetry (specifically poetry slams, poetry jam sessions and poetry recitals) is one of her particular interests as it works not only as a literary movement but also a social one.
Some of Diana's most recent projects centre around perfopoetry, such as her monograph La perfopoesía española en el siglo XXI: una revolución poética (2019), which analysed performance poetry in Spain during the past decade or so. In the last year, Diana has been working on a second edition of the monograph, which will be published in May 2022 and includes a study of performance poetry in the Dominican Republic and Costa Rica. Her work analyses perfopoetry as a non-elitist poetic movement generated by poets that often feel excluded or disenfranchised in their societies and who speak to audiences with similar concerns.
Performance poetry (widespread in the Anglophone world) is of particular importance in the Hispanic world, where most of this cultural production still lacks a critical dimension and revolves around very complex cultural identities and mixed ethnic, social, linguistic and economic backgrounds.
Spanish-speaking countries, which have always enjoyed a robust oral tradition in the poetic genre, have seen a major increase in the popularity of bottom-up, spoken-word poetry performances in the past 5-10 years, allowing the genre to be more open and available to the general public than ever before.
There is a very strong presence in cafés, bars and even clubs, significantly surpassing its more traditional settings and locations, and they usually remain and thrive outside the official or recognised prestigious circles. Such an open forum allows poetic activity to surpass its traditional sphere of private personal readings and elitist recitals to reach a very public space and give voice to the dispossessed. These events fulfil a crucial role in societies, and particularly so in the context of Costa Rica and the Dominican Republic: they strongly express current social concerns, highlighting the significance of the cultural for the social and the political realms. They also serve an important function as a tool for civic engagement.
Bringing a much-needed academic perspective to performance poetry, Diana's research focuses critical attention on perfopoetry as a social movement and aims to answer challenging questions, some of them raised by poets and their audiences, around cultural politics.
Diana's research aims to enable access to voices that would otherwise not be heard in literary studies, adding a new dimension to Hispanic Studies and addressing development challenges in these countries by informing policies and development agencies.
Diana will launch the second edition of La perfopoesía española en el siglo XXI: una revolución poética at the 'Feria Internacional del Libro y la Cultura de la República Dominicana' in Santo Domingo at the end of April 2022.
Learn more about Diana on her staff page.
---