Meet the University of Liverpool's Virtual Heritage Fellows
Posted on: 13 May 2021 by Nick Jones in 2021 Posts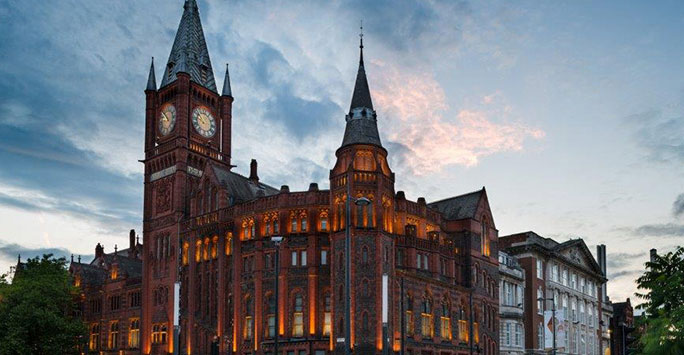 The University of Liverpool has, for the first time, created a Virtual Fellowship, offered to researchers at select partner universities, and specialising in the area of Heritage, one of the University's institutional research themes. Here, we are proud to introduce our first cohort of Virtual Fellows.
The call for applications for the 2022 Fellowships is now open, closing date 7 January 2022. You can read all the details on applying here.
The Fellowships provide an opportunity for selected candidates to gain collaborative research experience in an international research environment with the aim of publishing a specific piece of research in an international journal or equivalent venue and fostering long-term collaboration.
The Fellowships were open to researchers working in the field of heritage and to early career as well as established researchers.
'Heritage' in its most fundamental definition includes any aspect of human culture (or anything encompassed by it) which invokes or generates elementsof real or imagined pasts in the present. The study of heritage therefore ranges across anthropogenic, environmental, material and non-material, tangible and intangible objects and practices, often in combination.
The range of specialities chosen by our virtual fellows below reflects that wide-ranging definition.
You can learn more about the University's Heritage research theme here.
Meet the Virtual Fellows
Dr Rida Dieb
Rida Dieb is a Syrian planner with a background in architecture. She is a researcher in planning sciences and its levels. She holds a PhD from Damascus University, with a specialization in regional and urban planning. She is currently the Dean of the High Institute of Regional Planning at the University of Damascus (Damascus - Syria) and the Head of the Regional, Urban, and Structural Planning Department at the Institute. She is also an Assistant Professor at the school of Architecture and a lecturer at the Faculty of Tourism. She also lectures at Yarmouk Private University.
She has various publications in the field of sustainable urban planning and developing participatory processes in urban planning, also the role of Participatory planning in heritage areas in raising the efficiency of the performance of tourist sites. Rida is currently seeking to develop a professional master's degree at the high institute, in heritage site management; she is interested on virtual reality technology and augmented virtual reality due to the conditions of heritage sites in Syria, which led to the deconstruction of large parts, especially in some of the internationally recognized sites. The fellowship is a great opportunity for her to develop a new approach to the tourism development of heritage sites after disasters.
The main idea of the research is based on the urgency for safeguarding what has survived from Palmyra utilizing VR technologies. The site has been destroyed for several times by ISIS, and despite reclaiming it by the government, it has been closed for public due to the political sensitivity of the site and its surroundings. Also, the site has been neglected over time, even before the war due to the poor cultural tourism planning. However, it has been recognized as of outstanding universal value with its both tangible and intangible heritage, which are currently on the List of World Heritage in Danger.
This project aims to explore the ability of virtual and augmented reality to revive the site of Palmyra, focusing on a group of buildings within the sites as a pilot case study. The main objective is to raise awareness about the values of Palmyra and what have remained, utilizing modern technology by designing a website platform that can be available to everyone everywhere.
On this platform, visually renovated models of demolished buildings with accurate details can be viewed almost realistically with VR technologies. The ultimate aim is to encourage cultural tourism in the site and emphasis its significance by opening it to tourists and enabling them to see the impact of the war on this site (before and after), finally make a scene for every period of time that passed on the site and the archaeological remains.
Dr Alaa N. Hamdon
Dr. Alaa N. Hamdon is the Director of the Remote Sensing Center at the University of Mosul, and Senior Lecturer in Earthscience and RS/GIS.
Alaa has been working on disaster risk management of cultural heritage and urban since he was awarded his PhD in 2012.
He is also a member of the Global Young Academy, ICOMOS and the Young Academy of Scotland.
Alaa's research is about establishing a database for cultural heritage in the Nineveh/ northern Iraq region using modern technique such as RS/GIS based on the ground facts and archive. This work is vital because the cultural heritage of northern Iraq has suffered from severe, detrimental impact through armed and political conflict.
Dr Nabil Mohareb
Dr. Nabil Mohareb is an Egyptian architect and urban design researcher, and gained his PhD in architecture from the University of Liverpool. He is currently the Associate Professor and Director of the Faculty Branch, Faculty of Architecture_ Design & Built Environment, Beirut Arab University, Tripoli Campus, Lebanon.
His main research focuses on analyzing the patterns of behavior at different architecture and urban scale levels (micro/macro scales). This research moves gradually to focus on monitoring the movement behavior of individuals or small-defined groups and the effect of environmental factors on them. This shift of focus emphasizes more on the social aspects as well as searching for spatial configuration patterns. Nabil's current interest in research is related to enhancing storytelling and capturing the historic building/s context using new techniques, and involving the youth more in their heritage.
The previous interest led to this fellowship aim, which is raising awareness among public and local authorities, and educate young academics about the existing values of old building entrances (as an edge between indoor and outdoor spaces), considering digital approaches, which are accessible everywhere and of interest to young academics; in addition, highlighting associated traditional local crafts related to historic buildings.
Dr S. Udayakumar
Dr S. Udayakumar, currently working as a Post-Doctoral Research Associate in the School of Humanities, National Institute of Advanced Studies (Indian Institute of Science Campus), Bangalore.
He has completed a Bachelor of Fine Arts (BFA) in traditional Bronze sculpture from Govt. College of Architecture and Sculpture, Mamallapuram, in 2009, Master of Arts (M.A) in Ancient Indian History, Culture and Archaeology from Deccan College Post Graduate Research Institute, Pune in 2011. His doctoral degree was conducted in the topic titled "A Study of Iron technology in South-East Rajasthan with special reference to Iswal and Nathara-Ki-Pal" in 2016.
His research is focused on ancient Indian heritage and especially archaeometallurgy and he has conducted bronze casting workshops for Museums, school and college students all over India. He is an expert in the field of experimental archaeology mainly on ancient iron technology which was an aspect of his Doctoral thesis. His expertise in experiment applies to other ancient technologies which include bone point making technique, pottery making technique, etc.
Shreya V Pai
Shreya is an experienced Researcher with a demonstrated history of working in the Architecture, Planning and Heritage Management industry. She has worked widely on Srirangapatna precinct development plan and Heritage resource management plans (HRMP) and she strongly believes in preserving the local heritage, socio-cultural and economic resources
She was previously associated with Indian Heritage Cities Network – Foundation as an research intern and Mysore school of Architecture, Mysore, India as Assistant Professor. Currently she is associated with an ongoing fellowship with University of Liverpool on "Evolution of Srirangapatna's cultural heritage and association between the river Kaveri edges, and its collective implications on society" and is a Research Assistant for ArCHIAM Centre, University of Liverpool. She has undertaken work involving the total documentation of the Island town of Srirangapatna and the Adil Shahi Monuments in the city of Bijapur, Karnataka."
Her long term vision is to propose development schemes in a heritage context which are tailor made to the multi faceted landscapes of these heritage towns which are subjected to the rapid urbanization.
As a University of Liverpool Virtual Fellow, Shreya is focusing on developing documentation undertaken through fieldwork in 2017 in association with ArCHIAM Centre, University of Liverpool. This initial documentation included preliminary measured drawings of the 11 structures in the vicinity of the Kashi Vishvanatha Temple on the Kaveri River (Chikka Gosai Ghat).
She is developing further research recognizing the neglect, deterioration and destruction of the architectural heritage and living culture (both tangible and Intangible) and natural heritage.
Benedicta Gokah
Benedicta Gokah is a PhD student of the University of Ghana being supported by the University and the Gerda Henkel foundation. She is a historical archaeologist interested in forts and castles built during the Trans-Atlantic Slave Trade.
Her thesis on 'An Archaeological Investigation of Selected Ewe-Danish Contact Sites at Keta, Volta Region, Ghana', brought to light the interaction between Africans and Europeans. During the 17th West African Archaeology Association Conference held in 2019 in Ghana, she presented a paper on, "An Archaeological investigation of Fort Prinzenstein, Keta, Volta Region'.
The Liverpool fellowship will enable her publish on, 'Sustaining Ghana's Vanishing Heritage Sites: Documentation and Conservation Practices of Fort Prinzenstein in Keta, Volta Region' paving way for her career development. She aspires to become an outstanding researcher and lecturer to help develop younger students and academics.
Benedicta Gokah holds a Post Graduate Diploma in Teaching and Learning in Higher Education (2020, University of Education, Winneba), an MPhil in Archaeology and a Bachelor degree in Archaeology and Linguistics (2017 & 2014 respectively, University of Ghana). She has been a graduate assistant at the Department of Archaeology and Heritage Studies (2015-2018). She is a teacher of English Language at Nsawam Senior High School, Ghana.
Dr Daniel Scarborough
Daniel Scarborough earned his PhD in history from Georgetown University in 2012 with a research focus on the religious and intellectual history of late Imperial Russia. From 2013 to 2015, he taught Russian religious history at the department of comparative religion at Miami University (Oxford Ohio) as a Havighurst post-doctoral fellow. Since 2015, he has been assistant professor of Russian history and religion at Nazarbayev University in Nur-Sultan, Kazakhstan.
Scarborough has conducted archival research in Moscow, Tver, St. Petersburg, and Almaty. His book, Russia's Social Gospel: The Orthodox Pastorate in Famine, War, and Revolution, is under contract with the University of Wisconsin Press. His current research focuses on sacred geography and Muslim-Christian relations in early 20th century Turkestan.
---