Researcher in Focus: Dr Nicola Bermingham
Posted on: 20 April 2021 by Nick Jones in 2021 Posts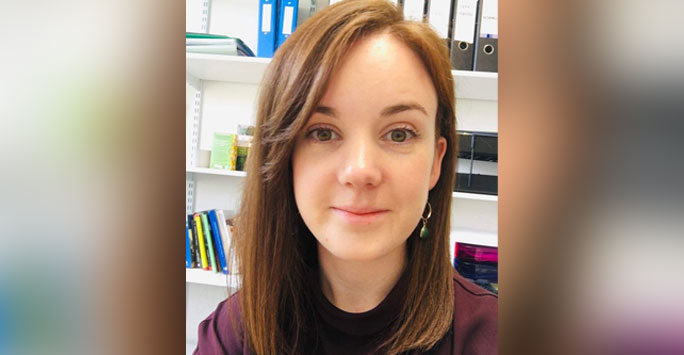 Our featured researcher this month is Dr Nicola Bermingham, Lecturer in Hispanic Studies. Nicola joined the Department of Modern Languages and Cultures in 2017. She is a specialist in Sociolinguistics; her research interests include education, migration, and minority languages.
Nicola is currently PI on a project entitled "Monolingual Schools in Multilingual Societies: an exploration of language and education in Cape Verde", for which she received ODA seed funding. The project draws on scholarship and methods from Sociolinguistics to explore the ways in which access to inclusive and equitable education can be ensured in multilingual, post-colonial contexts. The project is a collaboration between researchers at the University of Liverpool; the University of Coruña (Spain); and the University of Trás-os-Montes e Alto Douro (Portugal).
Nicola is also part of a GCRF-funded networking project with MLC colleagues Professor Robert Blackwood and Dr Stefania Tufi. The project, "Multilingual Heritage: Challenging monolingual memorialisation", brings a range of cutting-edge findings from multilingualism to apply to representations of heritage, with particular emphasis on how heritage is arranged and presented in post-colonial settings in non-Anglophone Low- and Middle-Income Countries in Africa.
Nicola has conducted extensive research on language and immigration in Galicia, Spain. Her most recent publication, in Language, Culture and Curriculum, focuses on Cape Verdean immigration to Galicia, and highlights the challenges associated with language education and immigration in a minority language setting, analysing how hegemonic ideologies in the Galician education system can contribute to social stratification and the marginalisation of the immigrant population.
Since 2019, Nicola has served as President of the International Association for the Study of Spanish in Society, an association which embraces study, from both a theoretical and an empirical perspective, across all areas of Hispanic Linguistics. She is also standing for election to the executive committee of the Modern Languages Association Galician Studies Forum.
In 2020, Nicola was appointed Hispanic Studies representative for the University Council of Modern Languages (UCML), where she actively champions Hispanic Studies and its interface with Modern Languages nationally. Nicola is also a member of the recently formed UCML Special Interest Group for the Virtual Year Abroad, and, along with colleagues in UCML, has led on the development of a national student-facing Guide to Virtual Mobility.
This year, Nicola was appointed to the UKRI Early Career Researcher Forum, which gives Early Career Researchers a voice in UKRI's strategy, policy development and decision-making.
Nicola's editorial roles include Editor of the Linguistics section of the Modern Languages Open, and Assistant Editor of the Bulletin of Hispanic Studies.
Find out more about Nicola on her staff page.
---