New Tate Partnership Opportunities: Theaster Gates - Amalgam
Posted on: 20 June 2019 by Nick Jones in 2018 Posts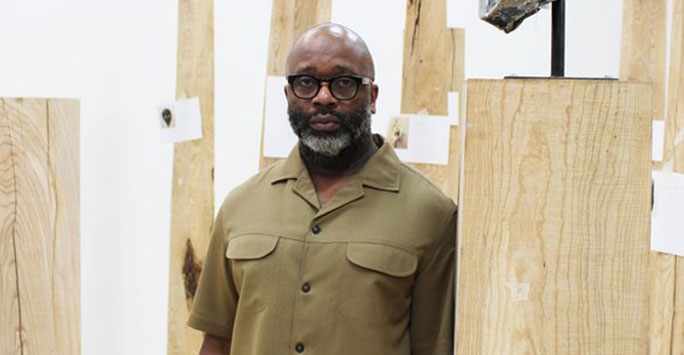 Colleagues are invited to submit ideas for educational, collaborative and engaging activities to celebrate the University of Liverpool's support for the exciting upcoming exhibition at Tate Liverpool by Theaster Gates.
We're delighted to announce that the University of Liverpool is supporting Tate Liverpool's Theaster Gates: Amalgam exhibition, which is opening in December 2019 – May 2020.
Amalgam, is a series of installations by American artist Theaster Gates (b. 1973). Theaster Gates is a highly respected social practice installation artist and Professor in the Department of Visual Arts at the University of Chicago, who creates work that focuses on space theory and land development, sculpture and performance.
Amalgam, a word used to describe a blending of different elements, is reflective of Gates's practice. Combining sculptures, film, dance and music the exhibition explores the complex and interweaving issues of race, territory, and inequality in the United States.
The exhibition is inspired by the now uninhabited small island of Malaga, off the northeast state of Maine, USA. In the mid-nineteenth century, the island's ethnically-mixed community was forcibly relocated to the mainland. Visitors to the exhibition can expect to see three-large scale works responding to the history of Malaga.
Want to do something different?
To celebrate the exhibition, we are seeking applications from staff and students to develop a number of activities in partnership with Tate.
This is an exciting opportunity to educate, collaborate and engage public audiences with your cutting edge research. If you'd like to respond to the exhibition by a residency at Tate Exchange, a conversation, provocation, talk, debate, lecture, workshop, event, or to contribute to the Tate's public programme, please get in touch with Kate Spicer by the end of September 2019 to discuss your idea.
Tate Exchange deadline is 19th July for Residencies occurring at the time of the Gates Exhibition (January-May 2020).
---