Researchers in Focus: Jo Meehan & Bruce Pinnington
Posted on: 21 January 2019 by Nick Jones in 2018 Posts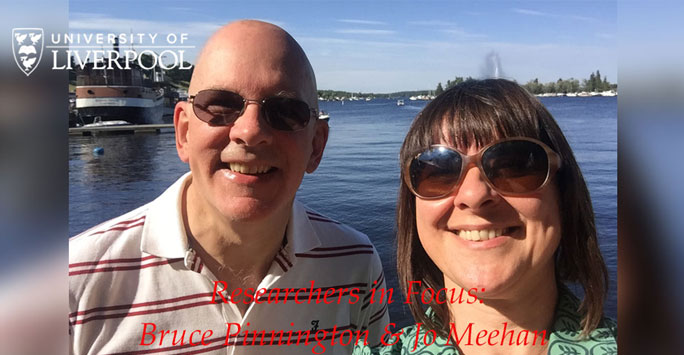 Meet this month's Researchers in Focus Researchers in Focus: Jo Meehan & Bruce Pinnington, both from the Management School. They have extensive professional backgrounds in procurement and commercial management working for global organisations, experiences which have shaped their academic research interests.
Jo and Bruce write:
Our research centres on tackling modern slavery and promoting social value creation through changing how organisations manage their supply chains.
The latest research is a high-profile project in collaboration with three UK government departments; the Crown Commercial Service, the Cabinet Office and the Home Office, working together to improve government policy. The Modern Slavery Act (2015) and the Public Services (Social Value) Act (2012), place legislative controls on organisations, yet the policies are underdeveloped and arguably difficult to implement.
Despite the long history of slavery and social inequity being deep-rooted in economic models, the academic research in supply chains is in its infancy. The Global Slavery Index (2018) estimates that the G20 countries collectively import $354 billion of 'at-risk' products per year, with the UK representing £14 billion. Organisations that do not procure high-risk products, or source from high-risk countries, can get false reassurances that modern slavery is something that happens 'someplace else'. Yet it is a domestic issue, affecting services as well as manufacturing, and there are an estimated 13,000 victims of modern slavery in the UK alone.
We are collaborating with Professor Alex Balch (Politics) on the Faculty of Humanities & Social Sciences' Slavery and Unfree Labour Research Theme, and have secured further ESRC funding for another PhD to join our two current PhD students in the management school, helping to build a critical mass of impactful research activity.
Tensions and power are two key themes in our supply chain research. In relation to social value we are exploring the tensions between social and commercial priorities, and how the primacy of profit is often legitimised in commercial sourcing decisions. We have developed new value-based models that shift the focus of decision making to consider wider consequences over different time frames, to create sustainable sourcing strategies.
The second key tension relates to how global companies use their hegemonic position to strategically influence the boundaries of regulatory control through shaping, and limiting, their liabilities against modern slavery policies.
For both social value and modern slavery, supply chain practices of cost minimisation, procurement aggregation, and outsourcing low value or high-risk activities, are common taken-for-granted practices, yet have been found to increase risks of market exclusion and exploitation of people. The research seeks to take a more fundamental analysis of the conditions that cause modern slavery, and the supply chain conditions that allow it to persist.
Dr Jo Meehan is Senior Lecturer in Strategic Procurement, and Dr Bruce Pinnington is a Lecturer in Operations Management. Both are based at the University's Management School.
---