Researcher in Focus: Dr Sophie Oliver
Posted on: 15 September 2020 by Nick Jones in 2018 Posts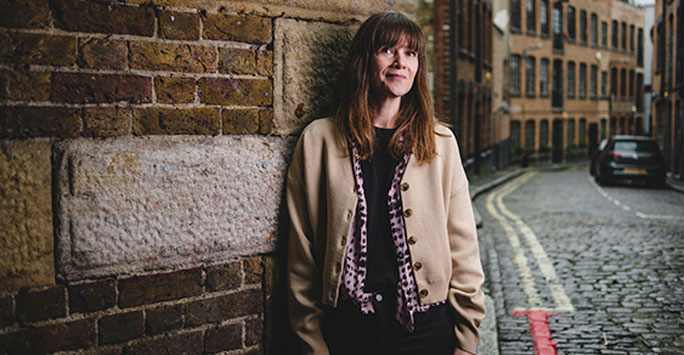 This month's Researcher in Focus is Dr Sophie Oliver, Lecturer in Modernism at the Department of English. Find out more about here work specialising in modernist and postwar writing by women and her 2020 AHRC New Generation Thinkers award.
Sophie joined the English department in January 2019, after finishing a PhD at Royal Holloway in 2017 and many years working in art publishing. She specialises in modernist and postwar writing by women, and her research is particularly interested in how that writing relates to visual cultures, especially fashion.
She has published articles on authors such as Djuna Barnes and Jean Rhys, and has pieces forthcoming on a dress that belonged to Rhys and now belongs to her, and on the poet Mina Loy's place in a fashion magazine called Charm. In all her work, Sophie uses fashion as a method – as a way to think, read and critique. Her first book, currently in process, proposes fashion as a tool for feminist literary history.
Sophie is also working on some public engagement projects that connect clothes with literature. For example, her exhibition 'Poets in Vogue', curated with Sarah Parker (Loughborough) and Gesa Werner (V&A) and partly funded by the School of Arts, will open at the Poetry Library in London in 2021.Work by women poets from Edith Sitwell to Anne Sexton and Gwendolyn Brooks will be shown alongside dynamic interpretations of clothes they wore or wrote about. The idea is to tell different, imaginative stories about the importance of image, appearance and style to these figures and their poetry.
In 2020, Sophie was named a BBC/AHRC New Generation Thinker. As part of the scheme she will make radio based on her research on literature and fashion (look out for an episode of The Essay about that Jean Rhys dress). You can hear her here on Radio 3's Free Thinking discussing her interest in a neglected writer called Bessie Breuer, who supported Ingrid Bergman when she scandalised America by leaving Hollywood for Italy, Roberto Rossellini and neo-realist cinema.
In 2022, Sophie was one of the Centre for Cultural Value's first recipients of their Collaborate Fund for the exciting 'Gender Stories' project, working with our partners National Museums Liverpool, with funding of £19,511. This project asks 'how can objects from the past help us understand the complexities of gender today?'
Sophie Oliver will work with NML and diverse audiences in the city to explore how individuals can use objects in the museum's collection to tell their 'gender stories'.
The team will explore how the collection can encourage people of diverse gender identities (and intersecting identities) to think about their lived experience and empathise with the experiences of others. For those whose gender identity is marginalised, like transgender and non-binary people, or women of colour, the team hope the stories will help foster a sense of belonging in the museum's narrative, or remake that narrative in light of their lived experiences.
The participants will be co-creators, whose ideas and feelings about their gender, and their chosen objects, will set the terms for each project phase.
The project aims to weave all the stories collected back into the museum, layering them with existing interpretation to create a kaleidoscope of perspectives. In doing so, the project will push the boundaries of the approach to interpretation and develop innovative methods for narrating cultural history.
Learn more about Sophie and her work on her staff page.
---