Researcher in Focus: Professor Josie Billington
Posted on: 17 February 2020 by Nick Jones in 2018 Posts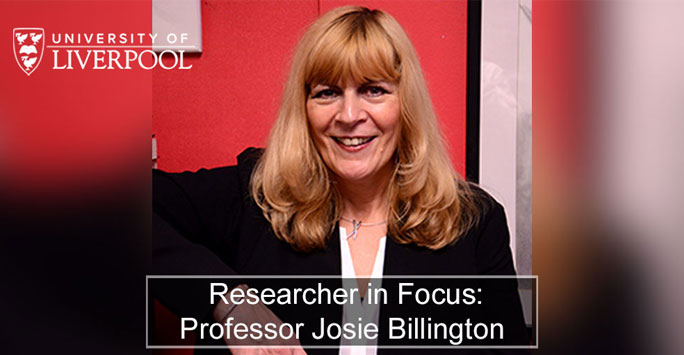 Meet our latest Researcher in Focus, Professor Josie Billington, Professor in the Department of English and Impact Lead for the School of the Arts, and find out more about her work on Victorian literature and how literature can influence mental health.
Josie re-joined the Department of English in 2018, following seven years as Deputy Director of the Centre for Reading, Literature and Society, based in the Faculty of Health and Life Sciences. A Victorian Literature specialist by background, much of Josie's scholarship has involved editing, and writing critically on, the work of Victorian women writers (George Eliot, Elizabeth Gaskell and Margaret Oliphant in particular), with special interest in the relation of their writings to the European tradition of literary realism (represented chiefly by Leo Tolstoy).
The Victorians were passionate believers in the power of literature as a force for good in society and as a repository for meaning in a post-religious world. Over the last decade or so, Josie has collaborated with Liverpool-based UK charity, The Reader, whose work consciously builds on that Victorian mission, by making good literature accessible to 'everyone, whoever they are, wherever they are', especially those who are isolated or marginalised, or living with long-term chronic illnesses such as depression, dementia or pain.
This partnership has led to a body of work (funded by British Academy, AHRC, ESRC) around literature and mental health concerned with the value of literary reading in understanding and ameliorating mental health issues across the life cycle. Josie's research is inherently interdisciplinary, involving long-term, fruitful collaboration with colleagues in Medicine and Psychology and valued long-term partnerships with healthcare providers such as Mersey Care and Royal Liverpool NHS Hospital Trust. Many of the findings and insights from this research are published in Josie's monograph Is Literature Healthy? (Oxford University Press, 2016) and in her edited volume Reading and Mental Health (Palgrave, 2019).
Josie is co-lead of the Arts, Therapy, Mental Health theme for the Centre for Humanities and Social Sciences of Health, Medicine, Technology (CHSSoHMT). In her role as Impact Lead for the School of the Arts (SoTA) she is connecting with colleagues in Music, Philosophy and Histories, Languages and Cultures around the role of cultural activity more broadly in health, as well as considering SoTA's civic role in relation to cultural and health organisations. Beyond the University she is a member of the AHRC Peer Review College, a Higher Education Academy National Teaching Fellow and Vice Present of the International Society for the Empirical Study of Literature.
You can join Josie on 11 March 2020 as she delivers a free talk, 'Is Literature Healthy', exploring how literature's true power might be to extend and deepen our experience of both joy and sorrow. Book your place here.
Find out more about Josie on her staff page.
---