Researcher in Focus: Dr Claire Pierson
Posted on: 22 August 2018 by Nick Jones in 2018 Posts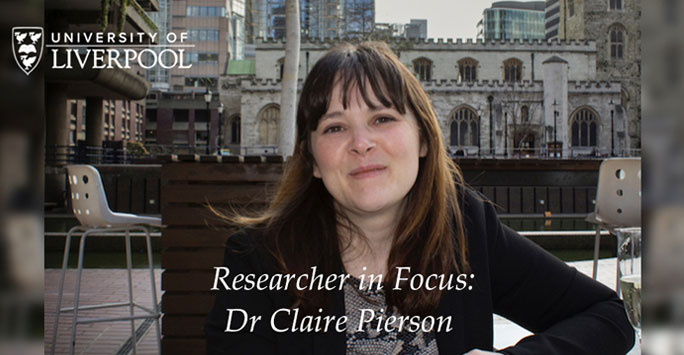 Meet this month's researcher in focus, Dr Claire Pierson from the Department of Politics and learn more about her research and most recent projects.
Claire says:
I joined the University of Liverpool in September 2017 as a Lecturer in the Politics Department. Prior to this I worked at Manchester Metropolitan University, Ulster University and at NGO's in Belfast and Jerusalem researching human rights in conflicted societies.
My research focuses on women's rights and activism in societies emerging from violent conflict, most recently my work has developed around reproductive rights, in particular access to abortion. I am particularly interested in the UN Security Council resolutions on women, peace and security and their potential for realising women's rights in conflicted societies.
I am currently a co-investigator on two projects. Firstly, with colleagues at Ulster University we have just completed a unique study into abortion as a workplace issue in Ireland funded by a coalition of Irish trade unions. Our findings (from a survey of over 3000 trade union members and an online focus group) reveal the impact of illegality and abortion travel on women workers. In addition, I am co-investigator on a scoping study into abortion access in the Philippines and South Africa with colleagues at Ulster University, Rhodes University and the University of the Philippines where we are using a reproductive justice framework to investigate societal and health discourses impacting on women's access to safe abortion care.
My research is underpinned by an activist, social justice ethos with the aim of providing empirical evidence useful for activism and lobbying for social change. To that end, I am co-founder of the Reproductive Health Law and Policy Advisory Group, a coalition of academics providing research and briefings on reproductive health issues. Our current work concentrates on abortion law reform in Northern Ireland. In December 2018, my co-authored monograph (with Dr Fiona Bloomer and Professor Sylvia Estrada-Claudio) 'Reimagining Global Abortion Politics' will be published by Policy Press.
Find out more about Claire on her staff page here, and you can also follow her on Twitter @piersonclaire
---