Researcher in Focus: Dr Alex Buchanan
Posted on: 5 February 2019 by Nick Jones in 2018 Posts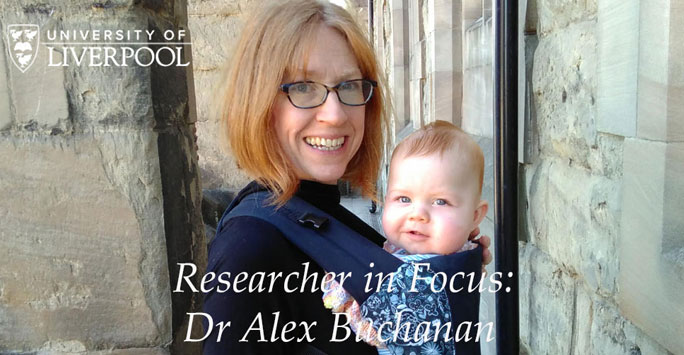 Meet this month's Researcher in Focus, Dr Alex Buchanan and learn about her academic inspiration and her latest research projects, 'Architecture and Society in an Age of Reform' and 'Tracing the Past'.
Alex Buchanan is Senior Lecturer in Archive Studies in the Department of History, and Co-Director of LUCAS, the Liverpool University Centre for Archive Studies. She's been at Liverpool since 2007, after spending ten years as a practising archivist and records manager, firstly at Lambeth Palace Library and subsequently at The Clothworkers' Company, a livery company in the City of London. She's currently involved in two exciting AHRC-funded projects, as Principal Investigator on 'Architecture and Society in an Age of Reform' and Co-Investigator on 'Tracing the Past'
Alex's career as an archivist and an academic started with a footnote in a book on nineteenth-century architectural writings. This mentioned a cache of papers in the Cambridge University Library which had belonged to Professor Robert Willis, often identified as a founding figure in the study of architectural history. This archive became the core source material for Alex's PhD and her later monograph Robert Willis (1800-1875) and the Foundation of Architectural History (2013).
The PhD research took Alex in three directions. Firstly, she found that she was fascinated by the process of intellectual archaeology involved in cataloguing, by understanding how the work of archivists might both reveal and conceal the existence and potential significance of materials in their custody, and by exploring how the materiality of archives affects both the records and their users. This encouraged her to train as a record-keeper and to develop a professional practice which has led to her serving as President of the Archives and Records Association since 2015. She uses her archival research to inform both interdisciplinary projects (such as the AHRC-funded 'Memories of Mr Seel's Garden') and her teaching on the Masters in Archives and Records Management (MARM), of which she is Programme Director.
Secondly, having been drawn to the work of Willis through his writings on medieval vaults, she wanted both to understand the intellectual context of his writings and the architectural environment in which he worked, and to reopen questions which his research had addressed but which had not been answered. As well as helping to create a digital library of Willis's writings, she has worked on a number of other architectural writers, including John Ruskin, Nikolaus Pevsner and the lesser-known figure of Thomas Rickman, whose 1817 book An Attempt to Discriminate the Styles of Architecture, written and printed in Liverpool popularised a key tool of architectural historians: the ability to date a building by style. This has led to exhibitions on Rickman in the Sydney Jones and Liverpool Central Libraries, the creation of a walking tour of the University campus using his methods and a study day which brought together leading researchers and the general public to explore Rickman's impact, both in Liverpool and beyond, which is due to be published in 2019 as the 7th volume in the Victorian Society's series of Studies in Victorian Architecture and Design. For further details see www.thomasrickman.org.
She is currently Principal Investigator on an AHRC-funded project 'Architecture and Society in an Age of Reform 1760-1840', looking at the role played by architecture in reformist thought and practice during a hugely significant period in the history of the State and civil society.
Finally, Willis provided the original inspiration for another AHRC-funded project, 'Tracing the Past', which to explore the potential of innovative digital methods, including laser scanning and processes of 'reverse engineering' to re-open questions on the design and construction of medieval rib vaults which Willis first posed in 1842. Alongside the Principal Investigator, Dr Nick Webb and other project members, Alex will be scanning and analysing the stunning vaults at sites including the cathedrals of Wells, Exeter, Ely, Norwich and Lincoln, as well as Westminster, Pershore and Tewkesbury Abbeys and the chapel of St Mary Undercroft in the Palace of Westminster, the chapel of the Houses of Parliament.
---