Meet the Winners of the Faculty of Humanities & Social Sciences PGR Showcase 2018
Posted on: 13 June 2018 by Nick Jones in 2018 Posts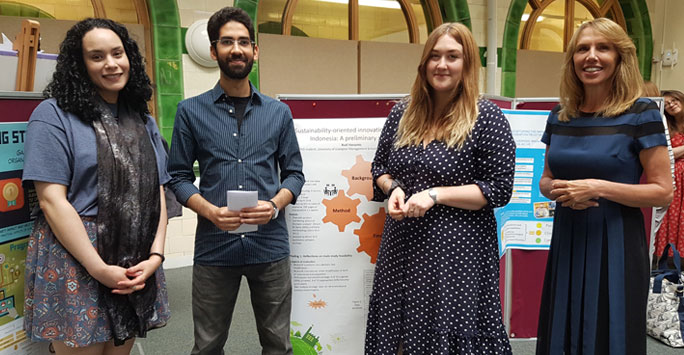 On the 13th June 2018 the Faculty held a Postgraduate Research Showcase, highlighting the range of research being undertaken by PhD students from across the Schools.
PGRs were invited to present a poster or submit a one-minute video pitch summarising their research interests, and had the opportunity to talk about their work to other PGRs, academic staff and representatives from external industrial partners at the event.
The winners were:
Amie Caddy, Department of English, Winner of the Prize for One Minute Video Pitch for her video on 'Djuna Barnes: "The most Famous Unknown" and her obsession with the Other'.
Omar Kaled, Management School, Winner of the External Partner Prize his poster, 'Towards a Theoretical Framework for gamification as a complimentary capability'.
Rio Matchett, Department of English, Winner of the Student Prize for her poster on 'Butch and Femme Performativity in the Little Review'.
Suzanne McClure, Department of English, Winner of the Academic Judge Prize for her poster entitled, 'D.H. Lawrence and Americanism: Reflections on Donald Trump'
Many thanks to all who took part, either presenting or attending to discuss the research, for making the event such a lively and interesting display of PhD research across the Faculty. Congratulations to all of the winners!
If you didn't get a chance to present your research this year, we will be holding the same event next year and will look forward to seeing some of you then!
---