Carnegie UK Trust's #NotWithoutMe Accelerator Open for Applications until 30th April 2018.
Posted on: 17 April 2018 by Nick Jones in 2018 Posts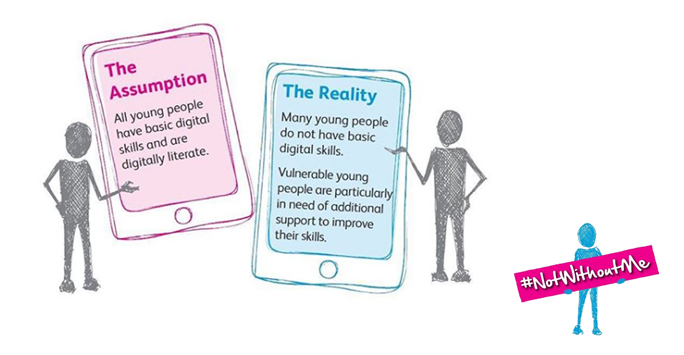 The Carnegie UK Trust's #NotWithoutMe Accelerator, designed to provide organisations the time, resources to develop their approaches to delivering digital inclusion projects with 'vulnerable' young people, is open for applications until 5pm Monday 30th April 2018.
During the #NotWithoutMe Accelerator organisations will be supported to develop, critique and refine their project ideas with the input of valued sector experts.
The #NotWithoutMe Accelerator will deliver a mixture of offline and online support, running from July 2018 to December 2018, including six development workshops, convened by Carnegie Associate Cliff Manning. The workshops will provide participants with increased knowledge, practical tools and the opportunity to network within and across sectors.
We know that for many organisations this is a substantial time and resource commitment. Therefore this process has not only been specifically designed to provide a valuable opportunity for organisations to build their staff capacity, examine new approaches to working and create exciting new ideas, but also includes £3,000 development funding.
This funding is to assist with designing and refining project ideas and we expect that given the developmental nature of the #NotWithoutMe Accelerator, it will predominantly be used to cover staff time. (Organisations are not expected to use the funding to deliver the project.) At the end of the project organisations will be invited to pitch for up to £40,000 delivery funding and a further year of support.
The programme is open to applications from not-for-profit organisations, large or small with experience supporting 'vulnerable' young people, located within the UK or Ireland. Further information about the programme, full eligibility criteria and application materials can be viewed here.
Applications close on Monday 30th April at 5pm.
If you have any queries please contact Anna Grant, Senior Policy and Development Officer at anna@carnegieuk.org
---