Our Picks for Making an Impact 2020
Posted on: 12 May 2020 by Nick Jones in 2018 Posts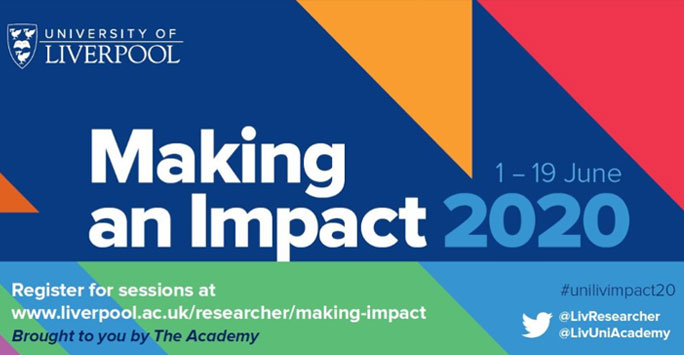 We've picked out just a few of the events taking place as part of the exciting Making an Impact 2020 programme that we think can't be missed.

As you know, Making an Impact is an annual programme of events which aims to provide rich, varied and high-quality development opportunities for researchers, academics and research-related professional services staff at all stages of their career with opportunities offered across all Faculties.
With so much to choose from, we thought we'd help by pulling out just a small selection that can help you raise your profile as well as more effectively capture the impact of your research.
The UN's Sustainable Development Goals, COVID-19 and our research
Learn more about the University's commitments to the Sustainable Development Goals and how these relate to research activities with this talk by Vice Chancellor Prof Dame Janet Beer, 2nd June. Book your place here.
Making an Impact on Culture
How can the cultural resources of the University help us to cope with a global pandemic? Find out at this Making an Impact session on Impact on culture on 3rd June. Book here.
Research culture: From lab to lobbying
Hear more about Beth Thompson's journey from researcher to research advocate, Making an Impact 2nd Keynote on 3rd June, a reflection on what needs to change to make the UK one of the best places in the world to be a researcher. Book your place here.
The impact journey: have we reached the end?
Gain insight into the ESRC's experience of understanding and enabling impact in the social sciences at Making an Impact 3rd Keynote on 11th June. Find out more here.
Research Impact – Maximizing and Measuring Change
Consider how research impact (both scholarly and socio-economic) can be maximised and evidenced with the Making an Impact session Maximizing and measuring change on 12th June. Book your place here.
Social Media Bootcamp
Get your tweets on. Design an individual social media strategy and explore legal considerations, privacy and openness with the Making an Impact session Social Media Bootcamp on 10 June. Get social here.
Ducks, metadata and Impact, yes really!
You'd be, ahem, quackers to miss this! How can you increase your impact by being more findable and accessible, attend #unilivimpact20 session on Ducks, metadata and impact, yes really! On 16 June. Get your ducks in a row here.
Creating Impactful Research Stories
Increase your impact beyond academia by using creative storytelling techniques to describe your research with the #unilivimpact20 session on Creating impactful research Stories, 18th June. Book here.
Get full details about Making an Impact 2020 here.
---