Illustrating Futures 2018 at Tate Liverpool
Posted on: 16 May 2018 by Nick Jones in 2018 Posts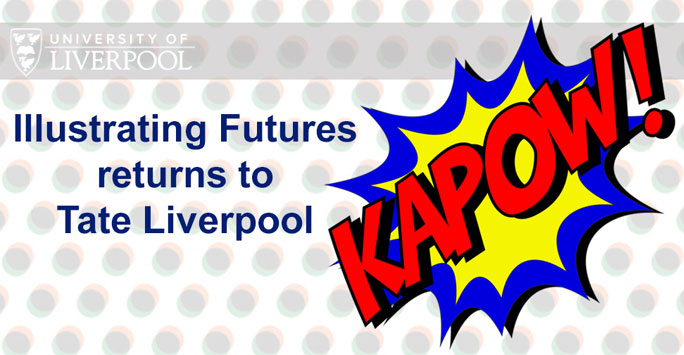 Congratulations to Dr David Hering, Lecturer in English, on his successful proposal for the 'Illustrating Futures 2018' project, which will take place at Tate Liverpool in October 2018.
Following on from the successful original Illustrating Futures which ran in 2017, this new activity is again a collaboration between the University of Liverpool and Comics Youth, a non-profit Social Enterprise that delivers comic and zine reading and creation workshops to disadvantaged and marginalised young people aged 8-25 within the Liverpool City Region.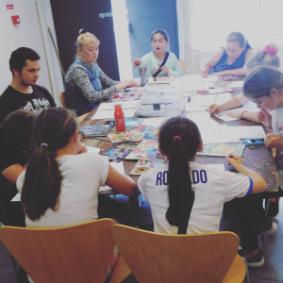 Using comic book displays and creative workshops, 'Illustrating Futures 2018' will use the narrative potential of comic book and zine art to explore the links between comics and mental wellbeing. Comics have a unique capacity to communicate complex issues relating to discrimination, marginalisation, health and wellbeing, and this will be taken as a starting point to engage the audience and get them involved in the creative process.
By focussing on exploring the relationship between comic/zine art, graphic narratives, mental health and wellbeing, 'Illustrating Futures 2018' will allow children and young people to communicate their life experiences visually and move forward in a positive light.
Participants will be able to join in collaborative workshops led by Comics Youth to explore various themes around mental health in new and exciting ways, and the work they create will be displayed at Tate Liverpool. Ultimately, Illustrating Futures 2018 aims to create and publish a comic book about how young people and the wider community view mental health in today's society.
David Hering is a Lecturer in Contemporary Literature at the University of Liverpool who has taught and convened classes on the history of comics and graphic novels.
'Illustrated Futures 2018' will run at Tate Liverpool between 16 and 21 October 2018, and there will also be workshops highlighting the importance of comics as a therapeutic aid in treading mental health, workshops for members of the public led by Comics Youth and a symposium for local art institutions across the Liverpool City Region to examine joined up working between the arts, public organisations and youth services. The residency will also host an event in association with the Liverpool Literary Festival in the Tate.
---