Free Workshop: 'What Do You Do With Your Research Data?'
Posted on: 7 January 2020 by Nick Jones in 2018 Posts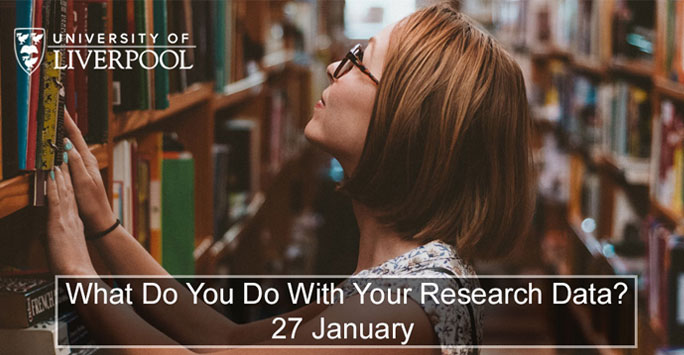 Liverpool Research Data, the University of Liverpool Library's research data management (RDM) service invites colleagues to this free workshop, 'What Do You Do With Your Research Data?' on 27th January from 11am to 1pm
Research data is recognised as being central to research and disseminating, sharing and enabling access to research data are all now seen as essential to research integrity. Making research data accessible does not simply facilitate validation, it also supports new research and innovation.
In order for the Information Governance Committee to determine how best to plan for the future safeguarding and security of research data, Liverpool Research Data (the research data management service based in The Library) working with, Alex Astor (Research Finance and Governance Manager, Research Support) and Christa Price ( Information Security Officer) would like to invite you to a workshop to find out what is currently happening in HSS.
The workshop is scheduled for Monday 27th January 11.00 am – 13.00 pm Taylor Room Sydney Jones Library. Refreshments will be provided.
The following themes will be covered: active data, sharing and discovery, safeguarding and archiving, (see below).
Please note this is a workshop to find out what you as researchers are doing with your research data. It is not about best practice.
Workshop theme definitions:
Active Data
Research data that researchers collect or create analyse and compare during a project. Including planning the management, storage and access to the research data.
Discovery and Sharing
Making details about research data findable via the WWW, to anyone who has an internet connection. Methods of sharing, either open or controlled.
Safeguarding and Archiving
Research data has to be kept and made available, either to share or to be reproducible for set periods. This may be set through funder policy or a legal requirement, from 10 years up to 30 years. Including the methods and processes involved.
Places are limited. Please email Judith Carr (Research Data Manager) to reserve a place.
---