Convicts – An exhibition of photographs at the Liverpool Metropolitan Cathedral
Posted on: 12 February 2018 by Nick Jones in 2018 Posts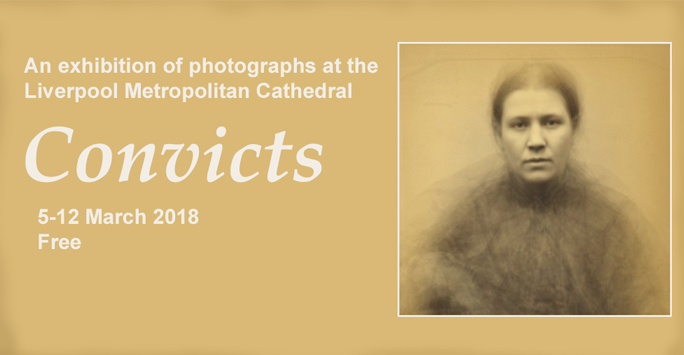 Come face to face with convicted criminals from the 19th century, learn their stories and see how they were just like us in this fascinating exhibition of photographs and digital artworks, on display from 5-12 March 2018.
Organised by the AHRC Digital Panopticon, the University of Liverpool and Liverpool John Moores University, this exhibition will unveil the 'average' faces of real convicts by digitally combining multiple photographs of individuals convicted of various crimes. These images, as well as bringing to life a fascinating slice of British history, act as a definite rebuttal to one of the prevailing theories of criminology at the time.
In the last quarter of the nineteenth century, Cesare Lombroso theorised that some people in society had not evolved to the same level as others, and that 'criminal types' would have physical characteristics that allowed them to be identified. He examined prisoners in Italian and Russian prisons, measuring the angle of the forehead, size of ears, nose, length of arms, how close the eyes were together, and so on.
Despite Lombroso's theories being widely disproved, the idea of a 'criminal type' has persisted into the twenty-first century but actually when we look at offenders now and then, it's clear they were no different from anyone else.
Using digital techniques, this exhibition presents the 'average' faces of real convicts, many of whom came to Liverpool as new settlers, found themselves in trouble with the courts, but who then became part of the vibrant and bustling city of Liverpool in the nineteenth century.
Meet Mary Metcalf
‌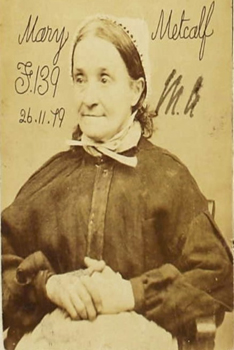 One of the lives you can get to know at the exhibition is that of Mary Metcalf, a woman who slid into a life of petty crime but whose legacy would have a lasting impact on the city of Liverpool.
Mary was born in Childwall in 1823, and moved to Liverpool after marrying George Metcalf in 1845. In the next twenty-five years of their marriage, Mary and George had twelve children together, with nine of them surviving infancy.
Times were hard for the Metcalf family with so many mouths to feed but the family managed, earning where they could; the older children working or contributing to the care and maintenance of the younger as soon as they were able. Crime was not a significant feature in their lives, until, that was, Mary was almost fifty years of age.
In 1873, for an offence that came seemingly out of the blue, Mary spent two months in prison for the theft of two buckets. Three years later, nine months for the theft of a pan, and two years later, the one year in prison for the theft of a singlet. Soon after her release from prison for the 1878 theft, Mary was apprehended for stealing from the person – picking pockets. After her string of earlier convictions, Mary was now considered a habitual offender, and the penalties for her offences became more serious in nature. In 1879 Mary was sentenced to five years in prison.
Middle-age to later life could be a vulnerable time for women as their ability or opportunities for employment lessened, they found themselves with a large number of children to provide for, or they experienced a sudden financial or personal crisis, such as the loss of a spouse. Any one of these circumstances or a number combine might see women like Mary gravitate towards crime as a method of subsistence. Once admitted to prison, the prison medical authorities found she was suffering with serious illnesses, and she may have committed offences in order to receive the medical attention the family could not afford. She was released four years into her sentence, in March of 1883, and died a few months later in October, aged 60.
Mary's longest lasting legacy was not her crimes, however, but the family she raised. Mary's great-grandson, William Henry Sefton, a prominent trade-unionist only too aware of the plight of working-class people in Britain, rose to be leader of Liverpool City Council in the latter half of the twentieth century. In 1978 he was made a life-peer, as Baron Sefton of Garston, and went on to sit in the House of Lords.
Visit the Convicts exhibition for free at the Liverpool Metropolitan Cathedral from 5-12 March 2018.
---