What do your eyebrows say about you? Brews & Brows investigates
Posted on: 10 May 2018 by Nick Jones in 2018 Posts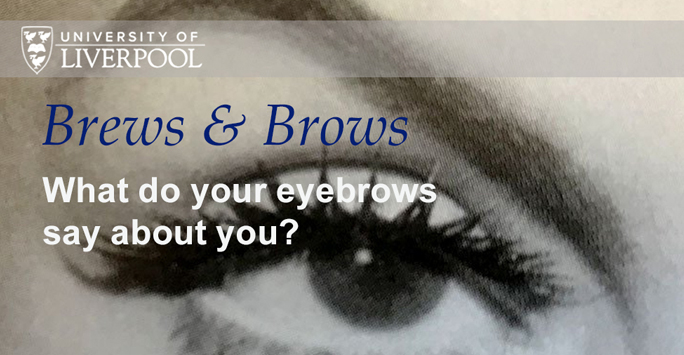 We pluck them, thread them, shave them and sometimes even raise them quizzically. Your eyebrows and how your groom them are shaped by many stories, attitudes, and changing tastes.

These stories are what Researchers at the University of Liverpool, Liverpool John Moores University (LJMU), Edge Hill University and Manchester Metropolitan University (MMU) aimed to investigate at their Brews & Brows event at FACT in Liverpool in April.
Held over four days, the event was designed to capture stories to find out more about the many everyday decisions we all make, and to ask people to think about their choices, and to understand what is important about their brows.
Inspired by the performance of mid-20th Century Mexican screen icon, María Félix, the University of Liverpool researcher Dr Niamh Thornton began this project as an investigation into the evolution of the eyebrow in contemporary culture.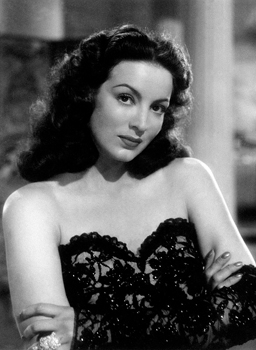 Dr Thornton from the University's Department of Modern Languages and Cultures, said: "I became interested in eyebrows because of María Félix. She was nicknamed 'la Doña', because of her breakthrough role as a powerful ranch owner in the adaptation of the 1929 novel, Doña Bárbara (Fernando de Fuentes and Miguel M. Delgado, 1943). Glamorous on screen and off, María Félix was the best-paid actor of her generation, and she had a distinctive and iconic eyebrow arch that required me to seek out ways of describing its distinctiveness. But, she was also reviled for her supposed lack of taste.
Her most popular films were damned by critics for lacking artistic substance, quality, and style. The films have endured, but it is fascinating to see how half a century on across the world women are still belittled for their personal style and taste. This is particularly the case for women in Liverpool, which makes it the perfect place to have the conversation about brows and their importance.
"Although eyebrows are such a significant feature they have received relatively little attention from academics. There has been some research by psychologists considering the ways micro-gestures facilitate communication. This means that they are not concerned with particularities of the shape, but with movement. Another recurrence in the literature is plastic surgeons interested in the correct (re)positioning of the brow in either cosmetic or corrective surgery. Again, shape is not significant. It was heartening to read new directions in research, such as the recent work by archaeologists from York revealing how the brow is integral to our survival as a species. But, if the stakes are so high for the brow, why has there been so little attention?
"It's clear that whatever way you craft your brows it is an important part of your identity; showing how you groom and present yourself to the world can be read in many different ways. Because of the buzz around certain styles, we were confident everyone had a story to tell about their brow."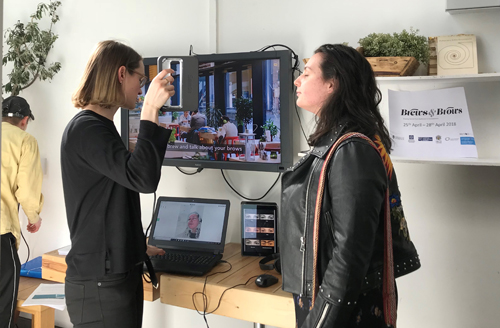 ‌
Sarah Shrimpton (LJMU) takes a 3D scan
‌Over 60 people came to Brews and Brows to share their stories, get a 3D scan of their brows and have their photograph taken. Visitors stepped into the Brow Booth – a purpose-built video diary booth – to talk about their brows. And it turned out everyone really did have something to say.
Few people do nothing with their eyebrows. Irrespective of appearance and background most people have some account to give and story to tell about their routine. For some, it's a regular part of a beauty regimen that involves time and skill, for others, it's a battle with certain hairs or frustration with their own skillset, for others it's occasional upkeep. Few never think about them. For most it has been a marker of where they situate themselves in the world in relation to age, class, and culture.
It's clear is that everyone has an opinion about their brows and those of others. Brows mean a lot to people and they reveal a lot about an individual's age, gender, and identity. Brows matter beyond the emotion they convey, they have their own affective story to tell that is a privilege to hear. Dr Liz Greene (LJMU) in collaboration with Dr Thornton is in the process of making a documentary which will reveal the range of these stories and show that brow styling is far from a trivial thing.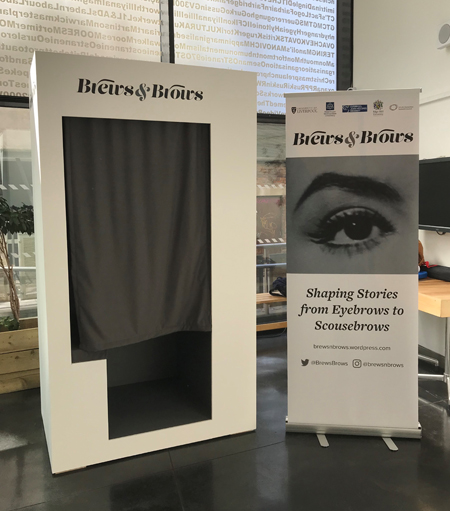 The Brow Booth
Brews & Brows took place at FACT on Wood Street, Liverpool from April 25 – 28. To find out more, please visit https://brewsnbrows.wordpress.com/ or follow @BrewsBrows on Twitter and @brewsnbrows on Instagram.
Brews & Brows would like to thank their funders Methods North West, engage@Liverpool, AHRC North West Consortium Doctoral Training Partnership, LJMU QR Funding and the University of Liverpool Discretionary Fund.
---