Paul Boniface, Secretary of the National Trust, Delivers the 2021 Heritage Keynote Lecture
Posted on: 28 January 2021 by Nick Jones in 2018 Posts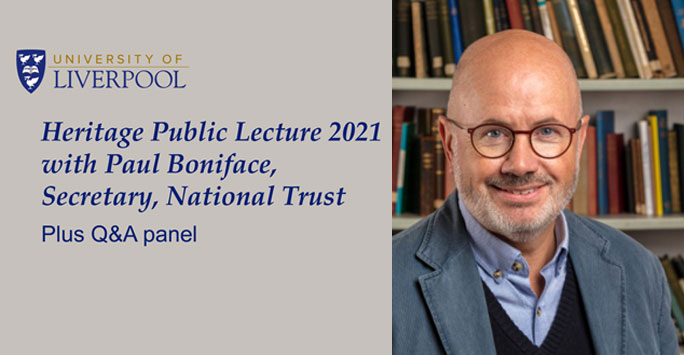 Paul Boniface, Secretary of the National Trust, joined us at the University of Liverpool on 27 January 2021 to deliver the Heritage Research Theme's keynote lecture. If you were unable to join us on the day, you can watch the talk and the subsequent Q&A session here.
The University of Liverpool's Heritage Research Theme was delighted to welcome back one of our alumni to give the 2021 Keynote Lecture. Paul Boniface (BA Hons Political Theory and Institutions, 1985) is the Secretary of the National Trust. He lectures on governance, human resources and conservation management both nationally and internationally.
In his talk 'People & Places: The History, Properties and Personalities of the National Trust', Paul charts the history of the National Trust from the end of the nineteenth century to the current day, explaining the charity's mission and how it has responded to the changing conservation challenges and concerns of different generations.
Watch Paul's talk here
Various, often personal, interpretations exist regarding the role of the National Trust in British society. Paul explains the vision of the Trust's founders and the historic context in which it was conceived. He describes how that vision became enshrined in statute that has stood the test of time and which explains precisely what the Trust is for.
Paul then considers key chapters in the Trust's history, reflecting on important acquisitions and the characters who, over the last 125 years, have made the conservation charity what it is today. Borrowing the proposition that conservation is ultimately about the careful management of change, Paul ends by reflecting on current and future conservation challenges and how the Trust and other conservation bodies must continue to adapt.
Paul is joined by Heritage Theme Lead and Rathbone Chair of Ancient History and Classical Archaeology, Professor Lin Foxhall, at the University of Liverpool, who will Chair a panel discussion and audience Q&A.
Our panellists:
Laura Pye, Director of National Museums Liverpool
Dr Deborah Mays, Head of Listing Advice at Historic England
Harold Mytum, Professor of Archaeology, University of Liverpool
Dr Andrew Mclelland, Research Associate, University of Manchester Alliance Business School.
The University of Liverpool was extremely grateful to Paul and all the panelists for their time and insights shared on the day.
---