English Attainment Scholarships awarded to top performing undergraduates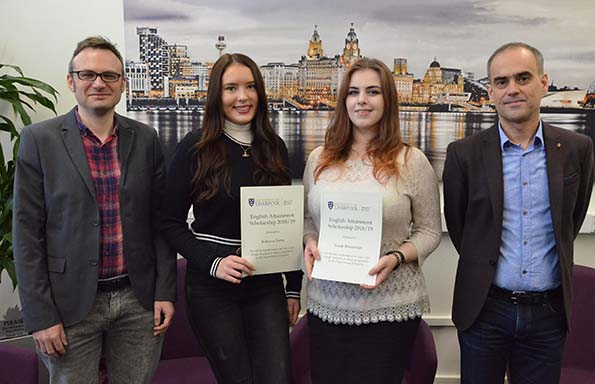 Congratulations to second-year students Sarah Bresnahan and Rebecca Ferns, who have been awarded the coveted English Attainment Scholarship.
The English Attainment Scholarship is awarded annually to the two Year 1 students with the best performance in Single Honours or Major (75%) English programmes, and continuing at Single Honours or Major level for Years 2 and 3. It takes the form of a full tuition fee waiver for the second and third years of study, funded by an anonymous benefactor.
"I couldn't believe that I had been awarded the scholarship", commented BA English Language student Rebecca, from Stoke-on-Trent. "I am so appreciative because it will be a help in the future".
BA English student Sarah, from Liverpool, said: "I was in complete disbelief – it's not a letter I ever imagined receiving and I had to ask my family to read it to make sure that I wasn't imagining it all!"
No applications are required for the English Attainment Scholarships, as the recipients are identified by the Board of Examiners for Level One English programmes in July each year, and formally notified in writing by the Dean of School of the Arts and the Head of English.
For further information, please visit the English Attainment Scholarships webpage.