Supporting students through hardship in alignment with the UN Sustainable Development Goals
Posted on: 26 September 2023 in Issue 6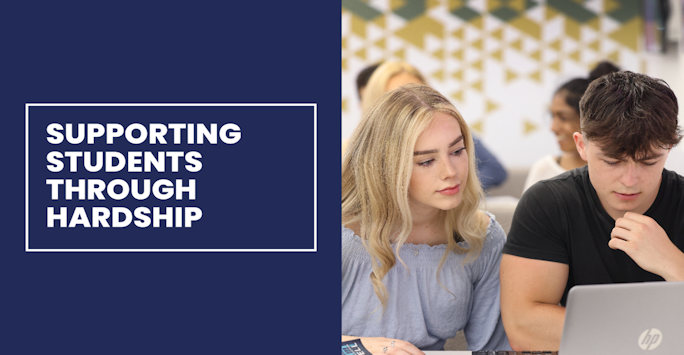 The University provides support for students who are experiencing poverty, including hardship funding and other financial help, as well as a range of other measures such as providing subsidised food and extending access to campus facilities. We have provided a guide on provisions available, and how this supports the United Nations Sustainable Development Goals (UN SDGs) in line with our Sustainability Strategy.

The UN Sustainable Development Goals are a universal call for action by all countries to tackle climate change, end poverty and build a more sustainable and inclusive world by 2030. As a signatory of the SDG Accord, the University is committed to addressing the global challenges facing society and the environment today and is ranked among the world's top 100 universities in the 2023 Times Higher Education (THE) Impact Rankings for its work in support of the UN SDGs. The University is also ranked against each of the SDGs individually and is 41st in the world for SDG 1: No Poverty. Ending poverty in all its forms everywhere is a pivotal goal of the 2030 Agenda for Sustainable Development, and we provide a range of resources to assist those facing financial challenges.
Student Support
We can all face financial difficulties from time to time or need extra support to access opportunities. The University's support services team offer guidance and advice to students on managing their finances, budgeting, and accessing appropriate resources. Students who are struggling to meet their basic living expenses or facing unexpected financial crises can access bursaries, grants, and loans. There are also a number of initiatives and free activities available to ease the mounting challenges facing many students today.
Bursaries and Scholarships
The University has a strong track record in widening access to higher education. We offer a range of bursaries and scholarships to students from low-income backgrounds or those facing specific challenges. The Asylum Seekers Scholarship provides tuition fee and maintenance support for up to four undergraduate students who have sought protection in the UK, so that they can succeed in higher education.
Money advice and guidance
The Money Advice & Guidance team offer advice and support to help current students with any financial difficulties and offer a number of ways to help students manage the challenges of the rising cost of living, whether it is with unexpected short-term costs, or with long-term financial management. Students who are in immediate financial difficulty and require support can contact the Money Advice & Guidance Team at money@liverpool.ac.uk or book an online confidential one-to-one appointment.
The University has a dedicated hardship fund available to provide temporary financial assistance to experiencing financial difficulties. The University Hardship Fund (UHF) is open to UK, overseas and EU undergraduate and postgraduate students. The Guild of Students also offer short-term (4 week) emergency loans of £25 for students in immediate hardship.
Additional support
Alongside receiving financial support, there are a number of ways the University can help students manage the challenges of the rising cost of living, whether it is with unexpected costs, or help purchasing food and other essential items.
Sustainable travel methods can help students save money, while also being important for our net-zero target. Students can hire a bike from the Guild for a full academic year for just £60 or one semester for £40. Bikes can be securely stored in the free cycle pods across campus. The University and the Guild work closely with Peloton, a local bike co-op to offer bike maintenance sessions, beginners' bike events, city bike tours and Joy Ride bike events. If cycling isn't an option, a student bus pass is the cheapest way to travel, and the Guild offer a discounted Arriva bus pass that covers the Merseyside region at a student friendly price. These initiatives are aligned with SDG 1 (No Poverty), SDG 6 (Affordable and Clean Energy), SDG 7 (Sustainable Cities and Communities) and SDG 13 (Climate Action).
The Student Food Pantry provides household supplies, basic food, leftover pre-packaged food, donated by Campus Food and Drink to students who are struggling to buy food on a daily basis. The initiative is aligned with SDG 1 (No Poverty), SDG 2 (Zero Hunger), SDG 3 (Good Health & Wellbeing) and SDG 12 (Responsible Consumption and Production).
The University provides free sustainable sanitary products in bathrooms on campus to ensure that all people who have periods can access the products. This initiative was highly commended at this year's Staff Awards, in the 'Sustainability on Campus' category, which recognises individuals or teams who have made a significant impact on sustainability at the University. Addressing the issues associated with period poverty connect strongly to many of the SDGs including SDG 1 (No Poverty), SDG 3 (Good Health and Well-being), SDG 4 (Quality Education), SDG 5 (Gender Equality), and SDG 6 (Clean Water and Sanitation).
View this post on Instagram
Free activities
Students can also make use of many of the free activities available on campus all of which are aligned with SDG 1 (No Poverty), SDG 3 (Good Health & Wellbeing), such as the free exhibitions, events and guided tours hosted by the Victoria Gallery & Museum throughout the year, as well as at Ness Gardens and The Garstang Museum.
The Tung Auditorium, Liverpool's newest music venue hosts the popular Lunchtime Concert Series, which are free to attend and feature music connected to learning, teaching and research in the Department of Music.
Sport Liverpool offer a range of fun, engaging and free activities across campus designed to help students get active, such as free classes and bootcamps at the outdoor gym, the 100m track, badminton, rounders and table tennis sessions, instructor-led campus walks and a basketball court. Students can also access the Sports Centre facilities for free during the exam and assessment period.
Sustainability Week is an annual week of free events and activities for students and staff, including recycling workshops, zero waste food making, swap shops, film screenings, cycle maintenance, falconry displays and guided tours of the Energy Centre, sustainable labs, the MIF and the Spine Building. Look out for updates on the next Sustainability Week due to take place in early 2024.
Mental wellbeing
Ensuring healthy lives and promoting wellbeing for all is essential to sustainable development, and financial challenges can be a significant cause of anxiety, affecting mental health, ability to focus on study and general wellbeing. The University has a range of services to provide emotional and mental support to students dealing with financial difficulties. The Wellbeing Advice and Guidance Team provide information, advice and guidance to students on a range of personal and social issues, with a focus on improving the overall mental and physical wellbeing. The Mental Health Advisory Service provide a confidential service for students experiencing complex and/or significant mental health difficulties during the course of their studies. Students can also access a confidential, inclusive Counselling Service with qualified therapists trained in a range of evidence-based psychological therapies.
Further information
Visit Sustainability for further information on our work to support the SDGs and see the Money Advice & Guidance webpages for the full range of support available for students experiencing financial difficulties.