Sustainability at the Staff Awards 2023
Posted on: 13 July 2023 in Issue 6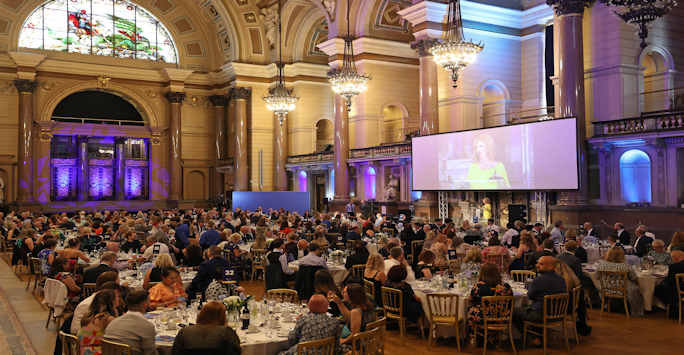 The University's Staff Awards recognise staff commitment, skills and successes and are judged by a panel of colleagues from a broad range of areas.
The Awards Ceremony took place on Tuesday 11th July at the historic and stunning venue of St George's Hall in Liverpool. Around 300 staff attended the event with University of Liverpool alumna, Mairead Smyth, senior reporter and presenter for BBC North West Tonight and Politics North West, returning to host the evening's awards.
A record number of 527 nominations were received from across the institution, topping the total from last year. Staff were recognised across 18 categories, including two sustainability awards, reflecting the University's commitment to this important area and the UN Sustainable Development Goals. These awards recognise achievements by colleagues both in research and through initiatives and projects on campus.
⭐ Introducing our Sustainability on Campus & Sustainability in Research Staff Award nominees & winners 2023! ⭐ Congratulations to all those recognised for their hard work and commitment towards @LivUni! Read about the winners at last night's ceremony 👉 https://t.co/MWKXHtkf4N pic.twitter.com/C6uWTFXoie

— UoLSustainability (@livunisustain) July 12, 2023
Sustainability on Campus
The Sustainability on Campus Award recognises individuals or teams who have made a significant impact on sustainability at the University.
Individual winner
Congratulations to Sian Fairhurst, Strategic Change.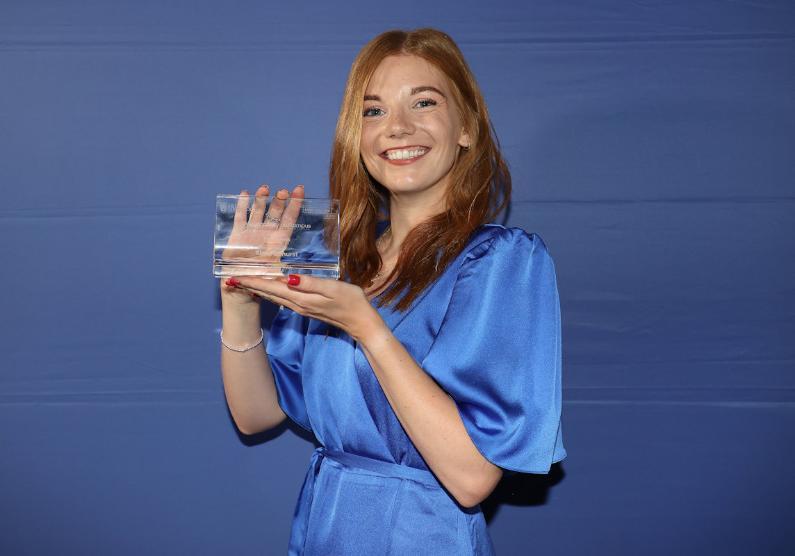 Sian has significantly raised the profile of Sustainability at the University. She has established an extensive events programme and the University's first-ever Sustainability Week, the launch of the 'Sustainable Liverpool' newsletter, and launch of the Climate Plan. Sian was praised for her great work ethic, and an ability to empower others.
Sian said "I'm honoured and over the moon to have received the Sustainability on Campus Award at the Staff Awards. I'm extremely grateful to have been recognised and to have had the opportunity to contribute to raising the profile of sustainability at the University and launching the Climate Plan - these are definite career highlights for me! The recognition is not just mine, the award is a huge testament to an incredible team effort and I am so proud of the progress and impact that has been made collectively in sustainability over the past year. Congratulations to all of the amazing and inspiring winners and commended colleagues across all categories!"
Commended individuals
Congratulations to the commended individuals in this category, Christina Birch, Institute of Life Course and Medical Sciences and Helen Tyler, Facilities Residential and Commercial Services.
Christina has shown unwavering commitment to environmental and social change, conducted surveys on all work-related travel within the Institute and encouraged colleagues to think about how sustainable their routines are.
Helen has led work to install period product dispenser units across campus, making sustainable products available to students and colleagues free of charge in an aim to address 'period poverty' which comes under UN Sustainable Development Goal 1, to end all poverty in all forms.
Team winner
Congratulations to Central Teaching Labs.
The Central Teaching Labs (CTL) have supported great collaboration between technicians, academics and students, leading a successful bid of £26,000 to implement waterless condensers in Chemistry teaching, leading to a reduction of up to 100,000 litres per year in water consumption. They have also taken up the Kimtech glove recycling scheme, with 50,000 Nitrile gloves recycled.
Cate Cropper, Lecturer Central Teaching Laborator said "The CTL team were delighted to receive the sustainability team award recognising collaboration across academic, technical and student teams. We continue to work on improving sustainability across operations and curriculum delivered within the building and hope that we will have many more examples of good practice very soon!"
Commended teams

Congratulations to the commended teams in this category, HSS Sustainability Communications Team, Faculty of Humanities and Social Sciences and Sowing the Seeds of Sustainability, Institute of Population Health.
The HSS Sustainability Communications Team craft regular Faculty-wide Sustainability newsletters, raising awareness of Sustainability issues, whilst challenging colleagues right across the Faculty to get involved and think about how they can personally or professionally contribute to this important agenda.
Sowing the Seeds of Sustainability focuses on upscaling and invigorating food growing on the University campus for diet, wellbeing, and environmental benefits. As well as enabling volunteering opportunities for staff and students, and meeting University aims around wellbeing and community, the team also recently installed 10 wild pods around campus improving biodiversity.
Lovely evening at @livuni #staffawards celebrating our amazing #SowingTheSeedsOfSustainability team pic.twitter.com/sMtUBr2g0w

— Prof Charlotte Hardman (@CharlotteHardm3) July 11, 2023
Sustainability in Research
The Sustainability in Research Award recognises individuals or teams whose research has made a significant contribution to the sustainability agenda with proven or potential worldwide impact. The award supports the key ambitions of the University's Sustainability Strategy.
Individual winner
Congratulations to Dr Nicola White, Institute of Infection, Veterinary and Ecological Sciences.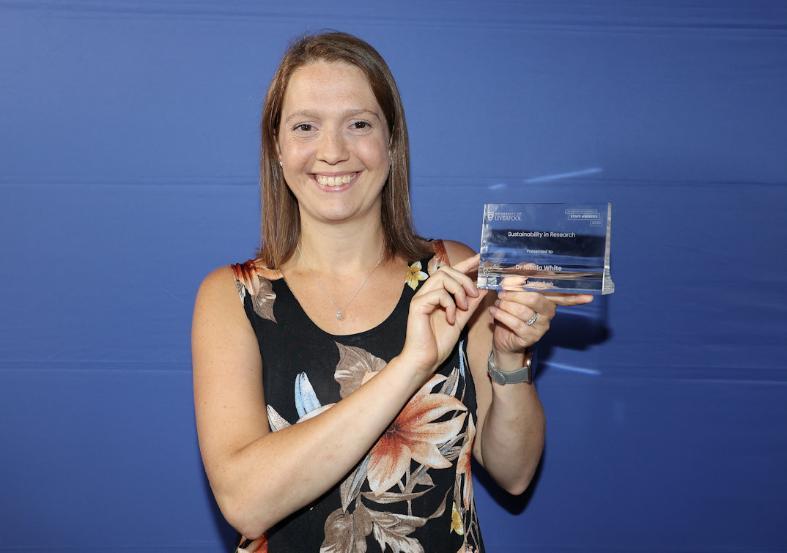 Nicola led a project at the Drosophila Facility introducing reusable glass vials and washable bung closures. Flies in glass vials have increased survival and lower lethal mutation and a host of other benefits for research. The removal of one-use equipment has eliminated the packaging and carbon emissions from the production and transport of single use plastics and cotton wool, reduced the associated waste and lowered the facility bill by 50%, allowing more funding available for research.
Nicola said "Scientific research is an important part of our futures, in developing new technologies, new medicines, new things we've not even thought of yet. It's a huge part of society and there is no reason we cannot make it more environmentally friendly and sustainable. Receiving this award has made me realise, even just by making one small change, in one laboratory, I have helped."
Commended individual
Congratulations to Chris Pearson, Department of Languages, Cultures and Film who was commended in this award. Chris has been awarded a £2.6 million Wellcome Discovery Award 'Melting Metropolis' using historical research to explore how we can learn from the past to tackle rising temperatures.
Sustainability success
There was more good news for sustainability at this years' awards, with Sally Shaw from Strategic Change receiving a commendation in the Inspirational Leader of the year category. Sally leads the Sustainability Programme Team, with key achievements including a review of sustainability governance, the development and launch of the Climate Plan and the management of the Sustainability Fund. Sally is a kind and inclusive leader and has mentored women through the Springboard Programme.
The Hedgehog Friendly Campus team were also commended in the Volunteer of the year category. Through Zoe Chapman's environmental volunteering, she has helped lead the Hedgehog Friendly Campus Scheme, leading to gold standard accreditation. She has undertaken surveys, engaged with students through litter picks, talks, and active social media engagement. Zoe is also regular volunteer at Jackson Animal Rescue and is a trustee for the British Hedgehog Preservation Society.
Congratulations to all those recognised for their hard work and commitment towards the University.
The full shortlist and winners can be found here.