Hey! We're ending period poverty on campus
Posted on: 23 May 2023 in Issue 5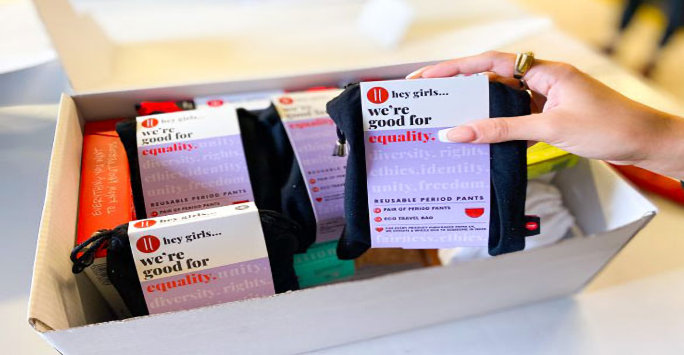 28th May is Menstrual Hygiene Day and at the University, we are dedicated to improving period dignity, ending the stigma surrounding menstruation and ending period poverty.
In partnership with Hey Girls, a period poverty-focused social enterprise, colleagues in the Facilities, Residential and Commercial Services team have been coordinating the provision of free sanitary products in bathrooms on campus.
Since starting the roll out in July 2022, sanitary products have been distributed in male, female and gender-neutral bathrooms on campus to ensure that all people who have periods can access the products.
Sanitary dispensers have been installed in the following buildings: Sydney Jones Library, Sherrington, Life Sciences, Harold Cohen Library, Eleanor Rathbone, Central Teaching Labs, 502 Teaching Hub, Management School, Waterhouse Building (Blocks C and D), Rendall, Cedar House and the Harrison Hughes building. In the next phase of the project, more dispensers will be installed across Central campus, as well as at Leahurst and Ness Gardens.
The enterprise is built upon two core goals: ending period poverty and supporting sustainability. Operating on a buy-one, donate-one scheme, they believe access to period products should be a right, not a privilege. They only create biodegradable or recyclable period products with materials that are responsibly-sourced so that sustainability is at the heart of their work.
With a long-term goal of becoming 100% carbon neutral, Hey Girls support the Forestry and Landscape Scotland to offset their carbon footprint and donate 10% of all profits to help restore degraded habitats. They've also signed up to the UN's Sustainable Development Goals and are one of the UK's 'Business Climate Leaders', pledging to halve their carbon emissions by 2030 and become net-zero by 2050.
View this post on Instagram
Kate Sisodia, Sustainability Communications and Engagement Officer said: "There is a misconception that sustainability is just about the environment, however addressing the issues associated with period poverty connect strongly to many of the UN Sustainable Development Goals, including SDG 1 (no poverty), SDG 3 (good health and well-being), SDG 4 (quality education), SDG 5 (gender equality), and SDG 6 (clean water and sanitation)."
"We are thrilled to be joining forces with Hey to offer free, plant-powered period products to all staff and students. This is just one of the ways the University is taking action to end poverty and protect the environment, helping us to become net zero by 2035."
Find out more
For further questions or queries about the provision of free sanitary products in bathrooms, please contact Helen Tyler at: tyler@liverpool.ac.uk.