Liverpool Law School students compete in Philip C. Jessup International Law Moot Court Competition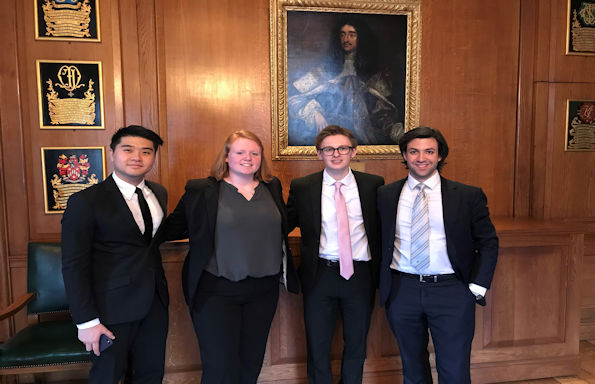 Liverpool Law School students impress in Jessup International Law Moot Court Competition
A group of Liverpool Law School students have represented the University in the Jessup International Law Moot Court Competition 2019.
Jessup is the world's largest moot court competition with participants from over 680 law schools in 100 countries and jurisdictions. The Competition is a simulation of a fictional dispute between countries before the International Court of Justice, the judicial organ of the United Nations. Teams prepare oral and written pleadings arguing both the applicant and respondent positions of the case.
Liverpool Law Students, Thomas Jenkins, Erin Sexton and Jin Rong Koo successfully competed against different law schools from across the country through the presentation of oral and written pleadings, including a 20,000 word written memorial.
The team were just pipped at the post of the quarterfinals, coming 9th overall, a very impressive achievement.
Liverpool Law School Jessup Moot team member, Thomas Jenkins reflected:
'It was a privilege to represent the university, and compete alongside and against the best and brightest law school from across the UK. The competition has allowed us to refine and practice our mooting skills, to explore the breadth and complexity of international law, and gain an appreciation for the standard which is required to excel within both the Jessup competition and within the legal profession more broadly.'
Jin Rong also commented:
'This was one of the most rewarding experiences during my time in university and I am extremely excited for the future of this endeavour which will be led by Tom. I am sure it is in great hands and he will be able to lead the university to progressive success in the competition'
The students thanked the Law School for their support, in particular, Dr Ben Murphy and Davide D'Aleo who both helped to prepare the students for the competition.