Year Abroad Diary: November in Lyon
Posted on: 17 March 2022 in 2021 posts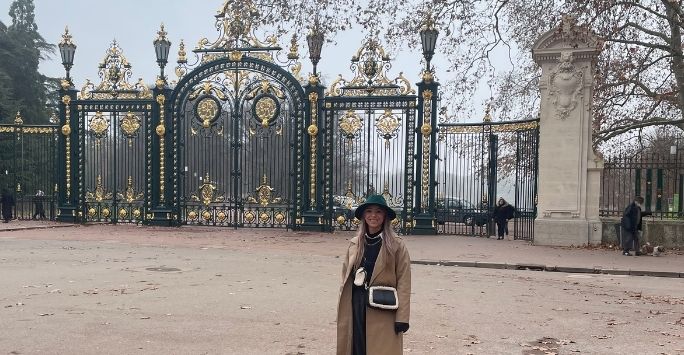 After a week back in England at the start of November I was very ready to get back to life in Lyon. Although November amped up the amount of university work I had, due to a few mid-term assessments, I still managed to explore many parts of the city and have lots of fun. Since I came back in the second week of November, the temperature in Lyon had really dropped but luckily the city is prepared for the colder weather with outdoor heaters and blankets at many restaurants, cafés and bars.
Speaking of bars, an amazing one I visited this month, which was awarded the best bar in the world in 2020/21, is called 'Le Dôme' and situated in 'Grand Hotel Dieu', a spectacular hotel in the city. The bar has an elaborate 32 meter domed ceiling which towers over the fashionable bar furniture. Although this iconic bar is on the pricey side I strongly recommend visiting to try one of their carefully crafted cocktails - they are absolutely delicious. Touching on going out at night, Lyon has a really fun nightlife scene which hosts an abundance of university students! Some of my favourite clubs / bars to visit if you are in Lyon are Azar - a very large club with strobe lights and big crowds; Ayers Rock - a smaller club / bar with lots of throwback music and Le Sucre. These places would never fail to provide me with a great night out!
Something I did for the first time this month, which is a lovely morning or afternoon activity, is going to see the weekend book markets along the river Saône. There are many different stalls selling different types of second hand books from children's books to old magazines and seeing little stalls of vintage books next to the river is so beautiful. Another day activity I recommend that I did this month is visiting the zoo in the gorgeous Parc de la Tête D'or, which has many animals from giraffes to flamingos to lemurs.
A highlight of my November in Lyon was an Erasmus masquerade ball party held at a club where everybody had to wear a masquerade mask! My friend and I picked up some gorgeous masks from a fancy dress shop and felt very sophisticated all night. There are lots of events in Lyon for Erasmus students that are set up by a company called 'Erasmus Party in Lyon' and they are always reasonably priced and perfect for meeting new people from all over the world and making friends! I also had great fun trying a few traditional Lyonnaise restaurants which are called 'Les Bouchons Lyonnais'. Being vegetarian meant there wasn't always the most varied choices for me on these traditional French menus, however, there was always one or two things and wow were they delicious. My meals were always paired with French onion soup to start - it is something you 100% have to try if you are in France.
Although I didn't have the full month in France, my November in Lyon was such a great few weeks and despite cold weather and work load I still had so much fun, but I really can't believe I only have one month left of living here!
Find out more
Learn more about the Department of Languages, Cultures and Film.
---