Christmas markets in Hamburg
Posted on: 22 December 2021 by Lewis in 2021 posts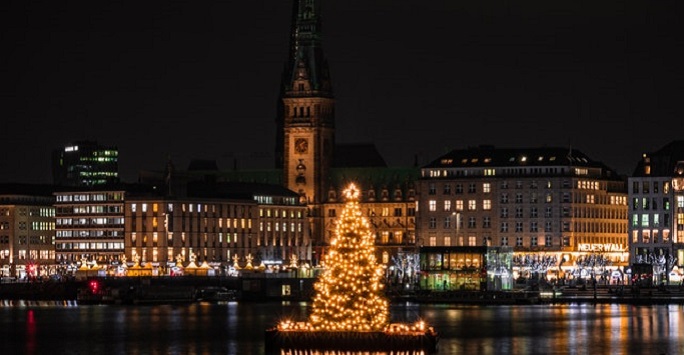 Year Abroad student Lewis shares his experience of the Christmas markets in Hamburg
---
Since arriving in Hamburg back in September, I have grown to appreciate its beauty, history and abundance of green space. There's seemingly always something to do or new people to meet from all over the globe. From the banks of the Elbe to the tip of the lake Alster you can find as many pubs, clubs or restaurants of as many cuisines as you can imagine. It really left a strong impression on me from the get-go. It's a fast-paced kind of living here which I expected from a city of its size. But more so than anything else, Christmas in Hamburg has been the biggest surprise. They really crank things up to 11.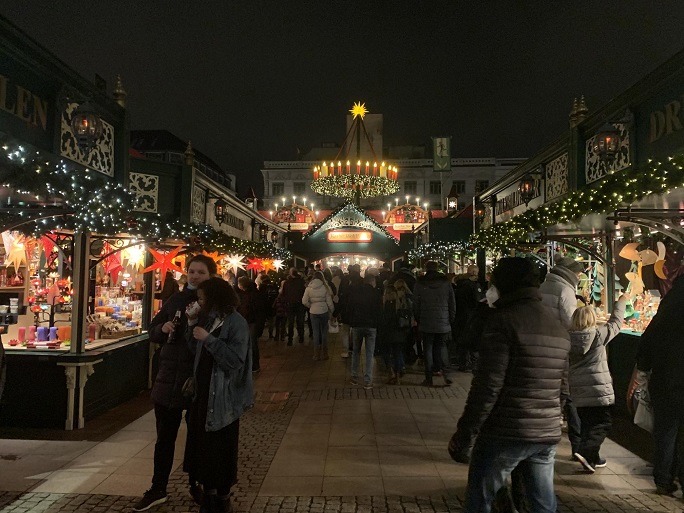 Before the beginning of December, I had a rough idea on what to expect: the markets with timber-framed stalls, fairy lights, perhaps a smattering of fake snow and throw in a few varieties of sausage along the way for good measure. Nothing too far gone from what we see back in the UK. In boroughs like Sternschanze, a favourite of mine so far, I passed unwelcoming pop-up winter villages encircled by tall metal fences that separated the vaccinated and unvaccinated; with ID checkpoints loosely positioned around the entrances. It looked as miserable as it did dystopian. The poor weather didn't help on all accounts. I didn't know whether to scoff at or simply feel bad for what seemed like a half-baked attempt at a Christmas market. I mean above all, really, I was disappointed. I thought to myself, 'we're in Germany, this is something they're supposed to pride themselves on'. But with all things like this you shrug it off, forget it and go about your business.
I spoke about a week too soon. Normally, the thought of it getting dark by 4:30pm is quite a gloomy one- but come the 1st and the whole atmosphere of the city turns on its head. Albeit still cold and wet the markets really come to life at nighttime. Every inch of the city-centre glows. Stretching from Hamburg central station to the town hall, Mönckebergstraße's normally grey outward appearance is veiled in vibrant decoration, festive music and the smell of spiced baked goods, mulled wine and grilled sausage or mushrooms fill the air. The length of the street is dotted with fir trees, spaced evenly and with intention. The jam-packed streets become far more peaceful; in stark contrast to the hustle and bustle of last-minute shoppers merely a few hours before this. People seem to really take their time, soak in the atmosphere and relax, which is something I have really appreciated and was surprised by in a place that moves as quickly as Hamburg. The food and overall atmosphere created have been my favourite things about the markets. Warm Schmalzkuchen (powdered miniautre doughnuts) and mulled wine, for only pocket change, are becoming a larger part of my diet every day.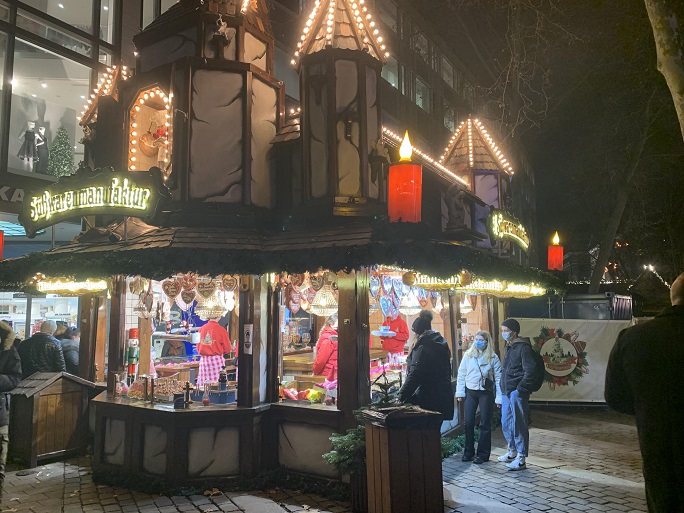 Each part of the city has its own or a few Christmas markets each with their own theme, sometimes representing what that part of town is known for. The standout being Hamburg's infamous red-light district, the Reeperbahn, and its own take on the festive tradition: 'Santa Pauli', a cabaret themed market that serves hard spirits and displays a rock band stand, alongside the traditional offerings. Arguably Hamburg's most famous borough, St. Pauli (known for its bars, clubs and football culture), puts on the Hamburger Dom. Spilling out from the front of the Millentorstadion, all the way to the St. Pauli underground station, its bright neon visage, selection of shaky looking fairground rides and towering Ferris wheel capture what St. Pauli represents in the Hanseatic city. You can see it from a mile away. It's fun, cheesy and over-the-top and I've had a great time whenever I've swung by. It's impressive how the markets can tell you all you need to know about the area at a glance. Christmas over here has been great so far and I would say give it a go if you ever get the chance.
Find out more
Find out more about the Department of Languages, Cultures and Film
Keywords: Hamburg, Christmas, Department of Languages, Cultures and Film, Year Abroad, Student, University of Liverpool, Study Abroad, German, Language learning, Cultural exchange.
---