Watch 'Creating a Wondrous Place', the 2022 Heritage Keynote Lecture with National Museums Liverpool
Posted on: 6 July 2022 by Nick Jones in 2022 Posts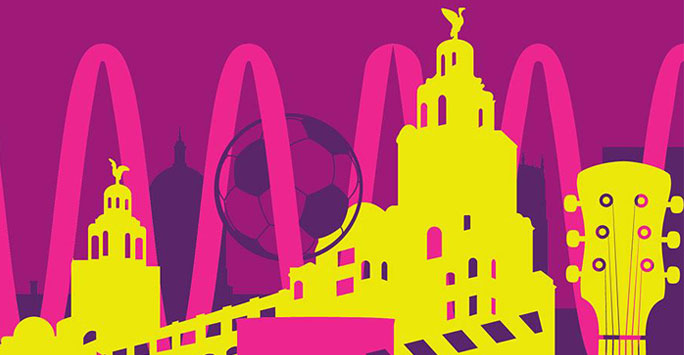 In June 2022, the University of Liverpool was honoured to welcome Karen O'Rourke, Curator of Urban and Community History at National Museums Liverpool, as she presented the annual Heritage Keynote Lecture. Watch the lecture online here.
Karen shared the story of the newly updated Wondrous Place gallery in the Museum of Liverpool, giving us insights into what it takes to create gallery content and who they work with and why.
When the Museum of Liverpool opened in 2011, it was the largest newly-built National Museum to be opened in the UK for more than 100 years. Karen explains how her team, including curators, conservators, educators and designers came together to consult on, curate, and fill five galleries with stories, images and around 7,000 objects.
Watch the lecture here
Karen takes us behind the scenes to explain the hugely ambitious process, begun in 2018 and continuing throughout the pandemic, of updating and re-displaying the entire Wondrous Place permanent gallery. She looks at the process of deciding on the content for the new gallery; What to update? What to completely change? How to improve the visitor experience?
This fascinating lecture highlights the challenges faced, but also delivers an understanding of what co-curated exhibitions mean for NML. What it means to individual participants, who never expected their thoughts or possessions to be in a museum; to the groups who work together to strengthen their sense of community and belonging; and to the visitors for whom the displays often mirror and validate their own contribution to their own communities.
Hosted by Professor Lin Foxhall, The Rathbone Chair of Ancient History and Classical Archaeology, and Heritage Research Theme lead, Karen was also joined by a panel of experts for a discussion and Q&A session after the lecture:
Karen O'Rourke, Curator of Sport, Music and Performance at the Museum of Liverpool
Karen has worked for National Museums Liverpool for 20 years, including working on the content development for the Museum of Liverpool. She has been involved in several major projects, varying from numerous First World War Centenary commemorations to music exhibitions, The Beat Goes On and Double Fantasy: John and Yoko. She has most recently led on the re-installation of the Wondrous Place gallery.
Kay Jones, Lead Curator of Urban and Community History at National Museums Liverpool
Kay develops exhibitions and displays in partnership with local community groups and organisations to tell diverse stories. She is responsible for the management and development of the Museum's local, national and internationally important urban history collection. The wide-ranging collection reflects the changing history of the city and the stories and experiences of Liverpool people.
Mike Morris, Co-Director, Writing on the Wall
WoW is one of the country's longest-running writing/literary festivals, having delivered a festival each year since 2000, featuring hundreds of guests representing literature, spoken word and a range of other art forms. The festival also played a key role in reviving the city's annual Black History Month Festival, coordinating a series of events with local partners during October, highlighting issues of racism and celebrating the contribution of the black community to Liverpool's artistic and cultural heritage.
Dr Mike Jones, Reader in Music Industry, University of Liverpool
Mike is a Reader in Music in Music Dept and the Programme Director for MA Music Industry Studies and MA Classical Music Industry. He is also a co-author of a report into the economic value to Liverpool of Beatles tourism and a member of the Beatles Legacy Group.
Dr Sam Caslin, Lecturer in Modern British History, University of Liverpool
Dr Sam Caslin is a Senior Lecturer in Modern British History. They have published widely on women's use of city spaces in twentieth century Liverpool. Sam has also developed Sisters of Mersey, a free public history app which charts the rich and diverse history of women in Merseyside.
---