Tracing the Past: Analysing the Design and Construction of English Medieval Vaults Using Digital Techniques
Posted on: 9 October 2018 by Nick Jones in 2018 Posts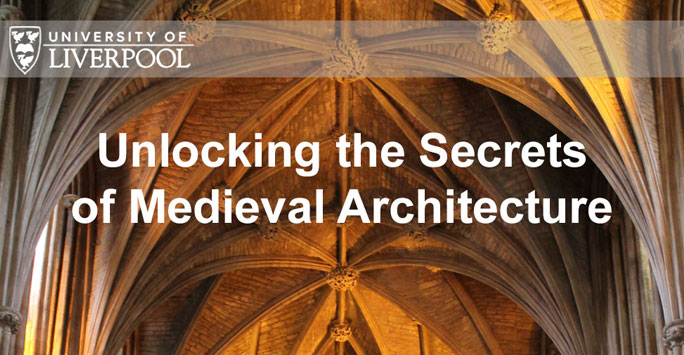 How did medieval architects and stonemasons design and build the awe-inspiring ribbed vaults that dominate the great churches and cathedrals of the time? Using the latest digital surveying tools, the University of Liverpool's Drs Alex Buchanan and Nick Webb aim to find out…
Some of the most remarkable features of works of medieval architecture are the ribbed vaults spanning the vast interior spaces of greater churches and cathedrals. For over nine hundred years, they have inspired worshippers and visitors alike, their eyes drawn heavenwards by these captivating constructions and prompted to ask, 'how did they do that?' The 'Tracing the Past' project aims to answer that question and a lot more.
No corresponding texts or drawings survive but digital methods now enable us to propose answers. Beyond their decorative role, gothic vaults fulfil a structural function and the interaction between the two merits further analysis, to help to understand how this might have been conceptualised by medieval masons. Across sites, the interaction between 2D and 3D geometries shows great variety and astounding levels of creativity.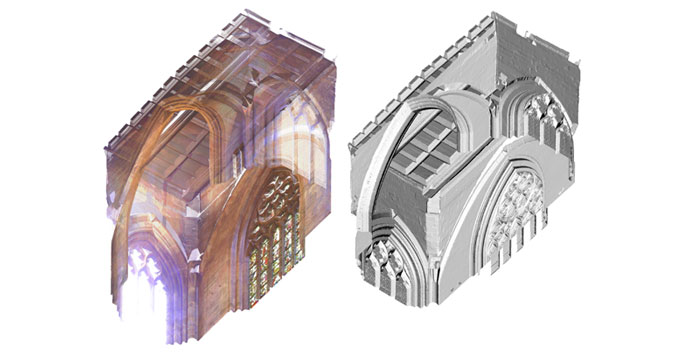 Alex Buchanan and Nick Webb's project (with funding from an AHRC Standard Research Grant) investigates the design and construction of medieval vaults at significant sites in England using the latest digital surveying tools, producing accurate records of their forms. Digital analysis tools are then used to forensically examine the vaults in 2D and 3D, allowing new readings of their design to a level of detail not previously possible with analogue techniques.
Using this process, the team will be able to identify patterns at individual sites, in addition to trends across related sites, complicating existing interpretations and prompting new questions which the research will address. For example, at Wells Cathedral, they have identified the use of four different design processes in a space which was previously considered to only use one, thus supporting new interpretations of the design input, construction sequence and site management.
This research questions the validity of most previous study of canonical design/symbolic geometry as it lacks rigour in terms of the base data employed, gathered by traditional surveying techniques, often not for the purposes of geometrical analysis and usually analysed via plans in small-scale reproduction.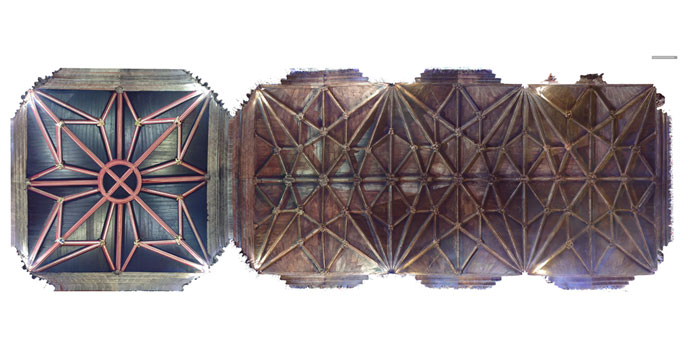 Beyond the main value of understanding how medieval vaults were designed and constructed in England, the survey data will be freely accessible to all via the Archaeology Data Service, acting as assets for heritage and conservation purposes. For example, in repair work undertaken by stonemasons, this new analysis will ensure a clearer understanding of approaches to original construction techniques so they are better equipped to preserve these structures for future generations, along with the cultural heritage they embody.
Findings will also be shared with the custodians and public at sites through an exhibition and workshop series, tailored to individual sites whilst also discussing the broader results of the project. Over the coming months Alex and Nick will visit the cathedrals of Norwich and Lincoln, Westminster Abbey as well as St Stephen's Chapel in the Palace of Westminster, to complete the survey phase and allow detailed analysis to commence.
Visit the Tracing the Past project website for the latest development and results.
Follow 'Tracing the Past' on Twitter.
---