Share The Love At Tate Liverpool
Posted on: 23 April 2020 by Nick Jones in 2018 Posts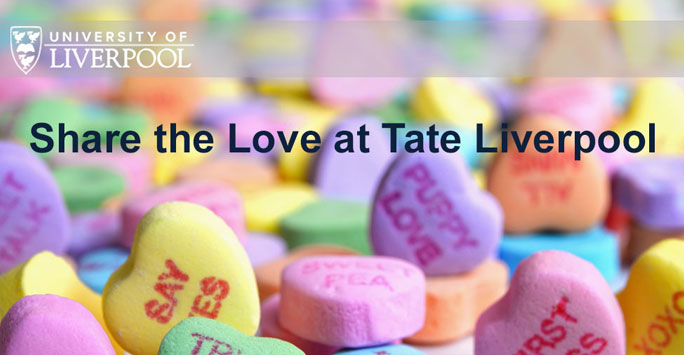 Applications are now open from staff and students for proposals for the next Tate Exchange residency, around the theme of 'Love' at Tate Liverpool.
Tate Exchange Residencies: Love
During these unprecedented times, it is important to continue to inspire our audiences through engagement with our research community and bring joy to those who are giving us so much. Nationally, we have seen community spirit thriving, with people supporting each other like never before.
One of the ways we can celebrate our community spirit and engage with the public is through our partnership with Tate Liverpool. The Tate Exchange Programme provides a focus for interactive projects that support Tate's exhibitions and enables the University to engage with new audiences, enrich our research and to contribute to the cultural life of the city.
The custom-built space within the gallery provides a comfortable and flexible place for you to get involved. Members of the public are free to drop in for a talk, enjoy a chance encounter with a pop-up work of art, watch a live performance, join in a workshop, and experience art in new and unexpected ways.
Take a closer look at just some of our recent Tate Exchange residencies here.
Staff and students apply now
The programme theme for the next round of Tate Exchange is 'Love' and this is to be shaped by artist Amy Sharrocks.
The theme can be interpreted in many different ways, but applicants are encouraged to align proposals with current or future exhibitions. You may wish to consider a creative approach to the provocation in ways that address emerging themes such as, community love, love of our NHS, family love, or through different mediums including, 'love in a virtual world.'
Applications are due 29 May 2020, for residencies between November 2020 - March 2021.
Read details about the application process and deadlines here or contact Kate Spicer, Senior Impact and Business Development Manager, Research Partnership and Innovation.
---